Home
About Us
News & Stories
Doing Good with Woody Derricks '97
Doing Good with Woody Derricks '97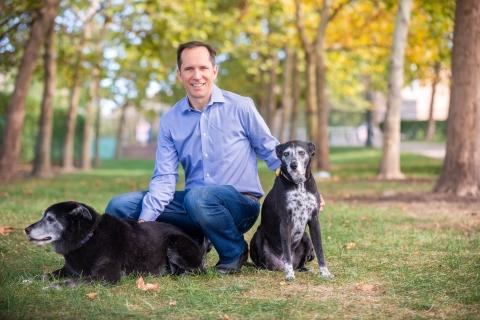 By Allison Eatough '97
As the nation's first Do Good campus, the University of Maryland aims to educate and inspire a Do Good generation of students to apply their education, skills, and values to make an impact on the great societal challenges of our time. It is rooted in our land-grant mission of putting knowledge into practice for social and economic betterment. Click here to learn more.
When Woody Derricks '97 began his career as a financial advisor in California, three of his first five clients were same-sex couples.
At the time, same-sex marriage was illegal, so he turned to his colleagues for guidance.
"What's different about the financial situation for somebody who can get married and somebody who can't?" he recalled asking. "Only two of them could give me any sort of an answer. Most of the advisors squirmed in their seats when I was asking about it."
That response motivated Derricks to get more involved with the LGBT community.
"I've always been supportive of equal rights for everybody," said the UMD government and politics graduate. "And here I am in a career where everyday I'm working with people who aren't allowed to get married. People who love each other, but the law says that their love for each other isn't the same as the love I have for my wife… It was creating financial hardships in many cases for these couples and added emotional stress."
Derricks left the California-based company and eventually moved back to Maryland, where in 2005 he opened Partnership Wealth Management – a Baltimore-based financial planning firm. He learned more about wealth transfers, taxes, retirement and end-of-life planning for same-sex couples and became an Accredited Domestic Partnership Advisor. Today, 75 percent of his clients are members of the LGBT community.
He also began volunteering with Equality Maryland, an LGBT advocacy group that is now known as FreeState Justice. For years, he lobbied Maryland lawmakers to support same-sex marriage and educated them on the financial challenges same-sex couples faced.
In 2015, the U.S. Supreme Court ruled the Constitution guarantees the right to same-sex marriage.
But that didn't stop Derricks' advocacy work. He continues to support the LGBT community as a treasurer for FreeState Justice and through the National Gay and Lesbian Chamber of Commerce, the Human Rights Campaign and the Maryland LGBT Chamber of Commerce.
Derricks also spends time supporting his other two passions: the environment and animals. Partnership Wealth Management uses recycled office materials and is a member of the U.S. Environmental Protection Agency's Green Power Partnership, meaning the company has committed to using power from a sustainable source. And in 2006, he and his wife, Heidi, launched Paws for a Cause in honor of their rescue dog, Fenway. The charity raises thousands of dollars each year for animal organizations.
Overall, Derricks credits his father for giving him a foundation to "Do Good."
The two would often go camping when Derricks was a child. Each time, Derricks' father would make him clean up trash around the campsite before they left – even if the trash belonged to someone else.
"He used to say to me, 'You need to leave this a better place than how you found it,'" Derricks said. "That's generally an approach I take to life. I want to leave wherever I am and whatever it is that I'm doing in a better place than the way that I found it."
###
The Alumni Blog connects you with the latest at UMD. Check out articles on advancing your personal and professional goals, elevating your UMD pride, and celebrating Terp traditions, legacies and accomplishments. For even more content, follow the Alumni Association on Facebook, Instagram and Twitter.