Home
About Us
News & Stories
Don't Take a Backseat
Don't Take a Backseat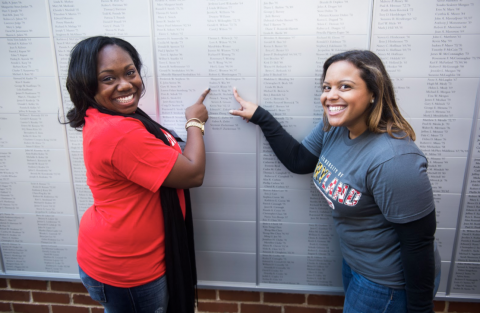 Wynn (left) at the Life Member Wall unveiling ceremony in 2014.
By Sala Levin '10
When it came time for Tiana Wynn '05 to choose a major, she thought of her godmother, who began her career as an accountant before deciding her real passion was for acting. As she traveled from city to city, acting in small parts, she supported herself working as an accountant.
From her godmother's story, "I always knew that even if I didn't know what I wanted to do, I could make a decent living in accounting," Wynn said.
Now an audit partner at SB & Company, LLC, a minority-owned CPA firm headquartered in Owings Mills, Md., Wynn has done more than get by: she's made her own way in a field where Black women like her are underrepresented.
Growing up in Baltimore, Wynn always hoped to attend the University of Maryland. She came to College Park as a member of the inaugural class of the Incentive Awards Program (IAP), which provides scholarships and community to students from Baltimore City, Prince George's County and Montgomery County.
A first-generation college student, Wynn valued the connections and resources she discovered through IAP, which brought students to see theater at the Clarice Smith Performing Arts Center, gave tips about utilizing campus tools like the UMD Career Center and helped Wynn navigate studying abroad in London.
"For me, the university felt small," said Wynn. "I don't think of the University of Maryland as a large institution ... It felt bite-sized."
Working as a resident assistant and staying active in her sorority, Alpha Kappa Alpha Sorority, Incorporated, kept Wynn busy, as did her studies as an accounting and finance double major. She became vice president of the UMD chapter of the National Association for Black Accountants, an organization for which she's currently secretary for the regional board.
After graduating, Wynn began working for Ernst & Young and then for SB & Company, LLC, eventually focusing her work on employee benefit plans and risk consulting. Along the way, she became a CPA and earned an MBA from the Sellinger School of Business at Loyola University Maryland.
Now an audit partner at SBC, Wynn has earned a stake in a minority-owned (and half women-owned) firm, but she's sat in many rooms where she's the lone person of color. Wynn recounts an instance, before becoming a partner, that left her with a dilemma. Her partner, an older white man who was typically a stickler for time, was running late to an important client meeting. As the senior-level people began to take their seats at the table, Wynn faced two options: leave their firm's seat empty, or sit there herself.
She picked up her things and moved to occupy the seat.
"Then he walked through the door, and I immediately just looked at him and I waved, but I told myself, 'I'm not getting up. I'm not giving away my seat,'" Wynn said.
She's found support, she says, through mentorship at work. She hopes to give back some of that support to other first-generation college students through her involvement in Alpha Kappa Alpha's IAP fund and as a member of the Alumni Association Board of Governors.
Reflecting on her professional success, Wynn remembers the words a colleague once directed toward her: "Don't be shy," Wynn recalled the mentor telling her. "Don't feel like you have to take a backseat."
The Alumni Blog connects you with the latest at UMD. Check out articles on advancing your personal and professional goals, elevating your UMD pride, and celebrating Terp traditions, legacies and accomplishments. For even more content, follow the Alumni Association on Facebook, Instagram, Twitter, LinkedIn and YouTube. Become a UMD Champion to receive monthly shareable pride points, news and more straight to your inbox.
Spotlights connect you with your Maryland community and campus, celebrating achievements from alumni, students, faculty and staff.