Home
About Us
News & Stories
Empowering Alumnae Igniting Change
Empowering Alumnae Igniting Change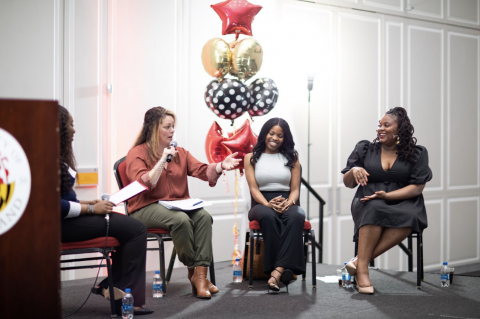 This Giving Tuesday, give to support the Alumni Association Programs and Events Fund which makes Do Good opportunities like this possible.
By Brian Spates '22
On March 14, 2022, in celebration of Women's History Month, members of the UMD community had the opportunity to hear from three driven alumnae working to make an impact in the nonprofit world. Partnering with the Do Good Institute, a campus group working to educate students on having a social impact, the Student Alumni Leadership Council (SALC) moderated the Women Igniting Change Panel, creating a platform for these women to share their experiences, lessons and takeaways from their work.
Chelsea Brown, a 2021 Maryland graduate with a masters of public policy, works to "support Black millennials interested in philanthropic change." Believing that the realm of social impact should be accessible to all, she left the corporate world to found The Black Mill, a consulting firm dedicated to this pursuit. Stressing the uncertainty of her own career — bouncing between broadcast internships to the corporate world, to founding a nonprofit — Chelsea learned the importance of "doing what you need to do to impress yourself, not others."
Armani McMillan graduated from the University of Maryland, Baltimore County (UMBC) in 2016 with a bachelors in public health, but got involved at the University of Maryland, College Park through the Nonprofit Leadership and Management certificate program. Armani is incredibly passionate about creating opportunities for advancement and success for young people in the DMV area, founding IMPACTdmv to help local residents get employed and into colleges. Starting in Prince George's County, she realized the disconnect between the resources that students needed to get into college or launch their careers and the resources that they were provided. Despite realizing the importance of failing and the growth opportunities it provides, Armani works to ensure everyone has the community support they need to not only succeed, but grow through their failures.
Nicki Fiocco also graduated from UMBC with a bachelors of geography and environmental systems and obtained her Nonprofit Leadership and Management certificate from UMD. Currently, Nicki serves as the director of the Governor's Office on Service and Volunteerism, working to shape what service and volunteerism looks like in Maryland. Reflecting on her career journey, she realized that early on she made choices based on other people's needs, not her own. Nicki described how empowering it was to take her experiences and use them to make decisions for herself, revealing her path to eventually curating and building a 23-person strong commission dedicated to making service a priority to bring about change.
Visit the SALC website and follow us on Instagram to learn more about all of the current SALC ambassadors, and how to apply to become a member.
###
This Giving Tuesday, give to support the Alumni Association Programs and Events Fund which makes Do Good opportunities like this possible.
The Alumni Blog connects you with the latest at UMD. Check out articles on advancing your personal and professional goals, elevating your UMD pride, and celebrating Terp traditions, legacies and accomplishments. For even more content, follow the Alumni Association on Facebook, Instagram, Twitter, LinkedIn and YouTube. Become a UMD Champion to receive monthly shareable pride points, news and more straight to your inbox.