Home
About Us
News & Stories
Finding a new home for her Terp pride with Noreen Welch '90
Finding a new home for her Terp pride with Noreen Welch '90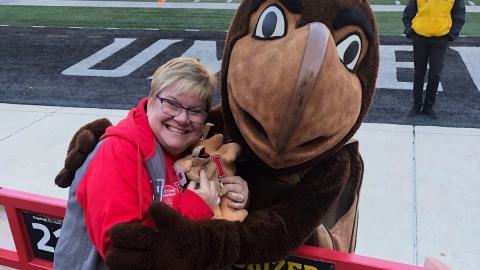 By Allison Eatough '97
As a computer science student, Noreen Welch '90 loved all things UMD – especially going to university basketball and football games.
But after graduating, life got busy. The Howard County resident spent the next two decades raising her children and working, most recently as a business analyst for a technology firm.
While her Terp pride remained strong, she didn't have time to attend any more games, let alone time for hobbies or volunteering – until 2018.
That's when Welch heard about a Prince George's County Terps Alumni Network suite party at a UMD football game. She jumped at the chance to attend with her teenage son.
Welch, a second-generation Terp, savored being surrounded by alums.
"This is great," she recalled thinking. "I turned and asked the Alumni Association representative, 'Where's the Howard County alumni chapter?' He said, 'There isn't one.' So I said, 'Sign me up!'"
Within a year, Welch and several others launched the Howard County Terps Alumni Network to help fellow Terps connect, build relationships and share their Terp pride.
The network has hosted a range of events across the county, including wine tastings, basketball and football game watch parties, discussions with UMD admissions officers, online seminars and a bingo night – a sold-out event that included local beer, food and prizes like tickets to a UMD basketball game.
"We're trying to gear some of our future events toward families because Howard County has a lot of families," she said. "And we have some people on the board with young children who've come up with some great ideas."
Welch said she's enjoyed all of the events the network has hosted, but it's people she's met during the events who have made the biggest impact.
"When I got involved my son was in high school and I had two in college, so I found myself with a lot of free time," she said. "Then this opportunity came along. Being 51 years old, I'm surprised by the connections I've made with people."
Welch said she's become especially close with her fellow Howard County Terps Alumni Network board members.
"It's really just a great group of people, and we genuinely like each other and like to do these activities," she said. "I have such Terp pride and am so happy to be a part of something that lets me be involved in this community in so many different ways… It's so much fun, and I've met some of the nicest people. It's just really wonderful to connect with new folks that you normally wouldn't have met."
The University of Maryland Alumni Association has 60 different alumni networks, including seven regional networks in Maryland. Click here for more information and to get connected.
###
The Alumni Blog connects you with the latest at UMD. Check out articles on advancing your personal and professional goals, elevating your UMD pride, and celebrating Terp traditions, legacies and accomplishments. For even more content, follow the Alumni Association on Facebook, Instagram and Twitter.