Home
About Us
News & Stories
Friday Five: Black History Virtual Tour
Friday Five: Black History Virtual Tour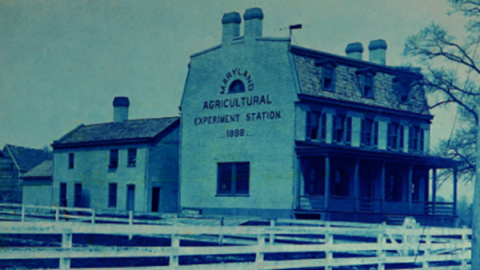 Welcome to the Friday Five, a roundup of the best your Alumni Association and other UMD communities have to offer. From the latest events to fun facts, here's essentials in five categories for you to check out this weekend.
The results are in: Maryland Dairy versus Insomnia Cookies - who won? See below!
1. What's Happening
- TERRAPIN LOVE WEEK - February 8-12
Join your Alumni Association for a week's worth of Valentine's Day lead-up events starting Feb. 8. Discover your passion and purpose, take a partner dance class, engage in discussions on self-acceptance, discover passion and purpose in your life, cook up a delicious romantic meal, and more. Attend at least two Terrapin Love Week events and enter for a chance to win a gourmet sweets box, including chocolate bourbon cookies, classic rice crispy treats, cupcake rice crispy treats and apple cider caramels with candy caps. REGISTER
- SAY IT LOUD: A BLACK TERPSPECTIVE - February 18 | 7 p.m. EST
Filled with inspirational alumni and endless Terp Pride, the University of Maryland Alumni Association's inaugural Black Alumni Weekend is coming spring 2022. To help you prepare, the Black Alumni Weekend Steering Committee has planned several preview events for 2021.
Join us for our premiere event, Say It Loud: A Black TERPspective. Co-sponsored by the University of Maryland Black Terps Alumni Network, this social justice panel will uncover the past and present events that defined Black experiences at the University of Maryland. Highlighting Black Terps that blazed the trail for critical Black voices, such as the Black Student Union and Black Terps Matter, the panelists will provide stories of triumph and struggle through the decades. REGISTER
- POWER TERPS: FROM COLLEGE PARK TO CAREERS IN TECH - February 24 | 7 p.m. EST
Interested in how an English degree might translate to a research role with Google? Curious to learn how to balance a successful professional life with thriving personal relationships? Hoping to gain perspective on turning a failure into an opportunity for growth? Join us to hear the stories of three Power Terps who have landed careers with some of the biggest names in tech, and the journeys they navigated to get there. REGISTER
- SOUND ON SERIES - February 10 | 7 p.m.
Keeping the Spark Alive: Marriage and Dating During a Pandemic. Join us and relationship therapist Terps to answer your questions on navigating dating or maintaining a healthy relationship during the pandemic. You will also have a chance to share what has been working for you, helping us all better our relationships in the new year! REGISTER
- TERP YOUNG SCHOLARS - July 11-30, 2021
Give your talented high school student a pre-college experience while earning three college credits at UMD. Alumni Association members receive a 20% alumni discount. APPLY NOW
2. Quotables

- Head of the Class: Smith School Graduate De Armond '94 Guides Accounting Students Into the Future
"'I tell the students, 'No class is going to prepare you for everything you're going to encounter in your professional life.' Those critical thinking skills that I learned at Maryland, the ability to question the information that's being given and presented to me, is very important. I almost think that's even more important now than it's ever been before." Allison Eatough '97, Alumni Blog; Read More
- We Are Judging You - Do You Care?
"The Evil Queen may have been interested in being the fairest of them all, but we live in the real world. You don't need to be the fairest of them all to make a positive impression on the people you meet. However, you do need to be aware of the norms and standards in your business sector to make sure you are not running too far outside the lanes of your industry." Glenn Rudin '81, Alumni Blog; Read More
- University of Maryland Receives its Highest Ranking in Research and Development Survey
"Widely recognized as the preeminent measure for higher education institutions engaged in sponsored research, the HERD ranking pushes the University of Maryland into an elite tier in terms of funding—eighth in research and development spending among public institutions and 14th among all U.S. universities in fiscal year 2019. For 2018, UMD and UMB ranked 47th and 55th respectively." Maryland Today Staff, Maryland Today; Read More
- Black History Virtual Tour
Did you know the University of Maryland has a Black History Tour? From its website: "From its antebellum founding through the present day, Terp life has been shaped by more than just those who wrote the official version of history. There was a time when students and visitors of color were outsiders here, but through the sacrifices of earlier pioneers—reflected in our campus fabric—each brick and blade of glass belongs to them as well." Check out the tour here, and sign up for our Black History Month programming here.
-
Terrapin Love Week Spotify Playlist
Which songs got the most votes for the Terrapin Love Week playlist? Check out the Spotify playlist here.
- It's Friday - Ice Cream Forever
It's official - Maryland Dairy is a Terp favorite. Check out their latest treats on their Instagram, and then head on over to our Instagram Stories for our new Friday question.
4. Let's Get Social
5. Friendly Reminders
- Find Your Network
The Alumni Association has over thirty networks, including networks based on region, affinity and special interest groups. Haven't connected with your network yet? Here's why you should - You have an extensive network of Terps at your fingertips, and we're here to connect you with others in your industry, provide career development and help you discover your passion. Expand your social circle through the latest events, programs and news in your area, affinity or interest. Get involved to join our quarterly network bracket competitions and spotlights on Instagram, have your voice heard in your network's upcoming programs, and form a community with like-minded Terps! FIND YOUR NETWORK
That's it for this week, Terps. Make sure to check back with us every Friday. Have a lovely weekend!
###
The Alumni Blog connects you with the latest at UMD. Check out articles on advancing your personal and professional goals, elevating your UMD pride, and celebrating Terp traditions, legacies and accomplishments. For even more content, follow the Alumni Association on Facebook,

Instagram

and Twitter.