Home
About Us
News & Stories
Friday Five: A Look Back at Virtual Homecoming 2020
Friday Five: A Look Back at Virtual Homecoming 2020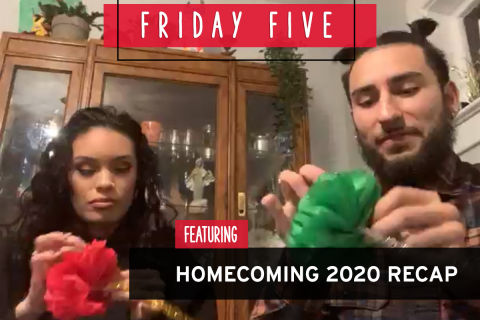 Welcome to the Friday Five, a roundup of the best your Alumni Association and other UMD communities have to offer. From the latest events to fun facts, here's essentials in five categories for you to check out this weekend.
1. Events and Programs You Can't Miss
- TERP COOKBOOK
Get ready to cook up some Maryland pride with the first-ever University of Maryland Alumni Association cookbook! This collection of recipes features Maryland and family favorites, submitted by Terps across the country. It's our gift to you with a donation of $50 or more to the new Alumni Association Student Engagement Fund. Fair market value is $14; please see your tax advisor for details. GET COOKIN'.
- VIRTUAL COMEDY NIGHT - November 19 | 10 p.m. ET
Get ready to laugh - the Bay Area Terps are bringing a live (virtual) comedy show to your house! Hosted by Steven Asifo '14, this night of laughs includes Sammy Obeid, Andrew Orolfo, and Jessica Kirson. These comedians have been seen on the likes of
The Tonight Show with Jimmy Fallon, Comedy Central, America's Got Talent and The Late Late Show with James Cordon. Following the show, we'll raffle off some fun Terp gifts to support local fire relief efforts.
GET TICKETS

- REIMAGINE RIGGS - November 15
Remember to check in on the Alumni Association's social media channels this Sunday for a Riggs 15th anniversary surprise. If you haven't yet, check out our "Joy Is Not Canceled" blog post to see how we're reimagining Riggs during 2020 and beyond.
- ADDITIONAL EVENTS

2. Quotables

- Saluting Students Who Served
"'I knew I was in the right place immediately,' said Boss, a neuroscience major. 'I know that (UMD's veterans support system is) always gonna be there.'" Maryland Today Staff, Maryland Today; Read More
- LaTanya Anderson '92: Redefining Career Development
"She thinks of those experiences now as she introduces employees to the federal government's new learning and development environment, which is moving away from locking employees into a single agency and instead encouraging moves in pursuit of new knowledge and skills." Kimberly Marselas '00, Alumni Blog; Read More
- Less Violence Without Police
"'The government picks and chooses what it wants to address,' Richardson said. 'If gun violence was the leading cause of death for young white men, wouldn't we have solved the issue a long time ago?"' Liam Farrell, Maryland Today; Read More
Reminisce on the Alumni Association's first all-virtual Homecoming. READ BLOG POST
-
Fun Fact, Throwback Edition
Hootie and the Blowfish shot part of the music video for "I Only Wanna Be With You" in the Reckford Armory.
4. Let's Get Social

- Instagram Post of the Week
- The Alumni Blog Impact Stories
Let us know how your Alumni Association has helped you during your time at Maryland and beyond by sharing an Impact Story.
Was there a specific event we hosted that inspired you? Did one of our programs help you land a job? Perhaps you just want to let us know what the Alumni Association means to you.
Not only does it make us feel warm and fuzzy, but it helps us determine the type of content we should continue to host so we can help more Terps like you. Impact Stories are featured on the Alumni Blog as well as our social media and emails. Interested? Submit a brief summary of your Impact Story here. We select about four to six Impact Stories per semester.
5. Friendly Reminders
- UMD Champions
Become a champion to elevate your Terp pride. It's easy - just sign up, receive Terp news in your inbox, and click to share with your social networks. BECOME A CHAMPION
- Get Our Brand-New Member T-Shirt
One of our brand-new member T-shirts are yours for joining the Alumni Association. You can also lock in a special three-year membership rate of $108 when you join before Jan.1.
JOIN NOW
Already a member? Purchase your T-shirt
here
.
That's it for this week, Terps. Make sure to check back with us every Friday. Have a lovely weekend!
The Alumni Blog connects you with the latest at UMD. Check out articles on advancing your personal and professional goals, elevating your UMD pride, and celebrating Terp traditions, legacies and accomplishments. For even more content, follow the Alumni Association on Facebook, Instagram and Twitter.