Home
About Us
News & Stories
Friday Five: Which Maryland Dairy Flavor Are You?
Friday Five: Which Maryland Dairy Flavor Are You?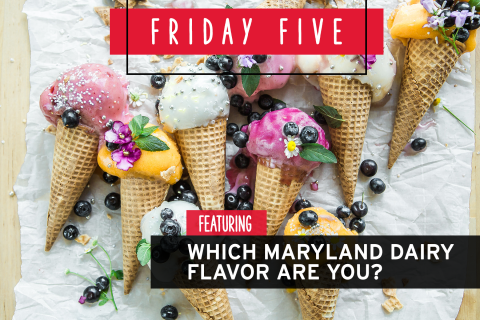 Welcome to the Friday Five, a roundup of the best your Alumni Association and other UMD communities have to offer. From the latest events to fun facts, here's essentials in five categories for you to check out this weekend.
1. Events You Can't Miss

- Members-Only
- Coffee & Conversation
Members get exclusive access to President Pines as he discusses campus life this fall and his vision for the university. Members can register with their member ID here. Not a member? JOIN NOW!
-

All Alumni
- The Alumni Survey
Now's your chnce to let us know what you'd like to see from your Alumni Association. Check your inbox for your survey link.

-

All Alumni
- UMDemocracy
Prepare yourself for the November election. SIGN UP
-
Jeanette Epps '94, PhD '20, to Be First Black Woman to Join International Space Station Crew:
"The six-month expedition, which is planned to launch in 2021, will make Epps the first Black woman to live and work in space for an extended period of time." Courtney Connley, CNBC; Read More
-
Big Ten Football Is On in October:
"Student-athletes, coaches, trainers and other individuals who are on the field for all practices and games will be required to undergo daily antigen testing and enhanced cardiac screening." Maryland Today Staff, Maryland Today; Read More

- Two Alums Create Makeup That's Actually Good for You: "That's why we tried and tested hundreds of formulas until we found the perfect combination: high-performance makeup made with safe ingredients sold at a fair price." Mary Schulman '97, Alumni Blog; Read More
- Fun Fact, Spooky Edition - Halloween's coming up, and this fact is for the Terps who love a bit of spook in their lives. The Rossborough Inn, located right across the street from Turner Hall, is home to many Maryland spirits. One of the most famous haunters is the Rossborough ghost, Miss Bettie, who used to manage the Inn during the Civil War. She's been spotted several times walking the property in her yellow dress, and might explain several other odd occurances that happen at the Inn. Check Out UMD's Ghost Tour for More Haunted Facts
- Membership - LifeTime Memberships are $200 off for a limited time. You can also get access to Coffee & Conversations when you join at any membership level. JOIN NOW
- Alumni Survey - Tell us what we can improve and how we can best serve you, and also enter for a chance to win a $50 Amazon giftcard. Check your inbox for your link to complete the survey.

- UMD Champions - Become a Champion to elevate your Maryland pride. Get first access to UMD news before it hits our social channels.
That's it for this week, Terps. Make sure to check back with us every Friday. Have a lovely weekend!
The Alumni Blog connects you with the latest at UMD. Check out articles on advancing your personal and professional goals, elevating your UMD pride, and celebrating Terp traditions, legacies and accomplishments. For even more content, follow the Alumni Association on Facebook, Instagram and Twitter.