Home
About Us
News & Stories
Friday Five: Your Major Turned Into Digital Characters
Friday Five: Your Major Turned Into Digital Characters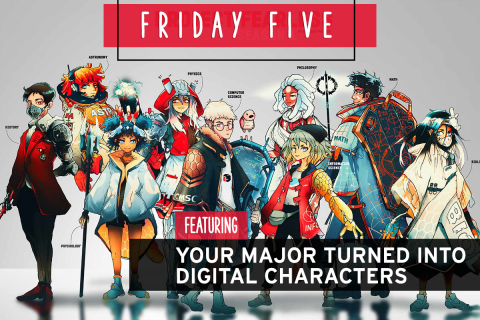 Welcome to the Friday Five, a roundup of the best your Alumni Association and other UMD communities have to offer. From the latest events to fun facts, here's essentials in five categories for you to check out this weekend.
1. Events and Programs You Can't Miss
- TERP COOKBOOK
Get ready to cook up some Maryland pride with the first-ever University of Maryland Alumni Association cookbook! This collection of recipes features Maryland and family favorites, submitted by Terps across the country. It's our gift to you with a donation of $50 or more to the new Alumni Association Student Engagement Fund. Fair market value is $14; please see your tax advisor for details. GET COOKIN'.
- DISNEY INSTITUTE - December 8 | 2 p.m. ET
Join Disney Institute for an exclusive 2-hour Disney's Approach to Business Excellence live virtual course. Spaces are limited - use special booking code UMAA20 to grab your spot before they're gone. REGISTER

- TASTE OF TAILGATING - December 4 | 5 p.m. ET
Before the Terps take on the Wolverines, join fellow young Terps for a virtual beer tasting hosted by Crooked Crab Brewing Company! During this interactive tasting, founder Earl Holman '09 will walk beer enthusiasts through four newly-released brews. While enjoying your beverages, Tessa Trach '17 and former Men's Basketball star Andrew Terrell '19 will demonstrate how to make delicious beer cheese pretzel rings - perfect for your at-home tailgate. Register by December 3. SIGN UP
- PIVOTING YOUR BUSINESS TOWARDS SUCCESS - December 7 | 7 p.m. ET
2020 has been a year of pivoting for businesses of all types. Many of us have settled into the virtual space and are now thinking about what's next. Whether you're a current business-owner, have entrepreneurial ambitions, or are eager to learn how you can innovate as an employee, you won't want to miss the insights this panel of Terps can share. SIGN UP

2. Quotables

- UMD Ranked Top 10 for Innovation and Entrepreneruship Education for Sixth Straight Year
"'The consistently high rankings in innovation and entrepreneurship are a natural byproduct of many years of strong relationships and collaboration across all 12 schools and colleges, student organizations, research and economic development groups and other key partners,' said Dean Chang, associate vice president for entrepreneurship and innovation at UMD." Maryland Today Staff, Maryland Today; Read More
- Alumni Spotlight: Adrienne (Freeman) Nicole '03
"With jobs at the sketch comedy series 'Chappelle's Show' and the music and talent series 'Showtime at the Apollo,' Adrienne (Freeman) Nicole '03 began her production career before she even graduated from UMD." Alumni Blog; Read More
- 'Fearless' New Voices Take the Stage
"En route to an abortion clinic appointment, two friends—young Black women with very different skin tones—navigate questions about colorism, autonomy over one's body and the way the world sees them." Sala Levin '10, Maryland Today; Read More
Berkeley Poulsen '21 turns UMD majors into color, capes and characters. Which character defines your major? CHECK IT OUT on Maryland Today (written by Annie Dankelson).
-
Fun Fact, Thanksgiving Edition
In previous years, the College of Behavioral and Social Sciences hosted a "Be Our Guest: Sharing Our Thanksgivig Table" event for students who couldn't go home for Thanksgiving break. Faculty, alumni and staff opened their homes and shared food, warmth and holiday cheer.
4. Let's Get Social

- Instagram Post of the Week
- The Alumni Blog Impact Stories
Let us know how your Alumni Association has helped you during your time at Maryland and beyond by sharing an Impact Story.
Was there a specific event we hosted that inspired you? Did one of our programs help you land a job? Perhaps you just want to let us know what the Alumni Association means to you.
Not only does it make us feel warm and fuzzy, but it helps us determine the type of content we should continue to host so we can help more Terps like you. Impact Stories are featured on the Alumni Blog as well as our social media and emails. Interested? Submit a brief summary of your Impact Story here. We select about four to six Impact Stories per semester.
5. Friendly Reminders
- UMD Champions
Become a champion to elevate your Terp pride. It's easy - just sign up, receive Terp news in your inbox, and click to share with your social networks. BECOME A CHAMPION
- Get Our Brand-New Member T-Shirt
One of our brand-new member T-shirts are yours for joining the Alumni Association. You can also lock in a special three-year membership rate of $108 when you join before Jan.1.
JOIN NOW
Already a member? Purchase your T-shirt
here
.
That's it for this week, Terps. Make sure to check back with us every Friday. Have a lovely weekend!
The Alumni Blog connects you with the latest at UMD. Check out articles on advancing your personal and professional goals, elevating your UMD pride, and celebrating Terp traditions, legacies and accomplishments. For even more content, follow the Alumni Association on Facebook, Instagram and Twitter.