Home
About Us
News & Stories
In True Terp Tradition, 'Tis the Season For Giving Back
In True Terp Tradition, 'Tis the Season For Giving Back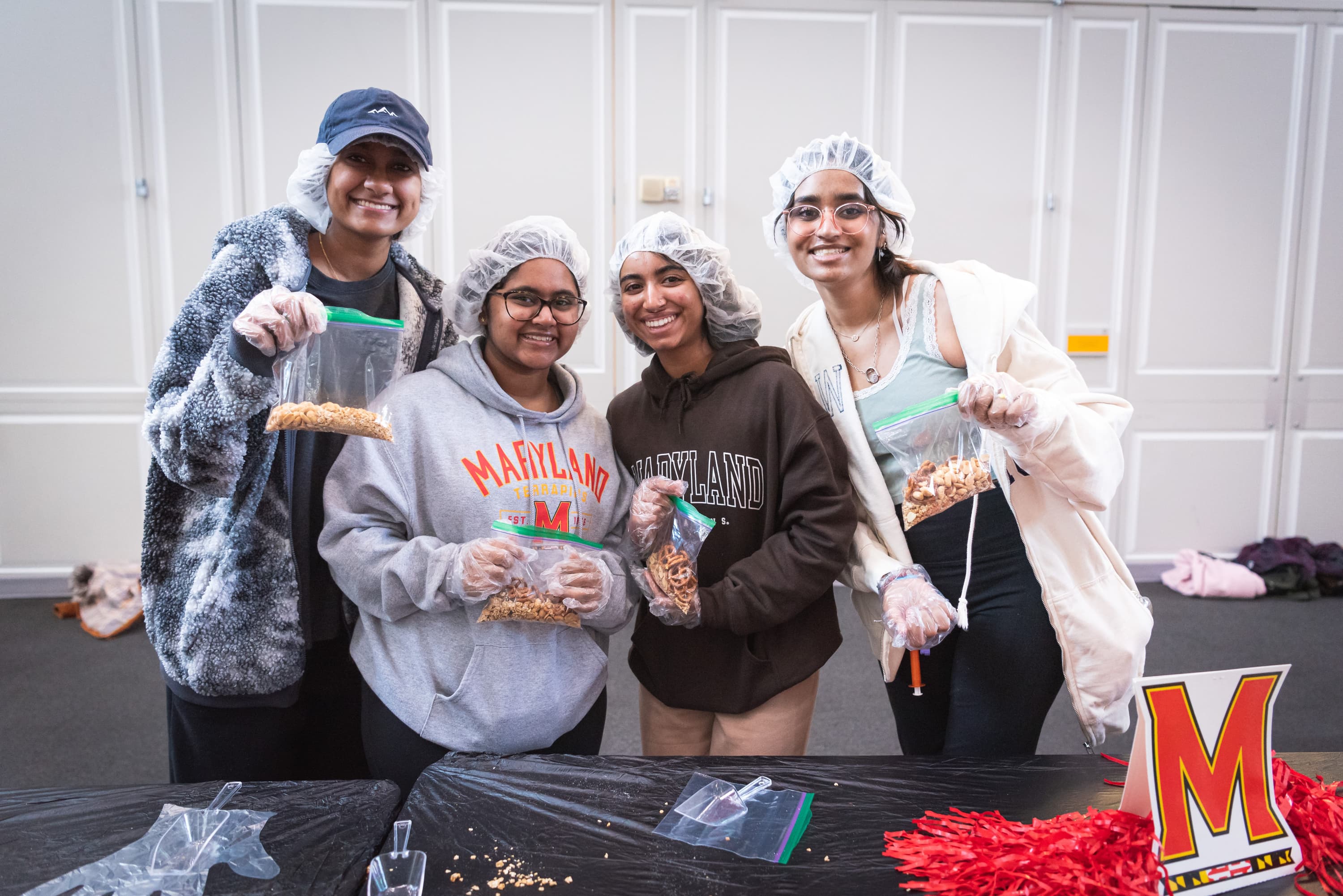 During the holiday season, many people make it a point to give back, showing gratitude for their many blessings and paying it forward to help those in need, choosing to focus on the true meaning of the season. For the University of Maryland Alumni Association and the Terp community, the concept of giving back is part of the definition of being a "Terp."
Earlier this month, the Alumni Association organized the event, "Packing Trail Mix for Martha's Table," where the Alumni Association and the community came together to pack trail mix for those experiencing hunger and housing insecurity in the DMV area. The event took place on an early Sunday morning at the Samuel Riggs IV Alumni Center.
The Alumni Association partnered with Martha's Table and Kits to Heart in order to bring the event to life. The two organizations are known for doing amazing work in the community. Martha's Table is a non-profit organization in southeast Washington, D.C. that has been in the community for over four decades, providing resources to families in addition to educational and health and wellness programs. Kits to Heart, the other non-profit organization, was founded by a three-time cancer survivor. They provide support for patients, caregivers and oncology healthcare workers.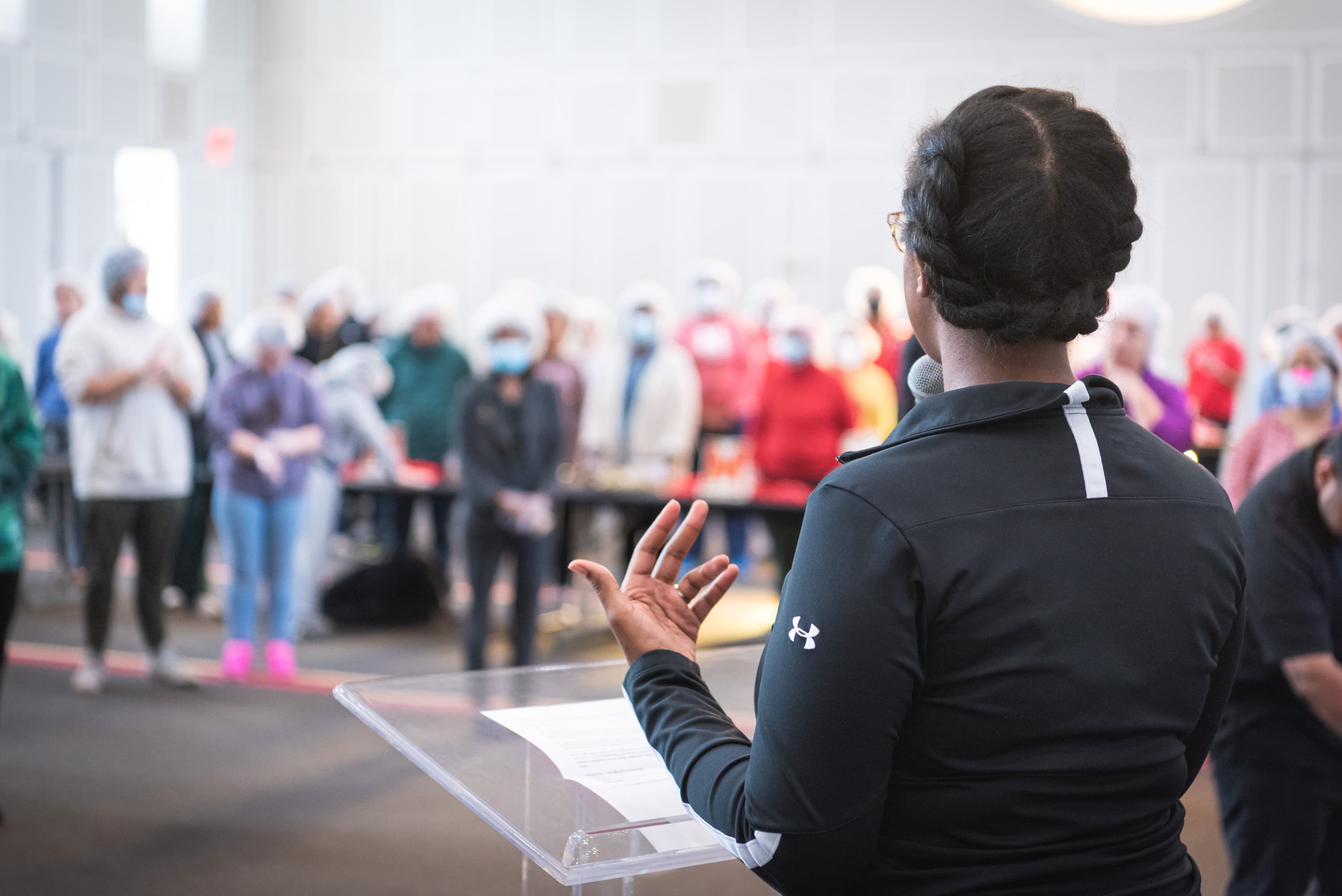 The Alumni Association's Manager of Volunteer Programs Erica Lane provided instructions to some volunteers as the Martha's Table event got under way.
"You can take part in a fearless Terp tradition when you give back and "Do Good'' through alumni volunteer opportunities," said Erica Lane, the Alumni Association's manager of volunteer programs. "Whether you are volunteering your time and talents with students, service projects or campus events, as a VolunTerp, you have an opportunity to participate in the tradition of giving back, sharing your story and being a champion for your university."
For the Alumni Association, the tradition of spearheading meaningful and engaging volunteer events is a pivotal part of the ongoing legacy of leadership for the university. And not only that, it's an important staple of the College Park community.
For this event, over 100 volunteers packed 684 bags of trail mix and 78 peanut butter and jelly sandwiches for Martha's Table. These supplies were to be given to people experiencing hunger or housing insecurity. In addition, volunteers also designed 418 journals for Kits to Heart, which will be used in care kits in cancer centers and hospitals across the country, for patients battling cancer.
Susan Clark '74, participated in her first volunteer event as an alumna, at the Packing Trail Mix event. "Though this project takes place once a year on campus, it is good to know that the university works with multiple organizations in DC daily," she noted. "This volunteer project is good for anyone - young or old. But undoubtedly, seniors have more time on their hands. And indeed, it is a bonus to represent and be a part of the University of Maryland."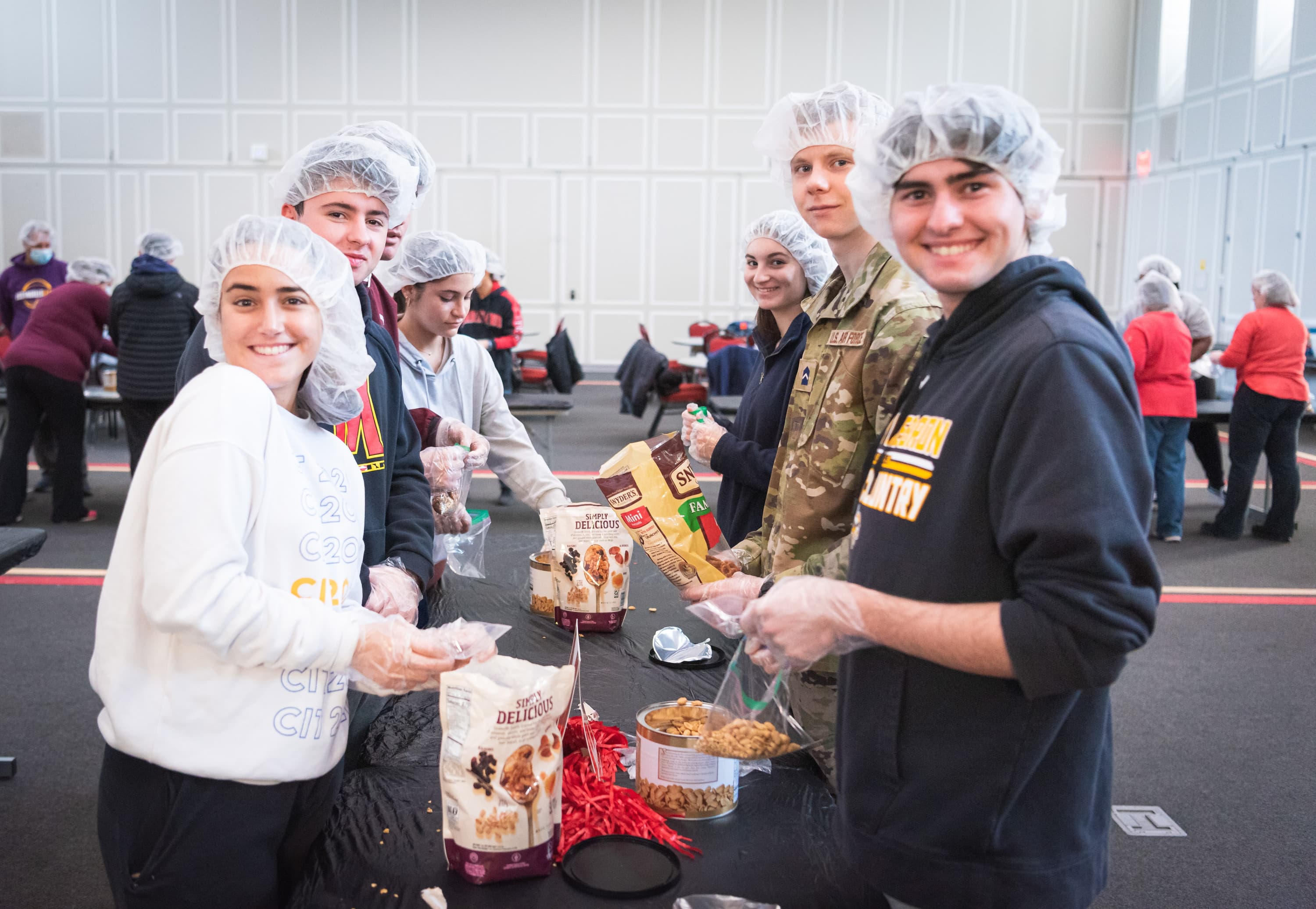 Volunteering is a Terp Tradition
Over 100 volunteers attended the event, displaying their Terp pride.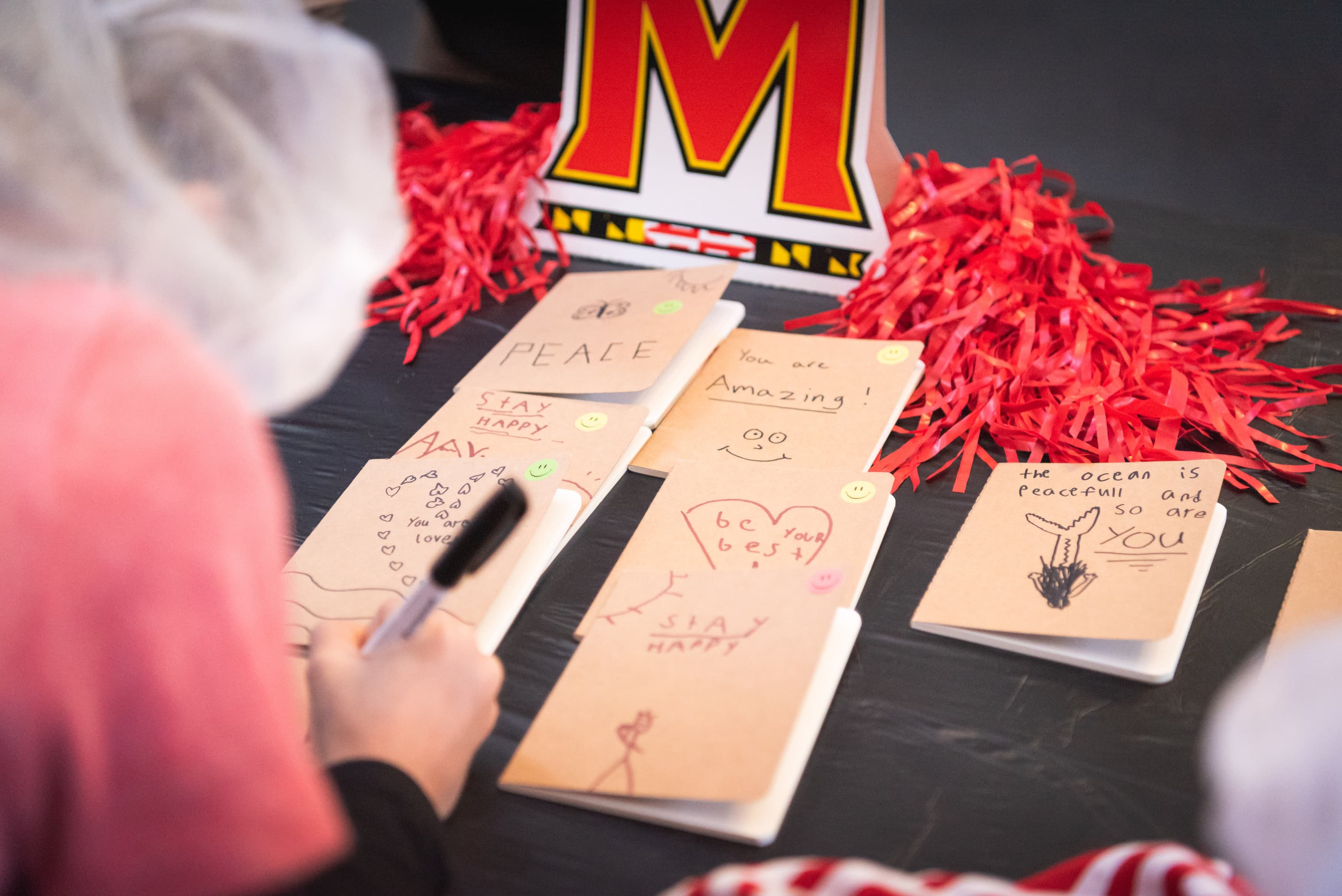 It's all about making a positive impact
Volunteers also made handwritten notes to be handed out to those in need of these resources.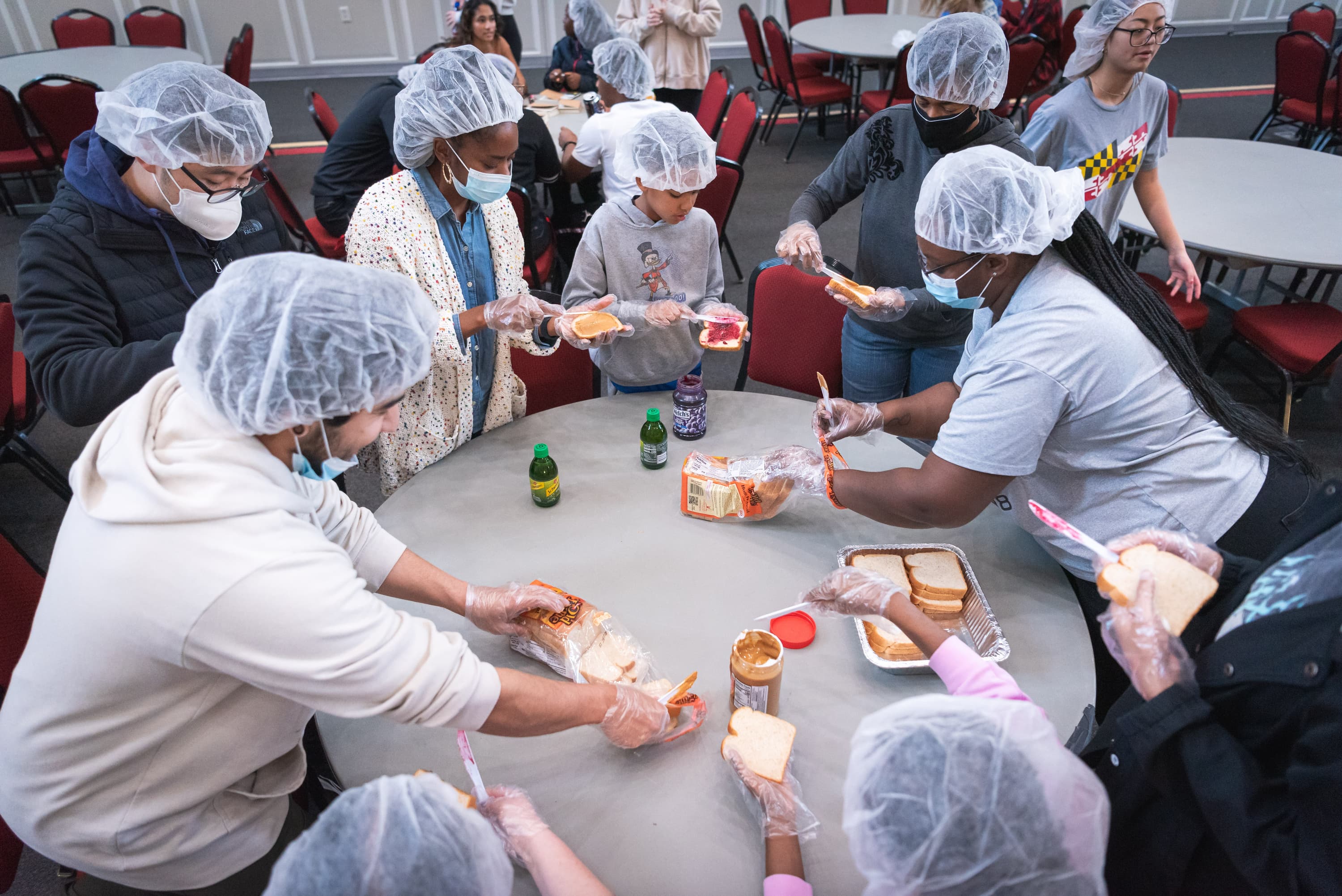 Always think about what you can do for others
Volunteering is about offering what you can. Whether it's donating your time, money, or effort, everyone can make a difference.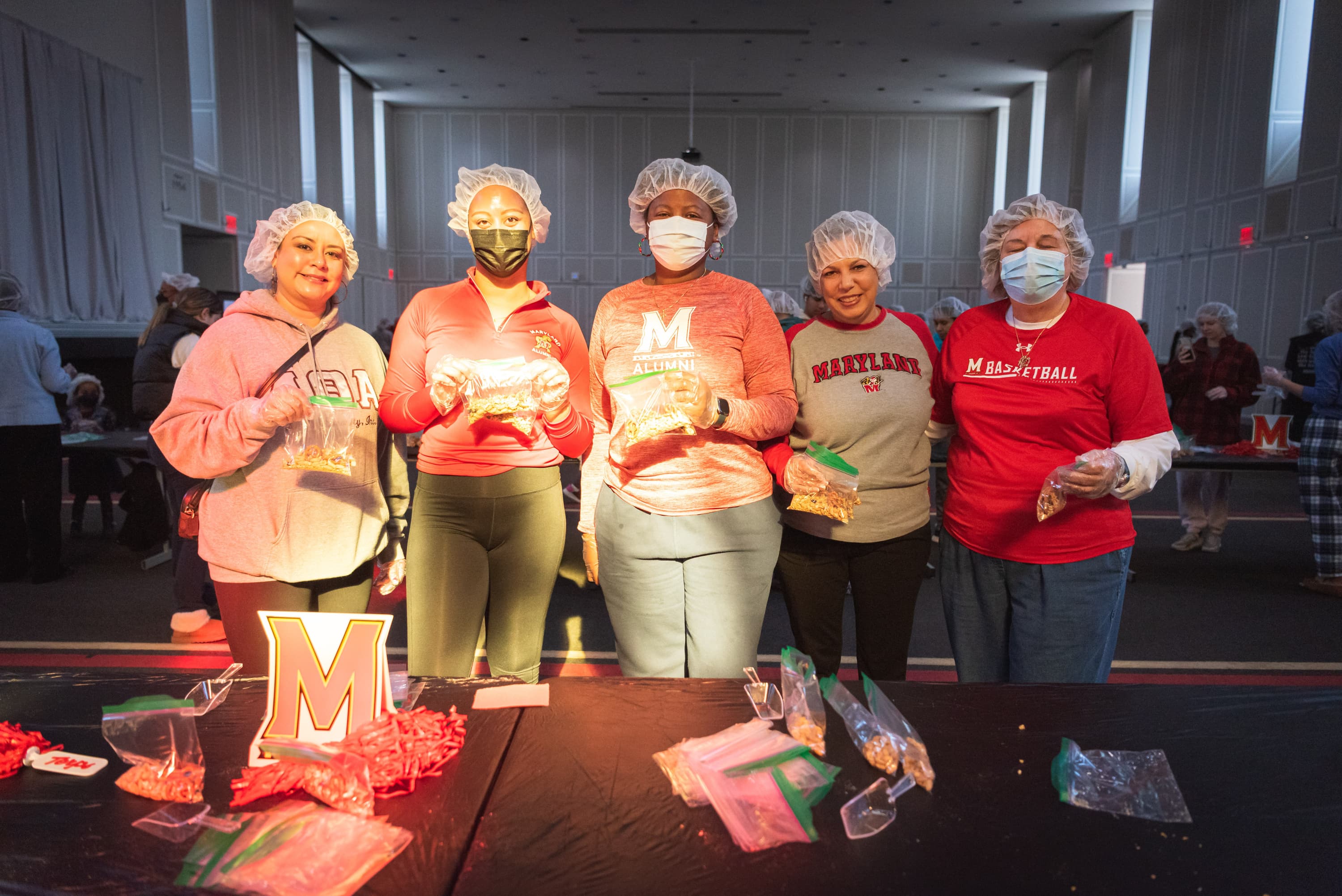 Anyone can volunteer, and it's fun too!
Without the help of thousands of volunteers every year, the Alumni Association wouldn't be able to touch so many communities. Thank you all!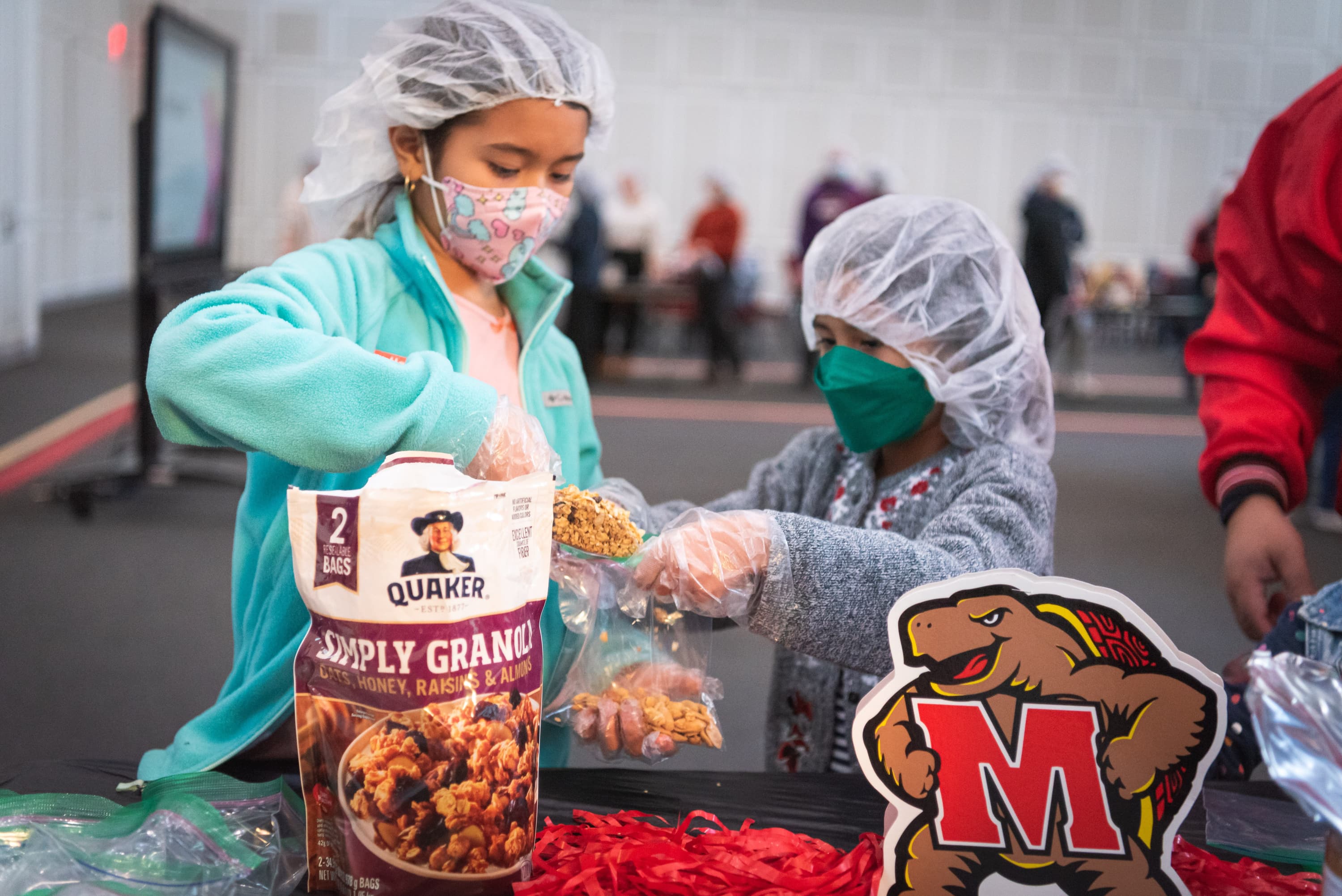 Parents: Your kids can, and should, get involved too!
Including kids in volunteering efforts instills a sense of social responsibility early, giving them the tools to become responsible and impactful adults later in life.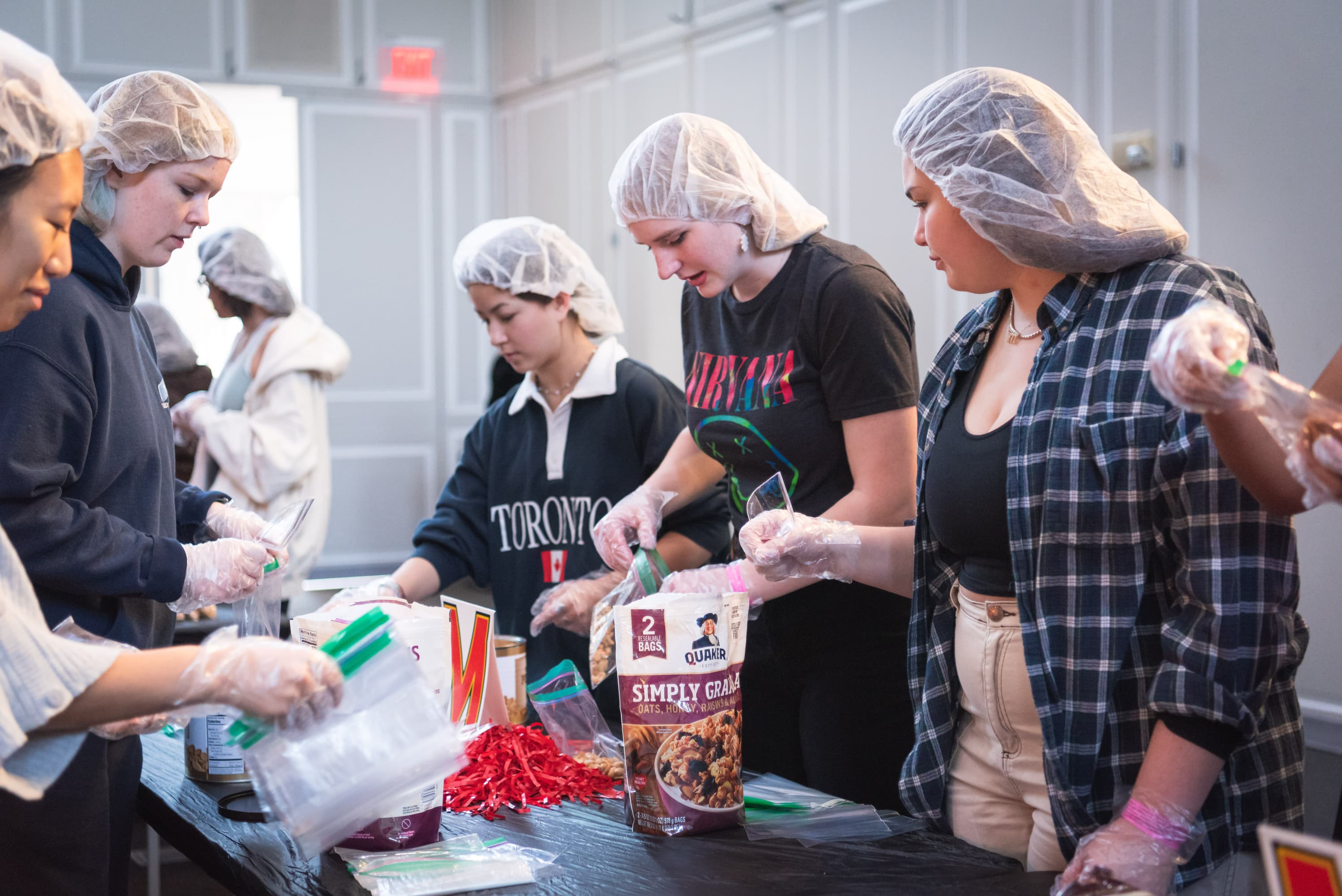 Ask us how you can get involved
The Alumni Association hosts a number of different events every single year. Ask us how to get involved by contacting us on our social media pages, linked below.
For Jameson Roth '16, '17, the president of the School of Public Health Alumni Network, volunteerism is an important part of connecting to the broader Maryland community.
"As the school's representative on the UMD Alumni Association Board of Governors, I've connected with a wide network of Terps across industries who are passionate about finding new and better ways to promote health and serve the UMD community. By getting involved through the UMD Alumni Association, alumni can connect with individuals of all ages across sectors to share knowledge, participate in mentorship programs and tap into the many events and resources provided by the Alumni Association, while learning more about how the university continues to grow and evolve."
If you would like to learn more about volunteer opportunities with the University of Maryland Alumni Association, please feel free to contact us on our social media channels, linked below.
###
Publication of this article does not imply an endorsement of any interview subject's views by the Alumni Association. The Alumni Blog connects you with the latest at UMD. Check out articles on advancing your personal and professional goals, elevating your UMD pride, and celebrating Terp traditions, legacies and accomplishments. For even more content, follow the Alumni Association on Facebook, LinkedIn, Instagram and Twitter.