Home
About Us
News & Stories
LaTanya Anderson '92: Redefining Career Development
LaTanya Anderson '92: Redefining Career Development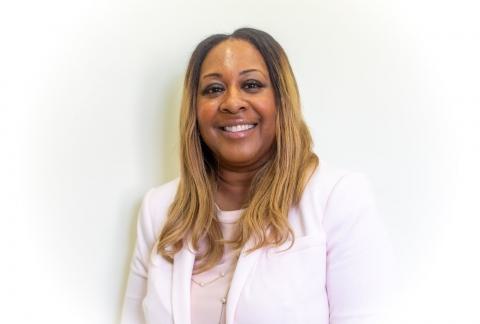 By Kimberly Marselas '00
LaTanya Anderson's '92 journey toward a 20-year government career might have started on the school bus.
At five, Anderson took a 40-minute bus ride from her home in Takoma Park, Md. to her otherwise all-white kindergarten in Calverton, part of ongoing school desegregation efforts in Prince George's County Schools. She attended three different schools by sixth grade.
"I didn't know it then, but I was already developing competencies," Anderson says. "I was good at meeting new people and selling who I am."
She thinks of those experiences now as she introduces employees to the federal government's new learning and development environment, which is moving away from locking employees into a single agency and instead encouraging moves in pursuit of new knowledge and skills.
"I'm not just an evangelist for this new way of providing professional development," says Anderson, the associate director for professional development at the Department of the Interior University. "I've done it."
Anderson graduated from Maryland's radio, television and film program in 1992. After working for a media talent agency and as a booker, she turned her attention to better-paying opportunities in Washington, D.C.'s early dot-com environment — even though she knew little then about emerging computer technology.
She convinced General Dynamics to bring her on based on her organizational and communication skills, and soon she was helping to manage a telecom project in which the company installed hotel phone lines for dial-up service. Two years later, she jumped into a federal contract position creating a regulatory database for the federal Department of Transportation.
Anderson found supervisors appreciated her ability to translate information to keep it flowing between technical and non-technical staff and she was hired as a permanent federal employee. She later moved to the Department of Veterans Affairs, where she coordinated major IT infrastructure overhauls.
But Anderson found her calling when she took the Interior job in 2015. There, a supervisor told her to think of training others with an entrepreneurial mindset rather than focusing on job-specific skills. With the advent of a federal learning ecosystem, the days of being pigeon-holed by a Civil Service test into one career are gone, replaced by a mission to develop a 21st century workforce that is willing to reskill and be ready to redeploy when necessary.
"We're giving people competencies with data so they can carve out their career paths," said Anderson, who is a representative on multiple, cross-agencies bodies working to reform professional development. "We're all sharing with each other because we care about building a better government."
Both of Anderson's parents retired from the federal government, her mom, Dianne, after a career with the Office of Personnel Management, and her dad, Robert, from the U.S. Secret Service. Anderson, 51, enjoys traveling but when she comes back home, she appreciates visiting her family to share laughs and great memories over a good meal. She's never forgotten how they pushed her to try a variety of options as a child — including Air Force Junior ROTC and University of Maryland's Upward Bound — even when she didn't know what she wanted to do.
"It was the best thing I could have done," she said. "You don't understand how that will translate later to your work, to be able to accept change, to have diverse experiences and appreciate adversity."
###
The Alumni Blog connects you with the latest at UMD. Check out articles on advancing your personal and professional goals, elevating your UMD pride, and celebrating Terp traditions, legacies and accomplishments. For even more content, follow the Alumni Association on Facebook, Instagram and Twitter.