Home
About Us
News & Stories
Legacy Award: Karel Petraitis
Legacy Award: Karel Petraitis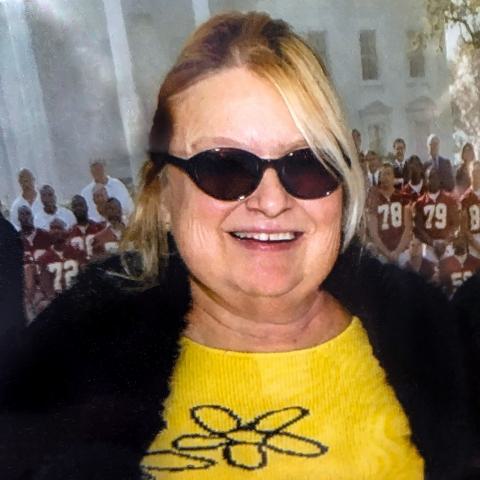 By Allison Eatough '97

Karel Petraitis said her "love affair" with UMD began long before she enrolled as a student.

On Oct. 19, 1957, her father took her to what became known as the Queen's Game, when a young Elizabeth II, monarch of the United Kingdom, and her husband, Prince Phillip, attended their first American football match — and watched the Terps beat the University of North Carolina Tar Heels, 21-7.
Petraitis was hooked.

When it came time to pick a college, there was no question where the College Park resident would end up, she said.

"While I could have attended any university I wanted, my theory was I wanted to try what was close to home," she said. "I grew up here, and I loved it."

Petraitis earned her bachelor's degree in speech and drama. She is now a practicing attorney in College Park. Over the years, her support for the university grew.

She's president of the Prince George's County Terps Alumni Network, a network of more than 26,000 alumni who stay engaged through a range of activities. She's also a past president of the Young Alumni, a former alumna board member of the College of Arts and Humanities and an honorary alumna of the College of Agriculture and Natural Resources and the School of Public Health. She's a member of Rebounders and Fast Breakers (basketball support groups) and has served on the Terrapin Club Board of Directors. She hires UMD students to work in her law office, and she holds season tickets for several UMD sports, including football and women's and men's basketball.

"For me, it's important to give back to the community," she said. "Living in College Park, my community was the university."

To recognize her years of dedication to UMD, the Alumni Association is honoring Petraitis as a recipient of the Legacy Award.

Colleagues say it's a fitting tribute to a woman who has red, white, black and gold in her veins.

"Karel's leadership for more than 40 years has helped keep the Prince George's County network vibrant and active," said Dan Cronin '90, MBA '92, Ph.D. '07, vice president of the Prince George's County Terps Alumni Network. "But beyond leadership, Karel gets personally involved, working with current students on their career path through her vast legal network. She is a leader who is as comfortable chairing a board meeting as she is pushing up her sleeves and setting up an alumni tailgate."

Jean Baron '76, who worked with Petraitis at the Prince George's County Terps Alumni Network, added: "Karel's love for, commitment and dedication to the university is unwavering and always has been. She deserves the recognition."
---
University of Maryland graduates are among the best and brightest in their fields. From scholars and innovators to entrepreneurs, teachers and researchers, our alumni are leaving their mark in our state, nation and the world. The Alumni Excellence Awards provide an opportunity to recognize the accomplishments of select Terps, and honor these recipients with distinction. Careful consideration was made in selecting our 2021 recipients across four categories: Rising Terp Award, Research Award, EnTERPrenuer Award and Legacy Award.

The Legacy Award honors an alumnus/a who has made a significant impact to their community over their lifetime. Up to three Legacy Awards are granted annually, celebrating the personal and professional lifetime achievement of Terps.