Home
About Us
News & Stories
Legacy Award: Rebecca Evans Carroll Ed.D. '66
Legacy Award: Rebecca Evans Carroll Ed.D. '66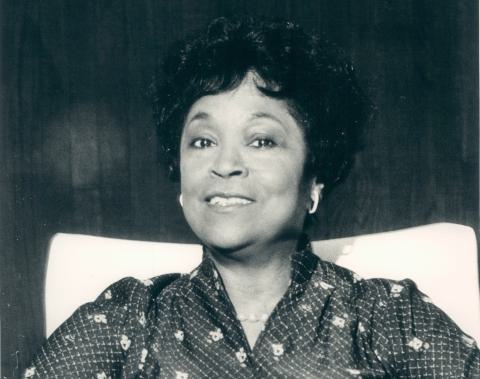 Photo provided by The Baltimore Sun, 1983.

By Allison Eatough '97

In the early 1950s, UMD barred Rebecca Evans Carroll from its graduate programs. The reason: Carroll was Black.

The then whites-only university did not admit its first Black undergraduate student until 1951 and its first female Black student until 1955. The state of Maryland paid for Black students to attend other universities, so Carroll attended the University of Chicago instead and graduated summa cum laude with a master's degree in human development and education. She came back to UMD in 1962 and became the first African American woman to earn a doctorate from the school.

"The silliness of it all wasn't lost on us," she said during a 1995 Baltimore Sun interview. "We were pained and angered that we couldn't go to schools in our own state, but we also knew that this was something we could take advantage of."

Carroll went on to have a long, illustrious career in education. The elementary school teacher became a principal, then an assistant superintendent and then finally the first African-American woman deputy superintendent of curriculum and instruction for Baltimore City Public Schools.

She also became a leading local voice on racism and the philosophy of educating youth.

In her 1996 memoir, "Snapshots: The Thoughts and Experiences of an African-American Woman," Carroll shared her hopes for the future of education. She called for a greater focus on the "humanistic elements of personal interaction in the family and in the school."

"No person or community should be exempt from the process," she wrote. "When we're really interested, we'll leave no stone unturned. So we have to be interested — more than just the usual. Each of us is like the tip of the iceberg. There's more to us than what we realize. We have talents that we haven't begun to use. Everyone — young and old, well and sick — can do more to bring about change than she/he is currently doing."

Carroll died in 1999. For her academic accomplishments and enduring contributions to her field, the Alumni Association is honoring Carroll posthumously with a Legacy Award.

"She would feel that this was a great honor on behalf of herself and on behalf of others who struggled in order to be admitted, first of all, and then to complete programs at the University of Maryland," said Constance M. Carroll, Carroll's daughter. "And then she would have this little feeling of irony about it all because it is very different from what her initial experience was."

Steve Fetter, associate provost and dean of the UMD Graduate School, said the award is well deserved.

"Rebecca Evans Carroll considered her doctoral degree from Maryland a tremendous personal success against the backdrop of a racist society and from an institution that initially denied her access," he said. "She had a wonderfully successful career, culminating in her appointment as the first African American woman deputy superintendent of curriculum and instruction in the Baltimore City Public Schools. There, she courageously advocated for strengthening families, the abolishment of institutional racism, improving education, achievement and accountability, and breaking the cycle of disadvantage."

To learn more about Carroll, visit https://gradschool.umd.edu/newsroom/rebeccacarroll.
---
University of Maryland graduates are among the best and brightest in their fields. From scholars and innovators to entrepreneurs, teachers and researchers, our alumni are leaving their mark in our state, nation and the world. The Alumni Excellence Awards provide an opportunity to recognize the accomplishments of select Terps, and honor these recipients with distinction. Careful consideration was made in selecting our 2021 recipients across four categories: Rising Terp Award, Research Award, EnTERPrenuer Award and Legacy Award.

The Legacy Award honors an alumnus/a who has made a significant impact to their community over their lifetime. Up to three Legacy Awards are granted annually, celebrating the personal and professional lifetime achievement of Terps.