Home
About Us
News & Stories
Meet the Black Alumni Weekend Steering Committee
Meet the Black Alumni Weekend Steering Committee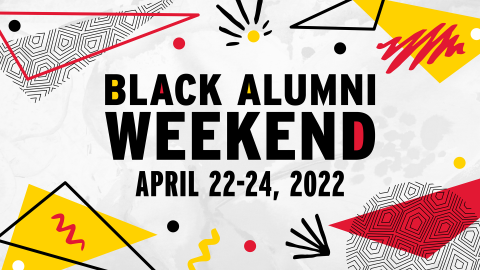 The University of Maryland's inaugural Black Alumni Weekend will welcome Terps back to College Park to celebrate with friends, reconnect with fellow classmates, and enjoy a weekend filled with inspirational alums, music, great food and endless Terp Pride. Black Alumni Weekend is brought to you by the Alumni Association and an Alumni Steering Committee made up of 11 Terps representing varying class years, majors and former student organizations. Read about each member of the committee who worked fearlessly to bring you Black Alumni Weekend below.
Cassie Agyeman-Duah '05
Committee Chair
Cassie A. Duah serves as the chairperson of the inaugural University of Maryland Black Alumni Weekend (BAW) Steering Committee as well as president of the University of Maryland Black Alumni (UMBA) Network. Cassie is an alumna of the A. James Clark School of Engineering. After her undergraduate studies, she went on to earn her master's and master of business administration. She worked for several large and small engineering and technology firms before landing at her current role as a senior solutions architect with Amazon.
As a student Cassie was very active on campus, serving (among her many roles) as vice president of the Eta Epsilon Chapter of Zeta Phi Beta Sorority, Inc., as well as a Pan-Hellenic Council board member, a Black Honors Caucus board member, a campus big leader with the Black Student Union, a Black Explosion writer and photographer, and a School of Engineering representative to the Student Government Association. Her interest in community and willingness to serve has extended beyond undergrad which is why she has worked so hard to ensure that the first BAW is a success!
"I'm not just attending Black Alumni Weekend because I am helping to plan it. I am attending because Black Terps deserve a reason to come back to the University, a reason that caters to us too. Black alumni have been wanting a Weekend for many, many years, and I am glad to finally see it come to fruition! It's the Inaugural Black Alumni Weekend, I am attending to be a part of UMD history!"
George "Brak" Braxton '87
Programming Committee
George "Brak" Braxton '87 is the chief diversity and inclusion officer for Virginia's Department of Wildlife Resources. While attending UMD, he was (and is currently) a member of the Chi Delta Chapter of Omega Psi Phi Fraternity, Inc., president of the Pan-Hellenic Council and spokesman for the Black Coalition. After graduating UMD, he attended the University of Virginia School of Law. He practiced law briefly before taking a position within Georgetown University Law Center's admissions office. He later became dean of admissions at The Catholic University of America, Columbus School of Law. Brak returned to his hometown of Richmond, Va. where he became director of recruiting and diversity at the law firm of LeClair Ryan. In 2012, he was appointed as chief diversity officer at the Defense Contract Management Agency.
"I am attending BAW because my experiences at UMD were the most influential in my life. The friends I met there have been lifelong friends and I look forward to communing with them during a time that is dedicated to us."
LaDedra Drummond '89
Programming Committee
LaDedra Drummond '89 has been active in the philanthropic community for multiple causes, including Fashion for Paws since 2011, and a dedicated fundraiser for the Washington Humane Society. As a current active member of the D.C. chapter of Top Ladies of Distinction, Inc., LaDedra has assisted the chapter's Teens to Men's Awards Ceremony, the blood drive with the Children's National Medical Center and publicity campaign 5K walk/run, as well as other activities. In addition, she is on the board of the Miss Black USA Scholarship Pageant.
Aligned with her philanthropic activities, LaDedra has an extensive background in the broadcast industry. Her experience as a media professional dates back to 1992. LaDedra has worked for CNN on the "Larry King Live'' show, the House Recording Studio at the U.S. House of Representatives, CBS News' "Face the Nation," and WUSA-TV 9. She has also worked for Rep. John Lewis (D-GA), Rep. Sheila Jackson Lee (D-TX) as press secretary (2001-2004), and Rep. John Conyers (D-MI). She currently serves as Rep. Sheila Jackson Lee's scheduler since 2015.
"I am attending Black Alumni Weekend as a chance to celebrate the heritage, culture and legacy of Black alumni and forge the future for Black Terp students."
Craig Harris '89
Programming Committee
Craig G. Harris is a 1989 graduate of the University of Maryland, College Park with a Bachelor of Science in consumer economics and a minor in African American studies. During his time at the University of Maryland, he served in a number of roles including president of the NAACP, a resident assistant and the lecture director for Student Entertainment Enterprises. He also served as a volunteer and an ambassador for the Nyumburu Cultural Center, which holds a special place in his heart (he still volunteers with Nyumburu to this day). After Maryland, Craig earned a Masters of Business Administration in marketing at Clark Atlanta University. Since then, he has been working as a pharmaceutical sales representative and continues to be an engaged volunteer working with a number of organizations, giving back to the community both socially and politically. Craig works heavily with the Boy Scouts of America — most recently, as scout master of BSA Troop #539. Craig is married and has two sons.
"I am attending the Black Alumni weekend to reconnect with classmates, make new connections and continue celebrating the 50th Anniversary of the Nyumburu Cultural Center. I also think it's important as Black alumni to make our presence known to the larger University community and administration, and to serve as a role model for the current students."
Jessica Jackson '05
Programming Committee
Jessica is a court-appointed United States probation officer for the federal judiciary. Jessica graduated with a Bachelor of Arts in criminology and criminal justice in 2005 and earned her Master of Science in forensic studies from Stevenson University in 2012. Jessica is currently a member of the Black Alumni Weekend Steering Committee marketing team. She's excited to be a part of the Steering Committee because it's "a great way to reconnect with my alma mater, previous students, and to serve my community."
"I'm attending Black Alumni Weekend so I can celebrate and reconnect with fellow Black Terp Alumni."
Timi Jordan '91
Programming Committee
For Timi Jordan '91, community service started at home. Caring for others, as well as creating access to resources, education and mentoring were a part of her DNA before arriving at College Park. Timi, an active member of Delta Sigma Theta Sorority, Inc., has served Delta in various roles on the local, regional and national levels since her initiation into the Kappa Phi Chapter at UMD. In 2013, Timi served as national entertainment subcommittee co-chair for Delta's Centennial Founders Weekend Celebration.
With a storied global event marketing career that includes leading event teams at The Leukemia & Lymphoma Society Inc, whose event efforts helped catapult the LLS Team In Training Program into the world's largest charity endurance training program, and at ESPN — the worldwide leader in sports, Timi has been a catalyst at developing some of the most recognizable major events in the sports and entertainment industry. She has led numerous event experiences with multimillion-dollar sponsorship event activations for ESPN (including The ESPYS, Monday Night Football, NBA All-Star, Rose Bowl, and International X Games),
Timi is also proud of the event experiences she creates that amplify the talents of young, future leaders. Along with producing engaging UMD alum and student event-related programming, she has collaborated with The Recording Academy on an installment of the GRAMMY ReImagined series, choreographed/produced step show musical performances for ESPN live events that showcased one hundred Black college students from NPHC all-star Black fraternity step teams and FAMU "The Marching 100" HBCU marching band alongside major music artists in performances at The ESPYS, in an ESPN BCS National CFP Game commercial, and ESPNU HBCU marching band documentary. As one of the founding champions of the new UMD Student Success Service Leadership Scholarship, Timi continues to give her time and talents in support of various initiatives.
"Reconnecting with old friends, celebrating and revisiting the past. For these reasons, I'm excited to attend Black Alumni Weekend! However, as a Black UMD alum, I feel a strong sense of responsibility to attend the first-ever Black Alumni Weekend. Yet overdue in 2022, I appreciate the acknowledgment from the university that my UMD experience was different from my white counterparts. I feel it is my duty to attend to bring awareness to current Black UMD students that we are making progress!"
Maurice Nick '12, MBA '16
Programming Committee
Maurice Nick '12, MBA '16 was heavily involved at UMD as a student and has been a pillar of the Black community and business school community since undergrad graduation. He is a brother of Alpha Phi Alpha Fraternity, Inc. and served as chapter president. It is not uncommon to hear his voice on the radio or see his photo and stories on university communications. He has been one of the university's strongest advocates and we are honored to have him on the steering committee.
"I am attending Black Alumni Weekend so the University of Maryland knows that the alumni stand as a united front with the Black students on campus. I support all efforts to enhance diversity and strengthen the bond of understanding between the university and its Black alumni community."
Zainnaib Jalloh '01
Marketing Committee
Zainnaib Jalloh has a bachelor of arts in English from the University of Maryland. She is a charming ghostwriter, an eagle-eyed editor and uber creative professional who loves to collaborate and make things happen. She's ever optimistic and a true introvert by nature. Zainnaib is an avid reader and social observer who loves to surprise people with gifts — good news, a favorite trinket or at least a good laugh.
"I am attending Black Alumni Weekend to celebrate, elevate and embrace my Black Terp alum family in all things that make us bold, Black and beautiful."
Kevin T. Henry MBA '16
Volunteers and Ambassadors Committee
Kevin T. Henry, who has worked in the financial services industry since 2008, joined Oppenheimer & Co. Inc. full time in June 2016 as an associate director — investments. Since joining Oppenheimer, Kevin has become a portfolio manager for Oppenheimer's OMEGA Group, overseeing portfolios of a select group of clients, including high net worth individuals and non-profit institutions. Throughout his career and at Oppenheimer, Kevin has made education and promoting financial literacy a cornerstone of his business. Kevin regularly serves as a guest speaker or host of financial seminars for groups varying from beginning investors to pre-retirees, and holds the Certified Planner Board designation from the Certified Financial Planning Board of Standards Inc.
Before Kevin joined Oppenheimer, he worked at PNC Financial Services, first as a personal banker and subsequently as an investment advisor. He earned a bachelor of science degree from Howard University and a master of business administration from the University of Maryland. He was also a participant in Oppenheimer's summer internship program in 2015.
As a new homeowner in Washington, D.C., Kevin spends much of his leisure time on renovation projects or catching a local sporting or music event. He is an active member of the National Black MBA Association and the alum clubs of both Howard University and the University of Maryland.
"I'm attending Black Alumni Weekend both to reconnect with and give back to a community that's been so important in my personal and professional growth."
Denise M. Joseph '92
Volunteers and Ambassadors Committee
Denise earned her bachelor's degree in urban studies and a specialization in personnel management and public administration while competing on the track team. She is an education, youth and community advocate who is experienced in utilizing creativity, leadership and teamwork to design and execute policies, programs and services that create value. Denise is a foster mom of four siblings and lives in southern Maryland with her husband Jereme and her cat Pegasus.
She's excited to serve on the committee because "I want to continue to pour into the university that helped me build who I am. I want to help students and alumni to build lasting connections like I did."
"UMD is where I grew up and made great connections. I am attending BAW because I want to connect with my friends, come back home and celebrate with good times."
Garlynn Parker (Jones) '78
Volunteers and Ambassadors Committee
Garlynn Parker (Jones) attended UMD from 1974-78 as a personnel and labor relations major at the Robert H. Smith School of Business. As a student, she worked in the main dining hall and Admissions Office as a work-study student. She also worked part time at an area department store. As a cooperative education student, she worked as a Dept. of Navy personnel management specialist intern for three spring semesters. After graduating from UMD, she became a federal employee at the Office of Personnel Management, then later transitioned to Dept. of Army for the remainder of her career, managing major IT contracts, budgets and acquisition purchases as a contracting officer's representative and billing official.
Garlynn became a charter member of the Eta Beta chapter of Sigma Gamma Rho Sorority, Inc in April 1976 and has recently celebrated 46 years with the chapter's membership and alums. She has served as a past basileus (president) in the Phi Sigma chapter of SGRho in Washington, D.C.
After 41 years of service, she retired in 2017 and has continued volunteering in her community and church. Scrapbooking is her most relaxing and fulfilling hobby along with fitness and self care. Garlynn is married with two children and one granddaughter.
"I'm coming to the inaugural Black Alumni Weekend to fellowship with my Terp classmates, friends and associates. We had such a tight bond in the 70's and I would love to see everybody again."
----------
Join us for the inaugural Black Alumni Weekend April 22-24. Enjoy an outdoor concert at Terpchella, don your black-tie attire for the Gift of Giving Gala, and network with fellow alums from your former school or college. To register, visit https://blackalumniweekend.umd.edu/.
###
The Alumni Blog connects you with the latest at UMD. Check out articles on advancing your personal and professional goals, elevating your UMD pride, and celebrating Terp traditions, legacies and accomplishments. For even more content, follow the Alumni Association on Facebook, Instagram, Twitter, LinkedIn and YouTube. Become a UMD Champion to receive monthly shareable pride points, news and more straight to your inbox.