Home
About Us
News & Stories
Meet the Board of Governors: Bert Williams '96
Meet the Board of Governors: Bert Williams '96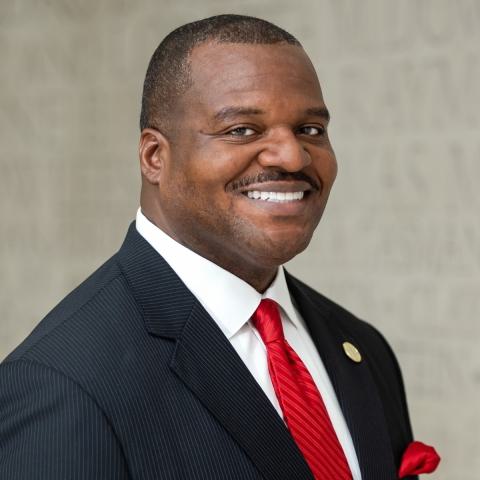 By Allison Eatough '97
When he walked across the stage at graduation 26 years ago, Bert Williams '96 received two items: a certificate for his criminal justice degree and a University of Maryland Alumni Association key chain.
The degree led to a long, successful security career at Fannie Mae. And the key chain? Aside from the occasional Homecoming visit, it remained Williams' only tangible connection to the Alumni Association until 2012.
That's when friend and fellow Terp Omar Eaton-Martinez '96 invited Williams to a lecture sponsored by the University of Maryland Black Alumni (UMBA) network.
"It was a lecture by Dr. Ira Berlin, an extremely respected historian at the University of Maryland," Williams recalled. "It was not only my first time attending an official alumni event but my first time being inside the Clarice Smith Performing Arts Center. I ended up reconnecting with a few people I hadn't seen in years and meeting some new ones."
Eaton-Martinez and former UMBA President Adia Moore '03 encouraged Williams to join the network. He did, and within a few years, he became UMBA's co-president. After two terms, Williams began exploring new ways to stay involved with the university, including the University of Maryland Alumni Association's Board of Governors.
"I've known a handful of people who are on the board, but I think the person who truly talked to me about it in the most detail and encouraged me was Kirk Bell," Williams said.
Like Williams, Bell '88 works at Fannie Mae. He also serves as past president of the Board of Governors. During multiple conversations, Bell explained how the board supports the Association's mission and programming and monitors its leadership and finances. Williams joined the board in 2018.
"I'm proud of the work we have done with UMBA and its place with the Black alumni community," he said. "Through the Board of Governors, I continue advocating and representing the concerns of Black alumni."
Now in his second term, Williams said he hopes to enhance the Association's spirit of family and community.
"We want to be that hub, that foundation, that sense of home for the alumni community," he said. "We do that by reaching out to people like me, who for 16 years or so weren't plugged in."
As a board member, Williams also engages and supports current students.
"If they understand the professional value in alumni connections and meet with alumni who have a personal interest in their success, I think we dramatically increase the chances they will want to stay connected after they graduate."
Williams said he still has the key chain he received during graduation, and the message on the back has new meaning since he reconnected with the university: "Terp for Life."
###
The Alumni Blog connects you with the latest at UMD. Check out articles on advancing your personal and professional goals, elevating your UMD pride, and celebrating Terp traditions, legacies and accomplishments. For even more content, follow the Alumni Association on
Facebook
,
Instagram
,
Twitter
,
LinkedIn
and
YouTube
. Become a
UMD Champion
to receive monthly shareable pride points, news and more straight to your inbox.