Home
About Us
News & Stories
Meet the Staff: Jayde Kennedy '21
Meet the Staff: Jayde Kennedy '21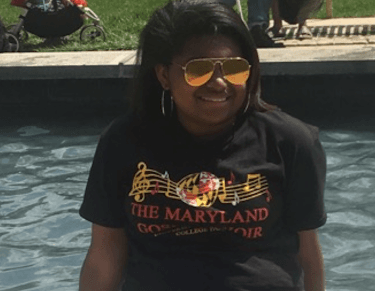 By Ellie Geraghty
Meet one of our newest Alumni Association Staff members - Jayde Kennedy '21. If you're walking into the Samuel Riggs IV Alumni Center, you'll immediately see Jayde's welcoming smile and warm personality ready to answer all of your UMD-related questions. As a new Terp alum, we're so happy to have Jayde on our team. Read below to learn more about Jayde, her secret talents and favorite memories on campus.
In your own words, what do you do at the Alumni Association?
I am our number one customer service specialist! Anything people call or email about I help them with. I guide people to the right person they need, depending on the situation, and I also greet everyone at the door.
Have you started a new (or renewed) activity over the past few months?
I actually picked up kickboxing again during the quarantine to stay active and in shape.I began when I found videos on YouTube of exercises you can do at home, so two times a week I watch the videos and focus on something different. Some episodes are meant for self-defense, others are meant to strengthen your body.
Do you have a favorite memory or College Park spot from your days as a student?
My favorite memory as a student was sitting in Moxley Gardens. It was my favorite place to take pictures with my friends or of just the area itself. Whenever I needed a quiet place to go it was my go-to because a lot of people didn't go there. It was my study place and area of peace when I was stressed from school or just life.
Do you have any secret talents?
Singing is my somewhat secret talent, and for three years in college I was a part of the Maryland Gospel Choir. I have been singing all of my life. In high school I participated in every musical and play that we had. I took singing lessons for two years, but it has always come naturally to me. I sing everywhere I go. If it's too quiet at work I start humming, and no matter where I am I can always hear a song I enjoy singing.
What's your go-to karaoke song?
"Beautiful" by Christina Aguilera
Reach out to Jayde if you have any questions about events, Alumni Association membership or if you're interested in learning about what's going on around campus. She is your ultimate UMD Guide!
Jayde Kennedy
Alumni Relations Specialist
Email: jkenned3@umd.edu | Phone: 301.405.4678
###
In our "Meet the Staff" blog series we introduce you to the hardworking team members at the University of Maryland Alumni Association who help connect you with fellow Terps, prepare you for new opportunities and strengthen your legacy and alma mater.