Home
About Us
News & Stories
Mohammed Sillah '03 - Happy Monday, A Vice Cream Parlor: An ice cream cart for adults!
Mohammed Sillah '03 - Happy Monday, A Vice Cream Parlor: An ice cream cart for adults!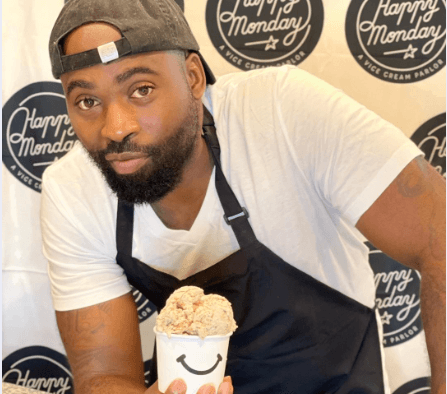 By Cassie Agyeman-Duah '05
Mohammed Sillah '03 is the owner of Happy Monday Vice Cream. He is a class of 2003 Communications graduate of the University of Maryland College Park and was inspired to start making ice cream by his younger brother, who challenged him to make Monday the happiest day of the week. His ice cream flavors come with a bit of a [boozy] twist and he looks forward to sharing his ice cream with you.
What encouraged you to start your business?
A few things. But the number one thing is a love for ice cream and a love for creativity. I also had inspiration from family; I actually got the idea from my younger brother. I also felt like I wanted a career change. So, I did the research. I learned how to make ice cream, and learned what makes good ice cream. I found a suitable method to make it, I learned which batch freezer I needed, etc. And then I decided to just do it, just jump right in!
Was there a faculty or staff member at UMD that had a significant influence or impact on you?
I had a professor who provided a lot of encouragement when I first got to campus. The thing is, when you first get to school, you may not know what you want to do. He was willing to talk and presented me with opportunities. He always made himself available.
What is your fondest memory of UMD?
I was there when we won the NCAA Championship. That was a great year!
What is a lesson that you learned while at UMD?
I learned the importance of having a strong network and capitalizing on every opportunity. Having a community to reach back to is important. Even if I don't know someone directly, I know someone who does. Social media definitely helps too. There are people from UMD who follow me on social media based on a relationship that we had over 20 years ago.
Also, the importance of thorough research. I wasn't fond of research in school, but as I have gotten older knowing how to research and vet information has definitely helped.
What advice do you have for students?
This goes back to having a strong network. Don't be afraid to speak to one another. I know this seems simple, but you'd be surprised. We are all so different; knowing people from various fields will never hurt. And always try to be an inspiration. I will be 100% honest, a lot of this advice is stuff I wish I had done, but didn't. This is what I tell my son. I always tell him not to squander opportunities and to develop a strong network. Talk to people.
Visit the University of Maryland Black Alumni network site and follow us on Facebook to learn more about events, programs and spotlights of Black Terps.
###
Publication of this article does not imply an endorsement of any interview subject's views by the Alumni Association. The Alumni Blog connects you with the latest at UMD. Check out articles on advancing your personal and professional goals, elevating your UMD pride, and celebrating Terp traditions, legacies and accomplishments. For even more content, follow the Alumni Association on Facebook, Instagram, Twitter, LinkedIn and YouTube.