Home
About Us
News & Stories
Natalie Guerra '12: Strengthening a Network for Latinx
Natalie Guerra '12: Strengthening a Network for Latinx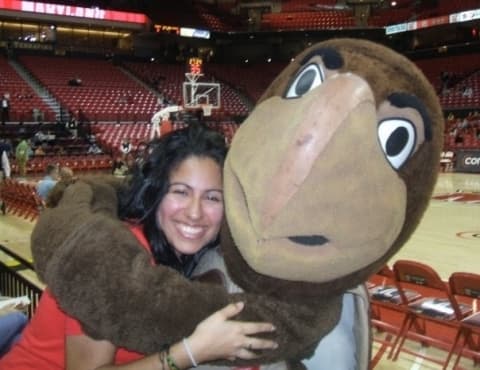 By Kimberly Marselas '00
As a freshman commuter, Natalie Guerra '12 found it hard to connect with the thousands of Terps she passed on campus every day.
Then she started attending events hosted by the Latino Student Union.
"As an undergraduate, I felt like one of a very few. We (Latinx) were about 3% of the population, and it was hard to find people like myself," said Guerra, a first-generation college student who grew up in Prince George's County. "Once I got involved, I found a little community."
Guerra has remained involved ever since.
Now a case administrator for the U.S. Bankruptcy Court in Greenbelt, MD, she is also president of the University of Maryland Latinx Alumni Network. The organization, renamed in 2018 to be more inclusive, aims to create professional connections for alumni, support students of Latin descent and encourage minority students to apply to the university.
"We want to be the representative voice for our alumni and our undergraduates," said Guerra. "Even with COVID, we're working on bringing back that family connection and that network."
One recent online event provided tips on navigating the labor market during the pandemic, featuring members who work as talent acquisition professionals. Fun and social impact are also on the agenda, with cooking demos, service events and conversations centered on immigration policy and other timely topics.
Guerra said more than 4,000 alumni identify as Latinx, a broadly defined, gender-neutral term encompassing individuals who celebrate Latin heritage whether they speak Spanish or another language. Many would-be Terps who identify as Latinx may face language, financial or other obstacles. One of the network's main goals is to enable alumni to share their own challenges and how they overcame them.
"Whatever they're facing now, it's not something new," she said. "We can share resources or point them toward alumni who can help."
Guerra, daughter of Raúl, a mechanic, and María, a certified nursing assistant, worked throughout college to pay her way. Although her mother often brought her to campus and both parents encouraged her to attend college, Guerra says she was largely on her own through the application and financial aid process.
She majored in Spanish and took courses in Spanish for business, which set her on her way to an accounting career working with various hospitality chains. Five years ago, she began working as a bilingual deputy clerk for D.C. Superior Court, which led to her current position.
During COVID, she's been working from home, which she shares with her mother; her grandparents; and her great aunt, who was visiting from Bolivia and became stranded in the U.S. when air travel stopped.
Baking pastries and cookies has helped fill the days and her family's bellies.
"It's mainly whatever my mom has in her Bolivian cookbook that she brought with her," said Guerra, adding that cuñapes, a cheesy bread, is a favorite. "We all indulge in the Bolivian goodness."
Guerra remains thankful that her parents pushed her to stay close to home and attend Maryland. When she received men's basketball tickets through the Alumni Association, she took her mom as her plus-one so she could experience her first game.
If you would like to get involved with the Latinx Alumni Network find out more or connect with Guerra here.
###
The Alumni Blog connects you with the latest at UMD. Check out articles on advancing your personal and professional goals, elevating your UMD pride, and celebrating Terp traditions, legacies and accomplishments. For even more content, follow the Alumni Association on Facebook, Instagram and Twitter.