Home
About Us
News & Stories
Nine Terps and Counting
Nine Terps and Counting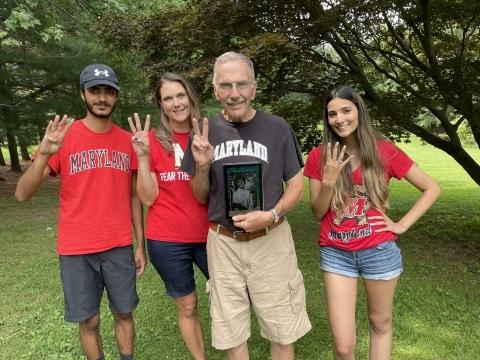 Showcasing four generations of Terp pride, with (left to right) Ryan Leyl '24; Alissa Arford '94, MBA 10; James Arford '68 (holding photo of Wilma Arford '71) and Korina Leyl '23.
For Alissa Arford '94, MBA '10, attending the University of Maryland was a no-brainer. After all, with multiple family members holding Maryland degrees, the university seemed like fate.

"I grew up wearing Maryland T-shirts and sweatshirts," recalls Alissa. "Turtles everywhere. Our Maryland pride runs deep."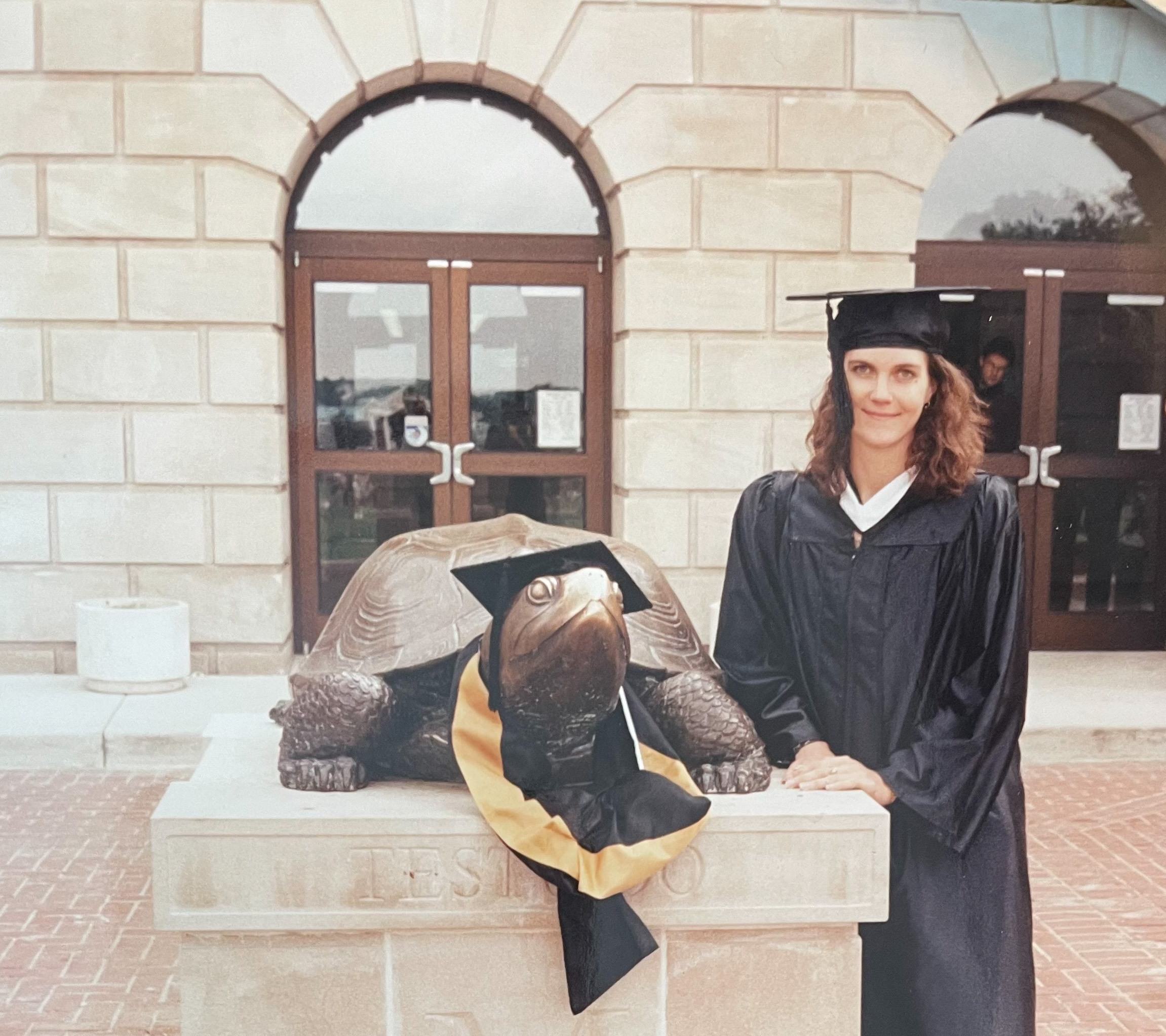 Alissa Arford '94, MBA '10 posed with Testudo at her first UMD graduation in May 1994.
Alissa's family tree is full of the black and gold. Her uncle John Arford would be the first to graduate from Maryland in 1967 with a bachelor's in civil engineering. Her father James Arford would follow with the same degree in 1968, and Alissa's grandmother Wilma Arford would complete a teaching degree in 1971. Finally, Alissa's sister Kelly would graduate from Maryland in 1997 with a bachelor's degree in anthropology. That makes four Terp graduates in her immediate family alone.

As for Alissa herself, she graduated with a bachelor's degree in journalism and an executive MBA. She met Rajinder Singh Leyl MBA '96 while still an undergraduate, and the pair would go on to have their two children Korina and Ryan Leyl. Terp pride even ran in Alissa's extended family — Rajinder's brother Hardeep '94 and sister Sharanjit '93 also attended Maryland. Tallying up, now we're at seven Terps.
Alissa would go on to work at the Robert H. Smith School of Business at the University of Maryland for over eighteen years, and maintained a strong connection to her alma mater by staying engaged with various alumni networks at the university. While the pandemic had put a damper on everyone's activities, Alissa says she's looking forward to "getting involved again."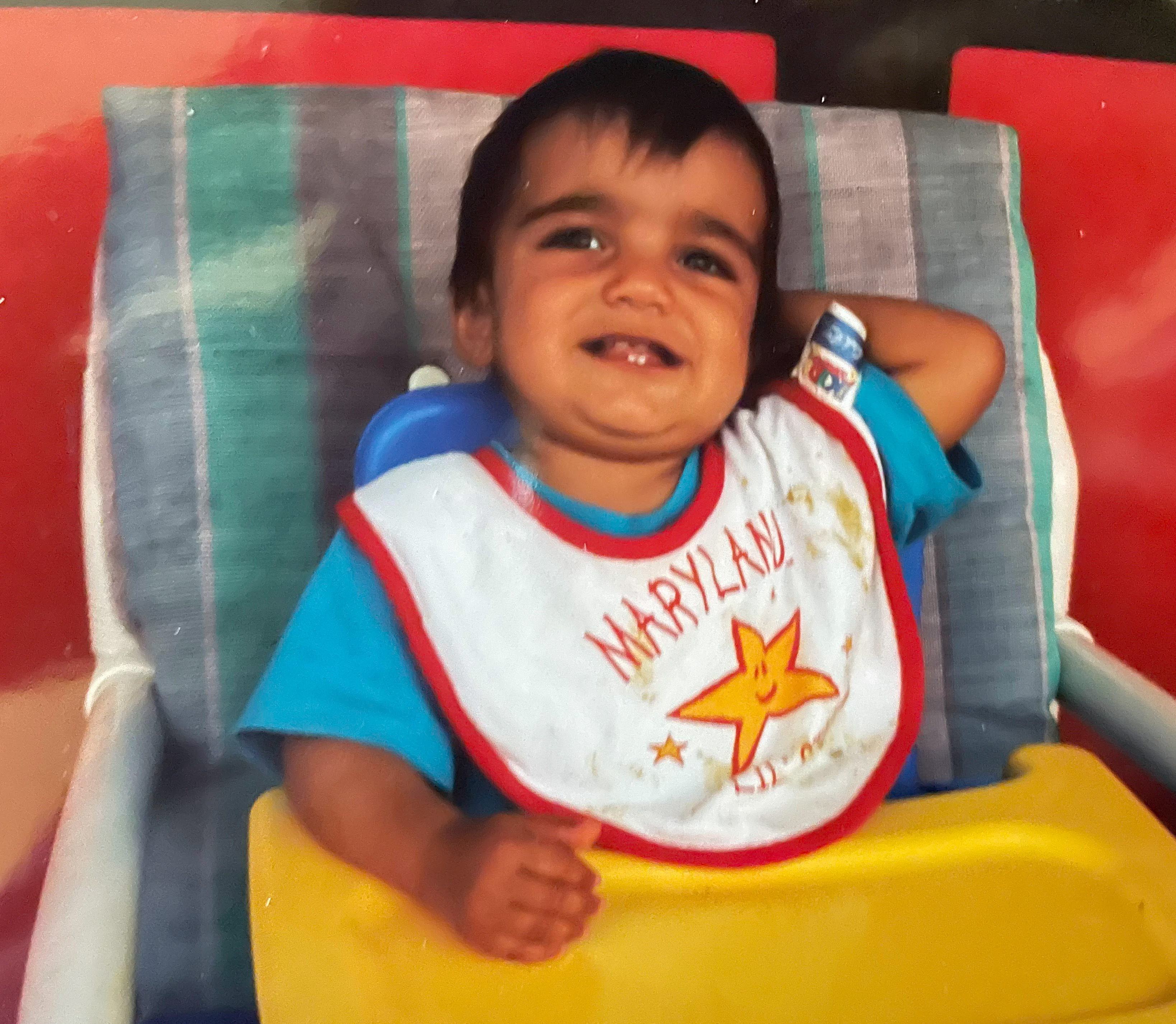 Ryan Leyl '24 was an early fan of Maryland, sporting some of his first Terp gear in 2003.
But networks aren't the only way Alissa has continued her Terp legacy. From the start, she has raised her kids with Maryland pride. "They attended almost all the basketball and football games. They've attended every Maryland Day since they were babies!"
Now, Korina and Ryan are current students at Maryland - fourth generation Terps! Korina is set to graduate with a degree in government and politics in 2023, and Ryan, a sophomore studying agricultural and resource economics, is slated to graduate in 2024. "They grew up the same way I did: surrounded by Maryland memorabilia," says Alissa. "We have a piece of the old Cole Field House floor, a basketball signed by Gary Williams and the 2003 basketball team. Just Maryland things everywhere." Now that's nine Terps in the family.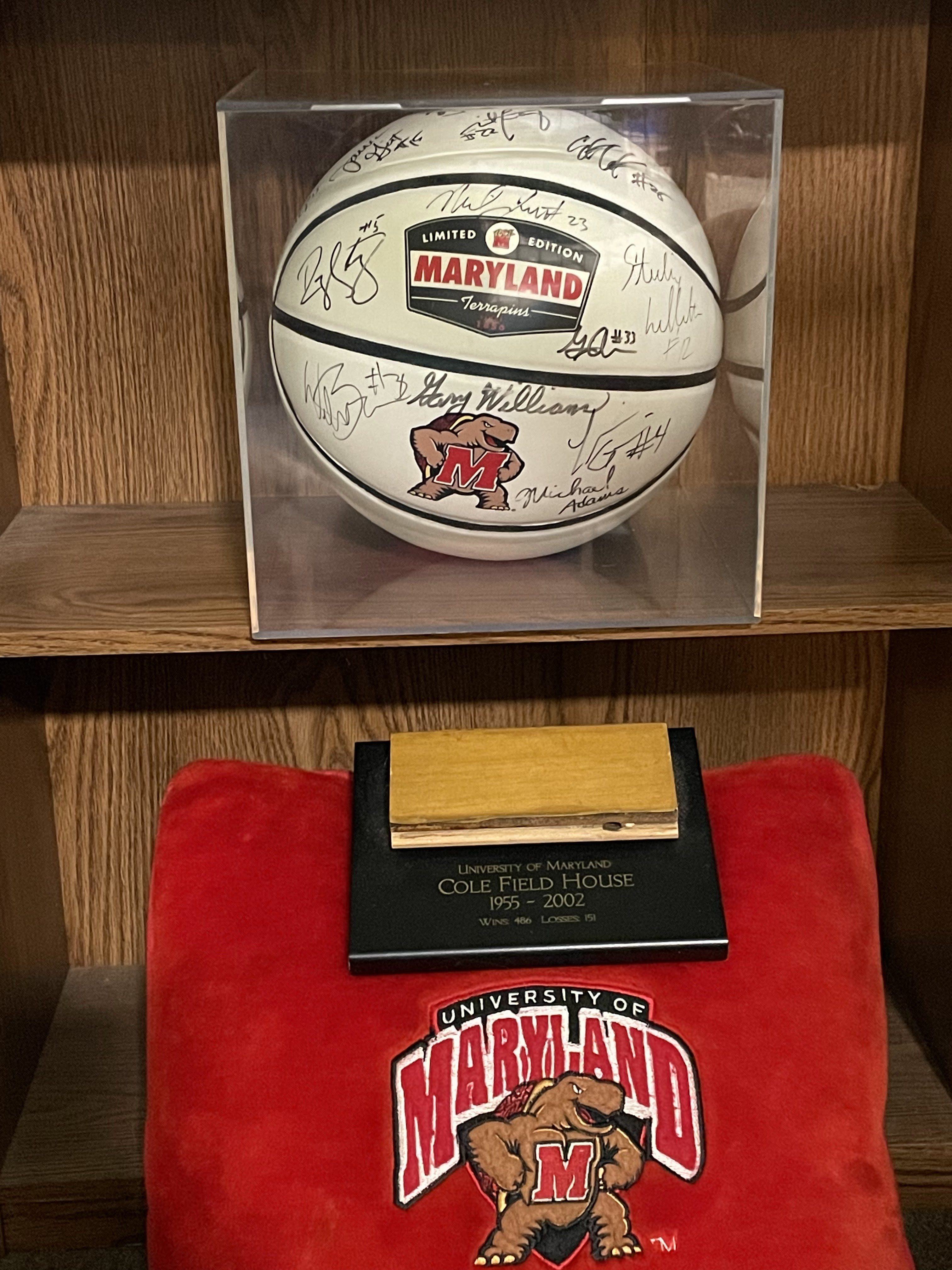 This basketball, signed by Gary Williams and others, and a piece of the old Cole Field House floor are just two samples of the Terrapin sports memorabilia that Alissa Arford '94, MBA '10 has on display at home.
The Arford Terp legacy was crucial when discussing if Korina and Ryan would attend Maryland. But that, Alissa recalls, wasn't all: "Maryland has become such a good school and has gotten much more exclusive, so the question became less 'will you go' and more 'will you even be able to get in?'"
Thankfully, Korina and Ryan are on their way to academic success, with Korina interning with a Maryland state senator this summer and studying for the LSAT as she prepares for law school.
As her kids get ready for bright futures, Alissa hopes that one day they'll continue the Maryland tradition as they have families of their own. Testudo can only hope.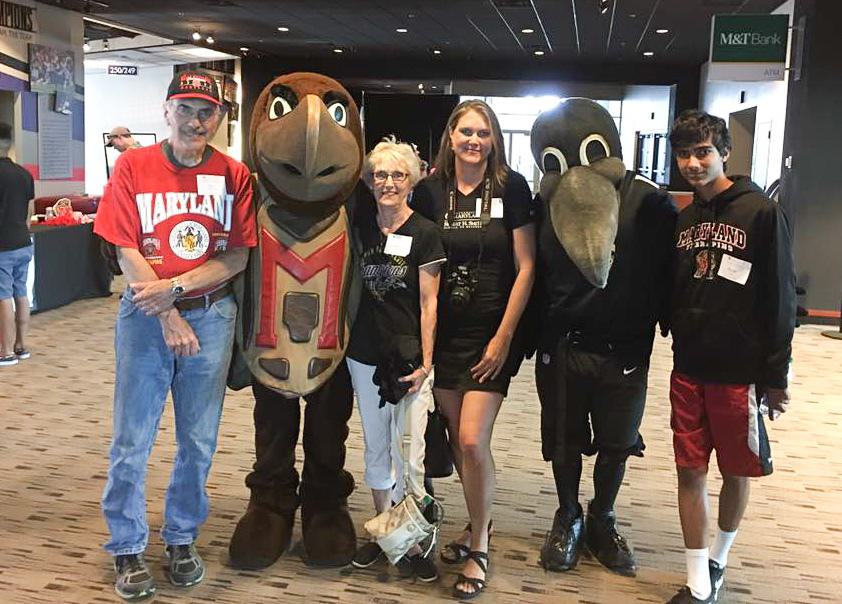 James Arford '68; Testudo; Cheryl Arford; Alissa Arford '94, MBA '10; Poe, mascot for the Baltimore Ravens, and Ryan Leyl '24 attended an alumni networking event at Raven's Stadium in 2017.