Home
About Us
News & Stories
No Time to Dawdle
No Time to Dawdle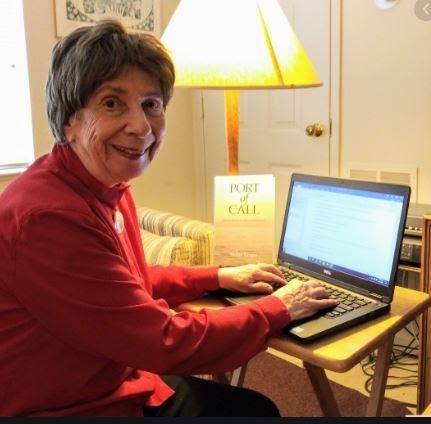 By Meghan Sykes
What are you waiting for? Get writing!
Take it from celebrated poet/journalist/memorialist and Terp almuna Mollee Kruger '50 who published her first novel at age 86 and recently finished her eleventh book, "Port of Call: Memories of an Ancient Mariner."
"Do whatever you can to get your thoughts, your work, in print...neatness doesn't count as much as survival," says Kruger, who celebrated her 91st birthday in March.
Describe your book in 140 characters or less.
"Port of Call" is a humorous, often bittersweet look about the after-college lifetime struggles of a 20th century woman writer born twenty years before her time.
What, or who was your inspiration?
"Port of Call" was written as a sequel to my coming-of-age memoir, "The Cobbler's Last: A True Story of Hard Times, War, and the Journey of a Maryland Girl Who Lived Over a Shoe Store on Main Street." After the book was published in 2010, several readers posed the question, "So what happened next?" At that moment, I knew it was necessary to do a follow-up that would include the rest of my life.
Although my scientist husband of 58 years had died in 2013, I felt he was cheering me on to write this book. The title came to me by accident while looking in the dictionary for the correct spelling of a word. My eyes wandered to a nearby definition: "Port of call, a place where ships dock to load or unload cargo and passengers." It symbolized all my voyages through life.
What is the #1 item you want people to take away from your story?
The importance of a sense of humor and resilience. I really didn't know what I wanted the reader to get out of the book. I only knew that as the months passed and I turned 89, it was a good idea to speed things up and finish. After all, the first memoir had taken 10 years to write. In tackling "Port of Call," I realized there was little time to dawdle.
What advice would you give to a new writer?
Look for any opportunity to write-any job, any commercial or civil opportunity, political, medical, sociological-whatever is available. You'll be stirring up the creative juices and learning about adapting, researching, human psychology, and above all, discipline. It's not a good idea to be snobbish about what you know because in a few years down the road, what you originally didn't know may be the key to what you really want to write about. You'll have your experience to fall back on and utilize in a creative way.
Organize your own writing group, if possible start your own small press. Do whatever you can to get your thoughts, your work, in print. My late life in a retirement community gave birth to my first novel, "The Swift Seasons," written when I was 86. In it I wrote that neatness doesn't count as much as survival.
What book is on your nightstand right now?
Justin Kaplin's "Walt Whitman: A Life" (that guy was a genius at PR).
What is your favorite book?
My favorite all-time book is "Main Street" by Sinclair Lewis. I first read it as a teenager while working in Bel Air, Maryland at the Harford County Public Library. I came back to it while doing research for my first memoir about my life on Main Street. It's my kind of book.
What do you do in your non-writing free time?
I am addicted to a treadmill. Before we moved to the retirement community where I now live, I owned one in my home. Now I go to the fitness room here every morning for a brisk 20-30 minute walk. I highly recommend it.
What is your favorite alumni event or experience?
I have so many favorite alumni experiences. I guess the most vivid is the reading and reception held by the UMD libraries to mark the donation of my papers to the Hornbake archives in 2003. They've since been digitized. I also fondly remember (in fact, it's in "Port of Call") a wonderful 1990 "no-class" reunion, organized by renegade alumni who had worked on campus publications and in university theater. This was not an official alumni event but a specialized one created by the kind of people who don't want to join anything.
As a student, what was your favorite spot on campus?
It no longer exists. It was a temporary building that looked like an army barracks and contained the offices of the Diamondback, the Old Line humor magazine (of which I was an editor) and the Terrapin yearbook. My World War II veteran buddies and I had marvelous times there, whooping it up and working like hell to make deadlines.
What's your Fearless Idea?
I want to write a twelfth book, a collection of my short stories and essays. Wish me luck.
###
The Alumni Blog connects you with the latest at UMD. Check out articles on advancing your personal and professional goals, elevating your UMD pride, and celebrating Terp traditions, legacies and accomplishments. For even more content, follow the Alumni Association on Facebook, Instagram and Twitter.