Home
About Us
News & Stories
Putting Health Information Technology on the Map
Putting Health Information Technology on the Map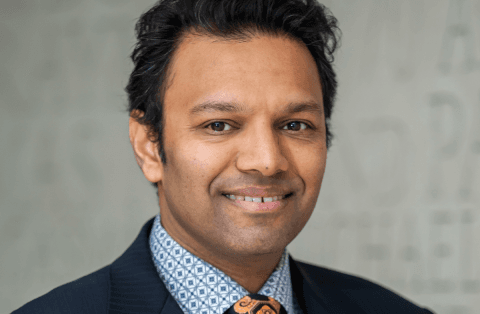 By Allison Eatough '97
Last year, Ajay Gupta '95, M.A. '98 and his company, HSR.health, developed a GIS or map-based data analytic platform to help the Federal Emergency Management Agency (FEMA) and the U.S. Geological Survey predict on-the-ground health needs before disasters strike.
Little did he know the COVID-19 pandemic was just around the corner – and that the tool would soon evolve to help the World Health Organization (WHO) and FEMA predict future COVID-19 outbreaks and pinpoint regions with a high risk of death due to the virus.
It's just one of the many ways Gupta and his company are "mapping the way to better health," using technology to anticipate future health care needs, he said, as well as as identify the resources and approaches to meet those needs.
So how did a Terp who majored in electrical engineering end up as CEO of a health information technology startup?
After receiving his bachelor's and master's degrees, Gupta spent more than 15 years working in cybersecurity.
"Technology has revolutionized every industry," he said. "In a sense, it made the barrier to entry and the operating costs of every industry go down tremendously."
But in 2015, there was still one industry where access remained a challenge and operating costs remained high: healthcare.
"There was a disconnect," he said. "The process of building and deploying technology was different than the process of innovation in medicine."
Gupta and a colleague founded HSR.health to help health information technologists "bridge the gap."
The company developed a geospatial platform – mapping tools that catalog and merge data on social determinants of health, including access to transportation, access to healthy foods and education and job opportunities, with health outcomes and costs. Along with monitoring changes, the platform can detect health care inequities, discover trends that help government agencies allocate resources more effectively and identify in advance care people will need during emergencies like hurricanes.
"We always knew from the beginning that we wanted to have a different way of analyzing health data, and data about the environment we live in," he said. "We need a better way to understand how health systems can reach patients and provide what they really need."
Gupta's company now has one of the largest collections of location-specific health and social information in the world.
This spring, Gupta and his team modified the platform for COVID-19, and in August, the WHO began using it to track and monitor the virus in Africa.
Here in the U.S., organizations use the platform to not only track and monitor the virus but to predict how much personal protective equipment and ventilators they'll need – and to gauge when it is safe to resume regular, non-quarantine activities in low-risk areas.
While COVID-19 is still impacting people around the world, Gupta is already thinking of ways technology can prevent the next pandemic.
"The world hasn't faced a real pandemic in 100 years, so, naturally, our pandemic response systems are rusty," he said. "We need a new system that is independent of political realities to detect the pandemic. The good thing is that we have and can build digital systems now to do that."
Along with serving as CEO of HSR.health, Gupta is a father of two, a karaoke aficionado and a member of the University of Maryland Alumni Association Board of Governors.
###
The Alumni Blog connects you with the latest at UMD. Check out articles on advancing your personal and professional goals, elevating your UMD pride, and celebrating Terp traditions, legacies and accomplishments. For even more content, follow the Alumni Association on Facebook, Instagram and Twitter.