Home
About Us
News & Stories
Rising Terp Award: Dani Beckerman '12
Rising Terp Award: Dani Beckerman '12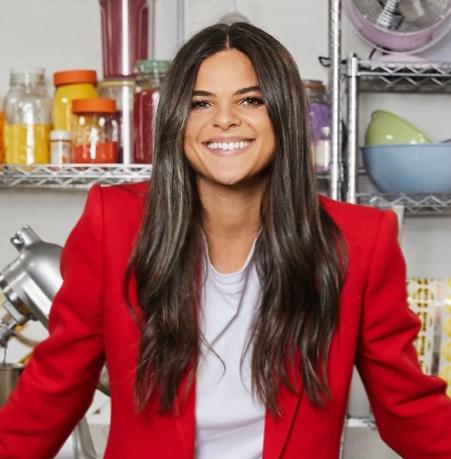 By Allison Eatough '97
Saturday nights in College Park meant two things for Dani Beckerman: Socializing at nearby bars, then baking desserts in her off-campus apartment.
"I always loved baking, especially in college," the former psychology major said. "That's when my baking really took off… After the bars, people would come over to my apartment and I would just whip things up with whatever we had in the kitchen."
In 2013, just one year after graduating, Beckerman, a winner of this year's
Rising Terp Award
, turned her hobby into a business. Jars by Dani are glass jars filled with neatly packed, colorful cakes layered with treats such as brownie chunks, whipped cream and sprinkles.
Living in New York City, Beckerman initially planned to be a doctor. But while taking a break during a medical internship, she stumbled upon a local culinary program's website.
"I love being in the kitchen, but I really never thought it would turn into a career for me," she said. "I went in one day for a tour, and I just signed up on the spot for a part-time pastry program."
In the middle of the program, she launched Jars by Dani.
"I was hand-baking them all night long," she said. "I wouldn't sleep for two, three, four nights in a row and then hand-deliver them all over Manhattan. I would take a big cooler and fill jars with it and just ride the subway. It was crazy."
The company quickly grew, and Beckerman moved operations out of her fifth-floor walkup apartment into a small, commercial space in Manhattan and then eventually to Queens.
With flavors like Cookies n' Cream, Lovely Lemon Bar and Cuomo Italian Rainbow Cookie, Jars by Dani are now a favorite in the New York social scene. Customers include Apple, Vogue and Google. The company also ships products nationwide.
"Dani is a gifted entrepreneur with an immense amount of passion for what she does and is inspiring others to reach for their goals," said Edom Mesfein '20, who worked with Beckerman on Terps Under 30, an annual Alumni Association event. "Jars by Dani has revolutionized how we share desserts with the ones we love, making it sweet and simple."
Still, when the COVID-19 pandemic hit, Beckerman worried her business would suffer.
"We'd done a ton of corporate events, weddings, bar and bat mitzvahs, so I was really nervous," she said. "We actually saw a really large increase in business, which was very, very lucky."
More people than ever ordered jars online, which led to "more eyes on the products," Beckerman said. Because of that, she kept and even hired employees when other New York companies were laying off staff.
"There's so many good things that have come out of this," Beckerman said. "I love running my own company. Never would have thought that I would be doing that or how much I would love it."
"I care about my employees, and I think they really enjoy working for me," she added. "That's something that's also really special about my job, that I can actually make a difference in people's lives."
---
University of Maryland graduates are among the best and brightest in their fields. From scholars and innovators to entrepreneurs, teachers and researchers, our alumni are leaving their mark in our state, nation and the world. The Alumni Excellence Awards provide an opportunity to recognize the accomplishments of select Terps, and honor these recipients with distinction. Careful consideration was made in selecting our 2021 recipients across four categories: Rising Terp Award, Research Award, EnTERPrenuer Award and Legacy Award.

The Rising Terp Award honors an alumnus/a under 30 years old who has distinguished themselves personally and professionally. Up to three Rising Terp Awards will be granted annually, celebrating a Terp/s who excel in their career and inspire the next generation of Terp leaders.