Home
About Us
News & Stories
Rising Terp Award: Nikhil Balakumar '14
Rising Terp Award: Nikhil Balakumar '14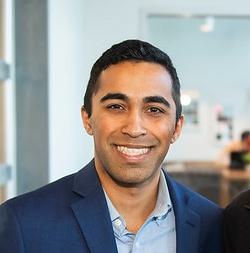 By Allison Eatough '97
During the second semester of his sophomore year at UMD, environmental advocate Nikhil Balakumar experienced what he called a "huge existential crisis."
"I was in the business school, and I was thinking about doing finance," he said. "When you're young, all you care about is making money and becoming rich. But then my cousin, who was two years younger than me, died of stage 4 cancer."
Suddenly, business classes and even college did not matter anymore. Balakumar, a winner of this year's
Rising Terp Award
, said he was so distraught, he almost dropped out of school.
"I thought, 'I need to do something to improve the world,'" he said. "It really shook me and made me realize what was important and what I needed to be doing with my life."
He said his path toward becoming a "climate crusader" began after graduation, when he took a job at a small technology startup. There, he helped develop a residential energy app.
"We could actually show you your home in real-time, broken down by appliance," he said. "Exactly where you're consuming energy and how efficient your appliances are, if they're going to break and then, more importantly, show you the different options of clean energy solutions in the market."
But at the time, utility companies retained the data needed for the app to work effectively.
"I didn't really care about climate or energy until then," Balakumar said. "I hadn't really been exposed to it. At this point though, I thought, 'We have to open up data otherwise we're not going to make meaningful progress to address the climate crisis.'"
Balakumar launched his own company called Greentel Group to help modernize the electric grid and increase access to energy data.
"The one energy source we know can be clean is electricity," he said, adding "All these new economies, including the building, transportation and industrial sectors, are moving onto the electric grid and using that as their primary energy source. We must rapidly modernize our grid to tackle these complexities, building new infrastructure that is both clean and resilient to climate change-related natural disasters."
In 2019, Balakumar worked with Washington, D.C. lawmakers to pass some of the most ambitious clean energy laws in the nation. And he recently joined forces with Utilidata, an energy optimization software company.
"Keep your eyes out for this young man, as he has a big vision for innovating the policies and practices which regulate the renewable energy industry," said Sammy Popat '02, MS '15, Campus Connector and Discovery District manager.
Along with his energy work, Balakumar also helped launch the Alumni Association's Terp Entrepreneur Network, a platform for entrepreneurs, intrapreneurs, aspiring entrepreneurs and seasoned professionals to network and share expertise. The network's first EnTERPreneur Conference drew more than 200 attendees.
"The future is in good hands with leaders and visionaries like Nikhil who care deeply about our environment and our alma mater," Popat said.
---
University of Maryland graduates are among the best and brightest in their fields. From scholars and innovators to entrepreneurs, teachers and researchers, our alumni are leaving their mark in our state, nation and the world. The Alumni Excellence Awards provide an opportunity to recognize the accomplishments of select Terps, and honor these recipients with distinction. Careful consideration was made in selecting our 2021 recipients across four categories: Rising Terp Award, Research Award, EnTERPrenuer Award and Legacy Award.

The Rising Terp Award honors an alumnus/a under 30 years old who has distinguished themselves personally and professionally. Up to three Rising Terp Awards will be granted annually, celebrating a Terp/s who excel in their career and inspire the next generation of Terp leaders.