Home
About Us
News & Stories
Setting Early Career Goals, with Rahila Olanrewaju '20
Setting Early Career Goals, with Rahila Olanrewaju '20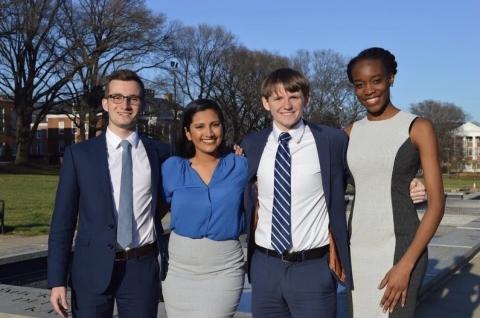 By Spencer Friedman '22
This class of 2020 alumna came to the United States from Nigeria as a six year-old. In her four years studying at the University of Maryland, she made monumental contributions for the African community
Why UMD?
After moving to America, Rahila Olanrewaju '20 attended Thomas Wootton High School in Rockville, Md. She had many colleges to choose from her senior year, but was ultimately enamored with the College Park campus and knew pretty quickly that she wanted to attend the University of Maryland. Olanrewaju received the fully merit-based Banneker/Key Scholarship, which lifted a huge financial weight off her family's shoulders. Upon arriving on campus for a tour, she spoke with professors in the economics department and enjoyed the welcoming community.
What clubs and organizations were you involved in at UMD?
Olanrewaju is responsible for starting several programs on campus. First, she founded the African Languages Association because there were no classes that taught African languages, despite there being several language courses offered already. She identified native speakers on campus and wrote a syllabus for each language. Generally, she aimed to create a community for students who wanted a stronger presence on campus related to African studies. Ultimately the university invited Olanrewaju to move these classes to a credit-based program. "There was high student demand and it was a fulfilling project to work on," she said.
She also founded a fellowship in the economics department called the Financial Literacy Outreach and Training program This year-long program trains students each fall to teach personal finance in Title I schools in the spring.
Additionally, Olanrewaju was part of the Student Government Association as a vice president for academic affairs. She worked closely with the provost to evaluate if the existing academic programs meet students' demands. She also prototyped new minors and classes for African studies.
Have you picked up any new hobbies or interests since graduation?
Olanrewaju started meditating to increase her attention for hobbies she already has, including yoga and baking. She also likes to sing using her family's karaoke machine.
Where do you currently work, and what's your job title?
Olanrewaju works as a strategy and analytics business analyst at Deloitte. Generally, she works in different project teams to solve business challenges. She said she never gets bored at her job, bouncing from one project to the next. In fact, she has completed four different projects since September, with clients based in San Francisco and New York.
What's your advice for current and recently graduated terps?
"I encourage terps to think early on about what they want to do in the world. Drill down the details of how you want to impact the world, and apply that to your career path. Try as best to align your extracurriculars to your future career goals. When you're in the interview room, it's best to speak of your tangible impact," Olanrewaju said.
###
This 20-part series highlights successful University of Maryland alumni from the Class of 2020. Are you a Class of 2020 graduate? Reach out to Jessica Lee (jlee1021@umd.edu) to learn more about getting involved with your Alumni Association. The Alumni Blog connects you with the latest at UMD. Check out articles on advancing your personal and professional goals, elevating your UMD pride, and celebrating Terp traditions, legacies and accomplishments. For even more content, follow the Alumni Association on Facebook, Instagram and Twitter.