Home
About Us
News & Stories
Striking the Right Notes
Striking the Right Notes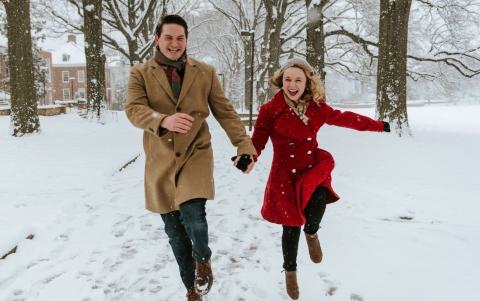 By Andrew Faught
As a UMD tour guide, Dan Zawacki '13 always made it a point to share with visitors that the rock band Hootie and the Blowfish filmed their "Only Wanna Be With You" music video at the Reckord Armory on campus.
Shadowing his tours at 11 a.m. every Thursday was Brooke Parker '14, who was in training to take on the same role.
When it came time for Brooke to give her tryout tour, with Dan rating her performance on an evaluation card, she burst into an enthusiastic rendition of the song. Dan's reaction? "Wow!" The song's title, it turned out, rang prophetic.
Dan wrote six words on his card: "I want to marry this girl." And they would, in December 2019, after an eight-year courtship.
"We're both extroverted people, so that's what got his attention," Brooke says. "We are equally confident, loud, positive and joyful, and we both look at the bright side of things. It all worked out pretty perfectly for us."
It was a Valentine's dance at the Calvert Cotillion — their first as a couple — that remains one of their most memorable dates, Brooke says, a "sweet and romantic" occasion on what was then a snowy day. They've kept their enthusiasm alive over the years by embracing the moment and being bold in their activities.
"I would say, don't be afraid to get out of the routine," Dan advises. "We really love to take up hobbies. Even though we're terrible at them, we'll still do them. We love to go hiking, or right now we're doing some home improvement stuff. We're not very good at it, but we're excited to take that step together and learn."
During the darkest days of the pandemic last year, the couple, who live in Hanover, Maryland, wasn't going to let isolation slow them down. They both love cooking, and they took the occasion to widen their repertoire, preparing a Venetian classic — focaccia and branzino — after watching chef Samin Nosrat's Netflix docuseries, "Salt Fat Acid Heat." Dan is also skilled at a harder-to-master dish: beef bourguignon.
"Or we'll make really great chili," Brooke says. "Our friends know us for our Very Famous Brooke and Dan Chili Recipes, particularly around the Super Bowl."
Having children and traveling are some of the pair's near-term goals. Apart from their careers — Dan is an associate director of admissions at Towson University, while Brooke is a manager at the consulting and advisory firm Deloitte — they keep up with their alma mater.
They have attended tailgating parties and wine tasting organized by the Alumni Association. Says Brooke: "We're very much involved. We love going to football games and basketball games and any events that bring us back to campus."
###
The Alumni Blog connects you with the latest at UMD. Check out articles on advancing your personal and professional goals, elevating your UMD pride, and celebrating Terp traditions, legacies and accomplishments. For even more content, follow the Alumni Association on Facebook, Instagram, Twitter, LinkedIn and YouTube. Become a UMD Champion to receive monthly shareable pride points, news and more straight to your inbox.