Home
About Us
News & Stories
The Legacy of Hugh Newell Jacobsen '51
The Legacy of Hugh Newell Jacobsen '51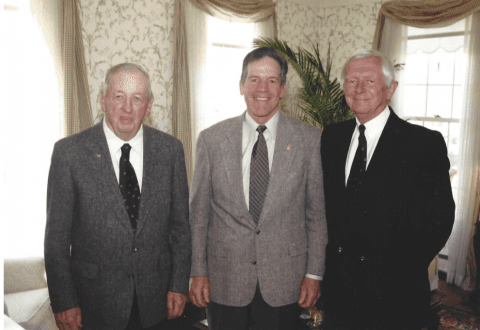 From left to right: Samuel Riggs IV '50, Edwin Fry '69 and Hugh Newell Jacobson '51
By Abby Humbel '21
Hugh Newell Jacobsen '51, '93 (Honorary Doctorate) was an award-winning architect who designed our very own Samuel Riggs IV Alumni Center. He died March 4, 2021 at an assisted-living center in Front Royal, Va. at the age of 91, but his legacy lives on in the Maryland community.
Jacobsen started his own architecture firm in 1958 and built commercial and institutional structures in countries around the world, including: American University in Cairo, Egypt; an addition to the U.S. Capitol; and the American embassies in Paris and Moscow.
During his career, Jacobsen built over 400 houses and has earned more than 140 awards for design architect. Architectural Digest repeatedly named him one of the world's top 100 architects, and he collected many honors from the American Institute of Architects-Washington Chapter.
We spoke with Jacobsen's colleague, Edwin "Ed" Fry '69, who worked with him on the alumni center project.
Fry graduated from the University of Maryland with a degree in agriculture and was involved with the Alumni Association for 25 years. He met Jacobsen when the alumni center project was being planned. Fry sat on the jury that selected the head architect to design the alumni center and Jacobsen was one of three finalists.
Fry shared that the university originally gave their team a building site by the northern entrance of campus right by the engineering building. Jacobsen designed a building for this location, but soon alerted the team that the location wouldn't work because there was not enough parking around the site.
After hearing Jacobsen's advice, Fry went to the university resident and requested either more parking allotted for the alumni center or a new site.Six months later, a second site was selected, where the alumni center currently stands.
Once Jacobsen drew designs for the new site Fry said, "'Hugh, this building doesn't look anything like the other one you designed.'" To which Jacobson replied, "The location and surrounding trees and buildings speak to me as to what the alumni center should look like. This different location speaks to me differently than the other location."
Fry said this moment was very memorable. "He impressed me with his sophistication of being an architect. It has always stuck with me how he designed an entirely different looking building at the new site for that project."
Fry also shared, "He was a very cerebral man and during the course of our project I was so impressed by the knowledge he had about everything that went into the building, from plumbing, to building, to electricity. To design a facility such as that, it created a respect for architects that I have never had."
The resulting Samuel Riggs IV Alumni Center is a structure Fry is pleased with, and at the Alumni Association we would have to agree. Jacobsen's legacy will live on through the Maryland community and the alumni center itself.
Jacobsen was inducted into the Alumni Association's Alumni Hall of Fame June 10, 2000. More about his legacy can be found in this Washington Post article that honors his memory.
###
The Alumni Blog connects you with the latest at UMD. Check out articles on advancing your personal and professional goals, elevating your UMD pride, and celebrating Terp traditions, legacies and accomplishments. For even more content, follow the Alumni Association on Facebook, Instagram, Twitter, LinkedIn and YouTube. Become a UMD Champion to receive monthly shareable pride points, news and more straight to your inbox.