Home
About Us
News & Stories
Volunteer Spotlight: Patrick Sullivan '07
Volunteer Spotlight: Patrick Sullivan '07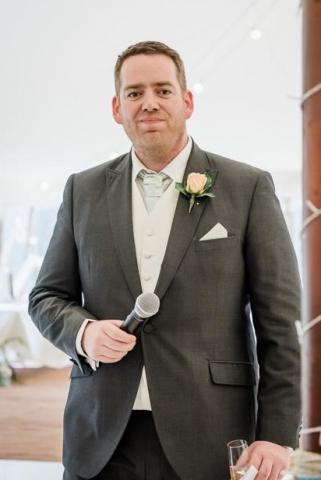 Patrick Sullivan '07 currently serves as the treasurer for the Boston Terps Alumni Network. Patrick joined the executive board in the summer of 2018. Their network goal is to host one event each month, and the board has looked at opportunities outside of the traditional football and basketball game watches to attract a new group of alumni.
The network has had success with service events, and he wanted to implement a family-friendly event which resulted in the Tour of Isabella Stewart Gardner Museum. The guided tour had more than 25 registrants, and it brought out some first-time attendees.
What is your favorite thing about being a network leader?
It plugs me into the diversity of the Alumni Association whether its fellow alumni or events, and it helps me stay informed about the university. I like that it affords me the opportunity to support current and incoming students. However, the best part is that I get a chance to give back to my alma mater.
Why did you decide to become involved with the Boston Terps Alumni Network?
I was involved as a student, I was the president of Rugby Club. It gave me great pleasure to be a leader and feel connected to something larger than myself. I always knew that I wanted to be connected to the Terp community when I become an alumnus. I lived in Denmark from 2011 to 2017 and for 6 years didn't have a Terp family in Europe. When I came back to the states and took a job in Boston, I wanted to reengage with my Terp family. I received an email about Terps on the Harbor and the invite spurred me into action.
I wanted to give back to the university and the Alumni Association to help increase our footprint in Boston. I love that my involvement as a network leader gives me an opportunity to make a difference and see the fruits of labor benefit others as we cultivate a vibrant Terp community.
How have you seen the growth in alumni programming in Boston?
In just one year, I've seen an abundance of growth in programming. As a network, we've strived to increase our event outreach and focus on programming that attracts a diverse group of alumni which brings unique perspectives. Our initial success has propelled us to yearn for even greater success; we are continuously working to meet the needs of our alumni.
What advice to you have for fellow network leaders?
As a network, have a planning meeting or retreat where you sit down and set a schedule of events and meetings. When thinking about programming make sure it is appealing to a diverse background of Terps. Or, at a minimum, have events that will appeal to alumni with different needs and wants. Encourage new ideas and different viewpoints during network meetings.
What is your favorite Maryland memory?
Being part of a community, for me, it was the Rugby Club. During my Sophomore year, we won the St. Patrick's Day Rugby tournament over spring break. After our championship win, we raced back to College Park to celebrate at Bentley's with the championship trophy.
###
The Alumni Blog connects you with the latest at UMD. Check out articles on advancing your personal and professional goals, elevating your UMD pride, and celebrating Terp traditions, legacies and accomplishments. For even more content, follow the Alumni Association on Facebook, Instagram and Twitter.