Home
About Us
News & Stories
Volunteer Spotlight: Tyler Schepers '16
Volunteer Spotlight: Tyler Schepers '16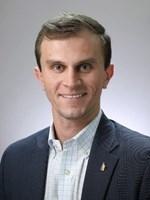 Tyler Schepers '16 recently became president of the Annapolis Alumni Network. In his role, he drives participation in local events such as Wreaths Across America. For his work to bring the alumni community together, the Terrapin Club honored Tyler with a 30 Under 30 award. Check out our Q&A with Tyler to learn more about how he got involved as a recent grad!
What is your favorite thing about being a network leader?
I didn't really have a cause that I championed in the past. Being a network leader gives me an outlet to contribute to the community with fellow Terps, make business connections and facilitate connections. In terms of leading, I've just always felt natural in a leadership role. But the people I have supporting me brought the Annapolis network up to what it is right now. They're the kind of legs behind everything and I just try to add a younger, millennial twist.
Why did you decide to initially get involved with the network?
When you're in undergrad and about to graduate, you hear a lot of people talk about the alumni base, especially if you're interviewing for jobs. I had always thought of Maryland's base as so strong, perhaps just because I grew up in Maryland and have lived here my whole life, so it's what I've seen. I wanted to be a part of it, to use those connections and show people the Terp Pride doesn't end at graduation. I wear my little Wallace Loh-gifted Terrapin pin everywhere and if there's a recent graduate, they recognize it right away. Even some of the older folks ask, "is that a Maryland pin?" and I say, "yeah, it's a great story." I use experiences like those to, one, Boost Maryland throughout the community, two, use my alumni network to boost myself. It's a win-win and a fun way to do it.
How did it feel when you received the Terrapin Club 30 under 30 award?
That was really cool. To have 149 applicants and be picked was such an honor. It validated getting involved and getting so involved so quickly. I was only a member of the Alumni Association for a few months and then I linked up at some of the Annapolis events with the folks who were already running the network. Within a couple of months, they nominated me like, "we think you should take over as president and bring some energy and some youth and new, fresh ideas."
What advice do you have for fellow network leaders, especially people who might be relatively new to this?
With any sort of networking and person-to-person connection you're trying to make just get a little deeper than just growing membership. Think about how it's going to boost the community around you if you're doing a philanthropy event. Just get involved and get out there soon. You'll probably see the benefits start to pay off more as you put more into it. If you're going to do it, just go all in. Enjoy it and show your Terp pride.
What's your favorite Maryland memory?
One year after Art Attack, the year The Chainsmokers played, my friends and I had a house on College Ave. and we set up a big after-party. We had The Chainsmokers come through and maybe 300 people at the house. We had a green room set up for them and we got to meet both the dudes in The Chainsmokers. It was a really fun night and a cool story to walk away with.
###
The Alumni Blog connects you with the latest at UMD. Check out articles on advancing your personal and professional goals, elevating your UMD pride, and celebrating Terp traditions, legacies and accomplishments. For even more content, follow the Alumni Association on Facebook, Instagram and Twitter.