Home
About Us
News & Stories
When Terrapins Connect: Anna Portela '14
When Terrapins Connect: Anna Portela '14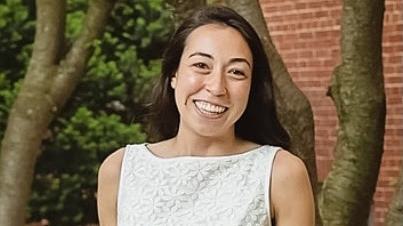 By Allison Eatough '97
Anna Portela '14 never makes a career decision without doing her homework.
After graduating, the environmental science and policy major became a paralegal to explore the ins and outs of the legal field before committing to law school.
"I really enjoyed the environmental law and policy side of things, but I didn't want to make the financial investment in law school without being one million percent sure," she said. "After two years as a paralegal, I realized the culture of working as an attorney just wasn't for me."
To make better use of her organizational and creative skills, Portela joined the marketing team for a Bethesda-based alcohol retailer. In her free time, she served as a board member for the Montgomery County Terps Alumni Network and then the Annapolis Terps Alumni Network – roles that ignited a spark inside her.
"Volunteering with the alumni network really made me happy," Portela said. "It felt very fulfilling. I realized I was interested in learning what it's like to work in higher education."
Portela signed up for Terrapins Connect, UMD's free networking and mentorship platform, to find fellow Terps who could share insight.
"The platform is so easy to use," she said. "If you're looking to network and want to look in a particular field, it allows you to quickly see where an individual has previously worked and what their experience is."
Portela's search connected her with Olivia Zug '13, a career advisor with Loyola University Maryland who previously worked at Johns Hopkins University. After communicating over email, Portela and Zug scheduled a Zoom meeting to discuss the differences between public and private universities, student demographics and even job benefits.
The experience was invaluable, Portela said.
"I gained a wealth of knowledge that I would have never had before if it were not for Terrapins Connect and the opportunity to speak with Olivia," Portela said. "It helped me gauge what I may want in the future in terms of my long-term career goals."
Those goals include attending graduate school and working as an advisor for community college or four-year public university students. Portela is especially interested in helping veterans and first-generation students.
"Public institutions or community colleges really speak to me, in all honesty," she said. "There's a lot of opportunity there for what drives me… something that is mission-driven and where I can work with individuals and help facilitate their college experience."
Terrapins Connect is an online platform that gives students virtual access to UMD alumni who have volunteered to share industry-specific information. To learn more, click here.
​###

The Alumni Blog connects you with the latest at UMD. Check out articles on advancing your personal and professional goals, elevating your UMD pride, and celebrating Terp traditions, legacies and accomplishments. For even more content, follow the Alumni Association on Facebook, Instagram, Twitter, LinkedIn and YouTube. Become a UMD Champion to receive monthly shareable pride points, news and more straight to your inbox.