Home
About Us
News & Stories
10 for TEN: Alejandra Hernandez '14
10 for TEN: Alejandra Hernandez '14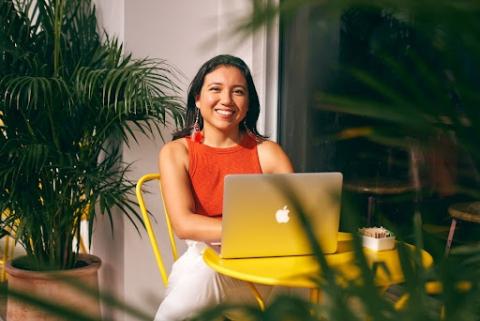 By Arielle Bernstein '23
Alejandra Hernandez '14 grew up in a matriarchy of two immigrant parents. Her mother made most of the decisions in the household and later learned how masculine decision-making could cause a lot of stress in families. Find out how Alejandra now honors and encourages femininity within the workplace through EmpowHer Change.
What is your Fearless Idea?
Women can be included in leadership roles across all realms in our society. We dream of a world where women are empowered, supported, purpose-filled and safe to contribute their magic to the world.
Describe your venture's mission and why you launched it in 100 words or less.
When I was a corporate career coach, I realized I was successfully landing people in jobs, but I was failing to empower them to live a purpose-filled life. I wanted to help them find work they love. I started my own company, EmpowHer Change, to focus on guiding women to re-discover who they are, build confidence, communicate their skills effectively and be clear on their next career move. We are not here to place people in jobs, we are here to help you get out of the cycle of confusion, frustration and quitting, and support your movement towards a life of fulfillment and growth.
How do you define success or determine the impact of your venture?
Through the people that walk through my program and land jobs doing work that fuels them.
What is the biggest problem or challenge you have had to overcome with your venture?
Imposter Syndrome (surprise!). The level of belief in my skill set, knowledge and intentions is directly correlated to my ability to sell, show up, share my message and guide others.
As a woman, Latina, first-generation American and college student, I recognized the imposter syndrome that crept in and told me that I won't be successful, I won't make millions, I can't grow too big, and more. I understand this deeply, I move through it often, and because of that, I know how to help my clients when they face the same obstacle. It's the kind of challenge that keeps women in roles they have outgrown or don't feel appreciated in.
What is the best piece of advice you've received?
"You can always come back." I was 24 when my manager at the time said these words to me. I was quitting my job in Bethesda to move to Miami with no job lined up. I was scared and felt tears welling up as I told her my plan. She was very understanding and said, "Remember, you can always come back home." When I quit my job and decided to start my own company, my partner reminded me, "You can always go back to a job." Of course it's true, I'm a career coach for goodness sake! I know I can always go back to a job. This piece of advice gives me the courage to be bold and do something different, and it's the same for my clients. You can always go back to another job you don't like, there's no risk in that. But what if you could find a job in a new career path you love?
What is one piece of advice you want to give to fellow Terps about launching a venture?
Be grounded in who you are as a creator and surround yourself with others that understand this too. Entrepreneurship will test your confidence, efficiency, presence and so much more. Make sure you spend time with others that are bold enough to be on the same journey.
What is one book you're reading or a podcast you're listening to right now?
How YouCan2 podcast episode (a personal development podcast) and "Velvet Was The Night," a novel by Silvia Moreno-Garcia.
What do you do in your free time?
Read, exercise, go for walks with my dog, host dinners and lounge on the couch with my partner.
As a student, what was one of your favorite memories or spots on campus?
The quiet floors in the McKeldin Library. As a commuter with an off-campus, part-time job, I needed spaces where I could get to work and not be disrupted.
###
The Alumni Blog connects you with the latest at UMD. Check out articles on advancing your personal and professional goals, elevating your UMD pride, and celebrating Terp traditions, legacies and accomplishments. For even more content, follow the Alumni Association on Facebook, Instagram, Twitter, LinkedIn and YouTube. Become a UMD Champion to receive monthly shareable pride points, news and more straight to your inbox.