Home
About Us
News & Stories
10 for TEN: Genna (Goldberg) Rosenberg '95
10 for TEN: Genna (Goldberg) Rosenberg '95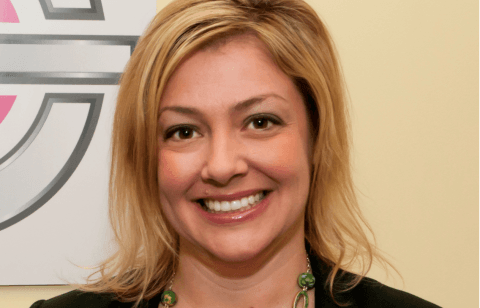 By Arielle Bernstein '23
CEO and Chief Ideator of GennComm ImaGENNation, Genna Rosenberg '95 talks about what it's like to provide a Think Tank on marketing and brand strategy focused on consumer products, technology and entertainment. Read more to find out how she prioritizes her projects for her agency.
What is your fearless idea?
I believe with purpose-driven and intentional activism, we can create products and content that can help empower people and change the world!
Describe your venture's mission and why you launched it in 100 words or less.
At GennComm and GennComm ImaGENNAtion, we make strategic connections that fuel possibilities. Whether it's for our PR clients by amplifying their products and initiatives to the masses through media and promotions, or for our innovative clients, where we mine for gems and align them with giants to make their intellectual property come to life through powerful licensing partnerships and other business development tactics. We help our clients monetize their businesses in new exciting ways.
How do you define success or determine the impact of your venture?
For our PR Clients, we are focused on not just getting them stories, but making sure the timing and messaging really counts, strategically driving sales and engagement with their businesses. For our ImaGENNation clients, we conceptualize ways for them to extend their IP into multiple categories, with multiple partners and revenue streams. With our empowerment work, we are focused on developing our own IP focused on diversity and inclusion, adaptive products that help people with special needs, and connecting people through technology to make their lives more personally connected. As we align with like-minded partners, it fulfills our personal goals to help make the planet a better place.
What is the biggest problem or challenge you have had to overcome with your venture?
We have a lot of opportunities coming at us, and many of them sound great. Our time is precious, so prioritizing them by potential as we scale up has been a juggling act.
What is the best piece of advice you've received?
The best piece of advice I've been given is to "Trust your instincts." Entrepreneurship is hard. Not everything is a slam dunk, but if you believe something is important to focus on, then keep at it. It may just take longer than you thought, but trust that the journey will make the eventual achievement all that sweeter. But if you are going to fail, fail fast, move on and don't repeat the same mistakes.
What is one piece of advice you want to give to fellow Terps about launching a venture?
If you have a great and potentially valuable idea, think about who is the best person or company to realize its potential. Think about what you really want your involvement to be. A lot of entrepreneurs or inventors try to do it all, and they may knock it out of the park! Or, they might be better off aligning with an established player and licensing their business idea out to someone who could monetize it for them.
What is one book you're reading or a podcast you're listening to right now?
I am fascinated with trends, and love Jeremy Gutsche, The Trend Hunter. He wrote a book called "Better and Faster" that I love, which is about connecting multiple different mega trends to super-charge your business ideas. His new book is called "Create The Future | The Innovation Handbook."
What do you do in your free time?
I love to hang out with my kids, and love to entertain. My relaxing place is cooking! I love to cook delicious bites for my family and friends.
What is your favorite alumni event or experience?
My favorite memory is getting to know my best friend from UMD, Lori Harrison. We met in a Journalism class my second year and had almost every class together from then on. Since graduation, we've worked together, traveled together, done philanthropy together and we mentor each other in our careers.
As a student, what was one of your favorite memories or spots on campus?
I have such fond memories of my time at Maryland! I remember celebrating Earth Day at a huge concert on McKeldin Mall, living in Elkton Hall, shopping for Terp gear at the bookstore, going with friends to the football games and riding the shuttles around town at night.
###
The Alumni Blog connects you with the latest at UMD. Check out articles on advancing your personal and professional goals, elevating your UMD pride, and celebrating Terp traditions, legacies and accomplishments. For even more content, follow the Alumni Association on
Facebook
,
Instagram
,
Twitter
,
LinkedIn
and
YouTube
. Become a
UMD Champion
to receive monthly shareable pride points, news and more straight to your inbox.