Home
About Us
News & Stories
10 for TEN: Jake Blackmon '17
10 for TEN: Jake Blackmon '17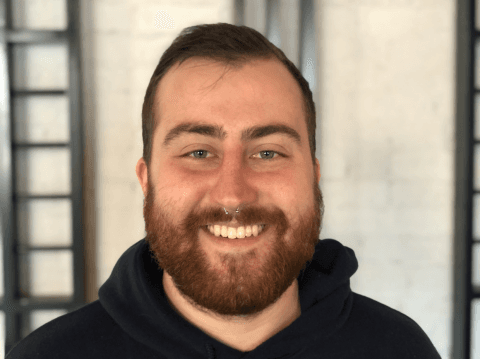 By: Abby Humbel '21
Jake Blackmon '21 is the owner of Smoketown Beer, established in 2015 by the Blackmon family. The original Smoketown Brewing is located in a remodeled, small-town fire station in Brunswick, MD. There are now two locations to enjoy these craft brews, and Jake was happy to share some of the inspiration he has for other Terps who are interested in opening their own business.
What is your Fearless Idea?
To take on "big beer" with real flavor and ingredients.
Describe your startup's mission and why you launched it in 100 characters or less.
To bring delicious blue collar craft beer to the area, and renovate the historic fire station that we started in.
How do you define success or determine the impact of your venture?
To me, we're already successful for having our 5th anniversary in the next couple months past a brewery boom and pandemic. We really want to see our beer across the country.
What is the biggest problem or challenge you have had to overcome with your venture?
As both a manufacturer and a retailer, we face problems on every side of the supply chain, especially with the ever changing global climate. One of the biggest challenges we've faced is providing enough of our product on time while navigating a constantly disrupted supply chain.
What is the best piece of advice you've received?
You don't have to take no for an answer. There is always another route to follow.
What is one piece of advice you want to give to fellow Terps about launching a venture?
Building a business is like surfing, you have to constantly keep an eye out for an incoming wave so you don't get blindsided, and the wave you thought you were going to take might not pan out. So be ready to adapt to whatever you can ride to the shore.
What is one book you're reading or a podcast you're listening to right now?
NPR's "How I Built This" is a great source of advice from business people of all backgrounds.
What do you do in your free time?
I love to listen to and see live music, snowboard and travel.
What is your favorite alumni event or experience?
I've really enjoyed our virtual happy hours!
As a student, what was one of your favorite memories or spots on campus?
There's nothing like a beautiful spring day on the mall.
###
Get inspired by our enTERPreneurs - read stories of their goals, motivations, struggles and ultimate successes. Are you an enTERPreneur? Join our TEN Newsletter for access to resources, tools, upcoming events and networking opportunities with your fellow Terps.
The Alumni Blog connects you with the latest at UMD. Check out articles on advancing your personal and professional goals, elevating your UMD pride, and celebrating Terp traditions, legacies and accomplishments. For even more content, follow the Alumni Association on Facebook, Instagram, Twitter, LinkedIn and YouTube. Become a UMD Champion to receive monthly shareable pride points, news and more straight to your inbox.