Home
About Us
News & Stories
10 for TEN: Kara McGrath '13
10 for TEN: Kara McGrath '13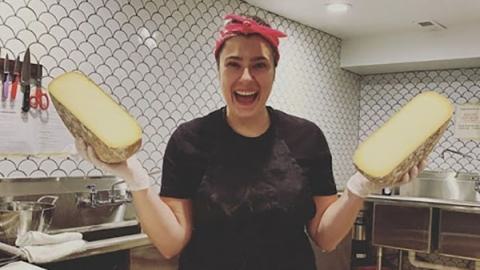 Committed to the promotion, education and enjoyment of all things cheese, Kara McGrath '13 is the founder and owner of Paste & Rind Cheese Co., which provides artisan cheese-focused curating services for all occasions. Whether it be guided tastings, custom gift boxes or beautiful displays, if you can dream it, Kara will cheese it. Read on to learn about Kara's mission to connect customers with artisanal cheese made by incredible producers that exemplify quality, craftsmanship and community.
What is your Fearless Idea?
Cheese is so much more than an industrialized commodity - underrepresented in the American kitchen and misunderstood in the American palette. Too many people peruse the grocery store cheese display, overwhelmed by all the choices, without any understanding of the quality of the products in front of them or the process and people by which they are made.
I aim to educate the American consumer, especially in the DMV area where there is a lack of specialty cheese shops, despite excellent local dairies and cheesemakers, on why they should choose quality over price, to support a better value chain and enjoy tastier cheese.
I strongly believe in the small producers who make the vast majority of the cheeses I carry- brought forth by farmers and cheesemakers who treat their animals and their land with respect. The attention to animal and land welfare results in tastier cheeses that are better for you and better for the environment. And supporting these small-scale makers directs money into the communities where the cheese is being made, thus boosting local economies. When you choose high-quality, carefully-made artisan cheeses, you can be assured that your purchase is supporting the work of dedicated, passionate producers and enriching small-scale food systems.
Describe your venture's mission and why you launched it in 100 words or less.
Paste & Rind Cheese Co. aims to connect people with the best artisan, craft and farmstead cheese producers to raise overall awareness of the value of artisan cheese and expose customers to the highest quality of products. I believe supporting small-scale cheese and dairy producers promotes humane and sustainable treatment of land and animals, boosts local economies and ensures the best tasting cheeses on your plate.
How do you define success or determine the impact of your venture?
My goal is to reach as many people as possible to spread the word of good curd, so I rely heavily on the "number of unique customers" metric when measuring success. Every customer represents someone who has taken a chance on an unfamiliar product and expanded their culinary horizons, which supports individual dairy farms and cheese makers at the other end of the chain.
What is the biggest problem or challenge you have had to overcome with your venture?
Lack of customer awareness. Despite being an area with many local farms and an up-and-coming dining scene, there is a serious lack of consumer awareness when it comes to artisan cheese, and speciality food in general. Washington, DC has but one cheese shop and a few specialty grocery options that carry artisan cheese, usually focused on imported Italian cheeses. While there is a huge opportunity given the space in the market, I face the challenge/opportunity of trying to build a brand while also building customer awareness and demand at the same time.
What is the best piece of advice you've received?
Stay committed to your vision, but remember that the path is often winding.
What is one piece of advice you want to give to fellow Terps about launching a venture?
There's never a perfect time where the conditions will be just right - look for the opportunities in front of you now and be willing to adapt.
What is one book you're reading or a podcast you're listening to right now?
"Cheese, Wine, and Bread" by Katie Quinn - it's a great introduction to French, British and Italian specialities that can sometimes seem intimidating to the average person. As a journalist, not someone in any of these industries, her take is very approachable and fun!
What do you do in your free time?
I spend a lot of time with my pitbull rescue pup, Olive - my husband and I love to take her on long walks exploring different DC neighborhoods.
What is your favorite alumni event or experience?
Homecoming tailgates every year with my same group of friends - engagements, weddings and even babies haven't changed this annual tradition, only made it better!
As a student, what was one of your favorite memories or spots on campus?
Centreville Hall, Floor 3 South, where I lived freshman year. Turns out I was living a few doors down from my husband. We met at one of the Fall welcome weekend events on our floor, and now 12 years later we are happily married!
###
The Alumni Blog connects you with the latest at UMD. Check out articles on advancing your personal and professional goals, elevating your UMD pride, and celebrating Terp traditions, legacies and accomplishments. For even more content, follow the Alumni Association on
Facebook
,
Instagram
,
Twitter
,
LinkedIn
and
YouTube
. Become a
UMD Champion
to receive monthly shareable pride points, news and more straight to your inbox.