Home
About Us
News & Stories
10 for TEN: Lauren Lefkowitz '98
10 for TEN: Lauren Lefkowitz '98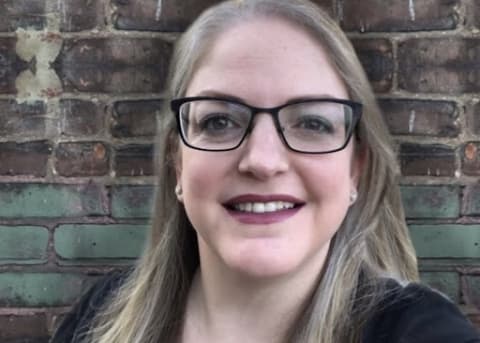 Have you ever been working and asked yourself, "Is this all there is?" In the middle of a very successful career in human resources and operations, with a side career in coaching, Lauren Lefkowitz '98 asked herself that very question. Her answer led her to launch Lauren Lefkowitz Coaching and focus full-time on supporting professionals and leaders who want to find joy, excitement, challenge and balance in their careers.
What is your Fearless Idea?
I am a career and mindset coach for mid-career professionals and executive leaders who want more from life than work, sleep, repeat.
Describe your venture's mission and why you launched it in 100 words or less.
I support career-centered people to understand they can make powerful choices about work and life!
How do you define success or determine the impact of your venture?
My clients go from overworked, burnt out, boundaryless work lives to building confidence, learning to say no productively, and choosing how their careers and lives balance.
What is the biggest problem or challenge you have had to overcome with your venture?
My first step in building my business was to get out of my own way, realize I had the skills, savings and business plan in place to launch my business full time and then just GO FOR IT!
What is the best piece of advice you've received?
"You're not stuck. You're just committed to certain patterns of behavior because they helped you in the past. Now those behaviors have become more harmful than helpful. The reason why you can't move forward is because you keep applying an old formula to a new level in your life. Change the formula to get a different result." Emily Maroutian, writer, poet and philosopher.
What is one piece of advice you want to give to fellow Terps about launching a venture?
Your comfort zone wants you to stay in a warm, cozy blanket. It tells you everything is just fine the way it is. I say, throw the blanket off. You didn't come here for 'just fine.' You came here for amazing. Do it!
What is one book you're reading or a podcast you're listening to right now?
I love the book "Mindset" by Carol Dweck.
What do you do in your free time?
I love to network, spend time with friends, and I'm learning Spanish!
What is your favorite alumni event or experience?
I love being back on campus when I can - such amazing memories!
As a student, what was one of your favorite memories or spots on campus?
I really enjoyed plopping down in the grass on the mall and reading a book.
Want to see Lauren's expertise in action? Check out her upcoming event through the BSOS Career Series this fall.
###
The Alumni Blog connects you with the latest at UMD. Check out articles on advancing your personal and professional goals, elevating your UMD pride, and celebrating Terp traditions, legacies and accomplishments. For even more content, follow the Alumni Association on
Facebook
,
Instagram
,
Twitter
,
LinkedIn
and
YouTube
. Become a
UMD Champion
to receive monthly shareable pride points, news and more straight to your inbox.