Home
About Us
News & Stories
10 for TEN: Marissa & Adam Goldstein '07
10 for TEN: Marissa & Adam Goldstein '07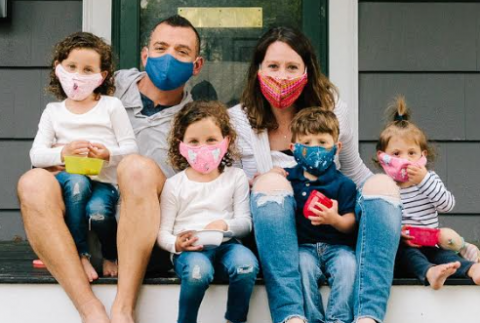 By Meghan Sykes
Get inspired by our enTERPreneurs - read stories of their goals, motivations, struggles and ultimate successes. Are you an enTERPreneur? Join our TEN Newsletter for access to resources, tools, upcoming events and networking opportunities with your fellow Terps.
Empowering parents from diverse communities...all in a day's work for enTERPreneurs Marissa Goldstein '07 and Adam Goldstein '07. This husband and wife Terp duo created Rafi Nova, a fair trade textile company based out of Massachesetts and Vietnam, named for their two sets of twins (yes, TWO!) - Raya, Efi, Noa and Eyva. The Goldsteins are busy building their company to share beautiful Hmong handicrafts with a larger audience and giving back to make stronger communities.
What is your Fearless Idea?
Marissa & Adam: At Rafi Nova, our Fearless Idea is to prove that parents all over the world bring the same values to their families. We want to connect people and communities from different backgrounds. We found that while we all live completely different lives, the principles of what we value in our lives are the exact same: the health of our children and their education.
In 100 characters or less, describe your startup's mission and why you launched it.
Marissa & Adam: Our mission is to empower parents to be active, adventuring, true to their values and accepting of others. We launched Rafi Nova to connect diverse communities.
How do you define success or determine the impact of your venture?
Marissa & Adam: We measure our success and our impact by looking at the communities that we are a part of. We think about our engagement within the community and how we serve its members; we look to see if we inspire people to be more kind, and help their neighbors. We also look for improvements within the education systems of these communities, and an increase in the number of kids going to college. We hope to provide jobs so that people can give their families a better future. We hope to see the people we engage with be better members of their neighborhoods and communities.
What is the biggest problem or challenge you have had to overcome with your venture?
Marissa & Adam: In 2019, we spent a year creating a brand centered around empowering parents to get out and go. Four weeks after launching, the coronavirus pandemic struck, and nearly the entire world was mandated to shelter in place. We had no idea what to do. We made an immediate decision to keep with our brand's mission and dedicated our production lines toward mask manufacturing. We began producing masks and donating them to frontline workers. This decision, to be there for our community, was the best we have ever made.
What is the best piece of advice you've received?
Marissa & Adam: Let your competitors focus on you, and you focus on your customers. Entrepreneurship has steep ups and downs. It's important to remember moderation; good days are never as good as they seem and bad days are never as bad as they seem.
What is one piece of advice you want to give to fellow Terps about launching a venture?
Marissa & Adam: Perseverance is crucial in launching a venture. When things go wrong, you need to be able to rebound and turn things around; some of the best ideas come from low points.
What is one book you're reading or a podcast you're listening to right now?
Marissa: How I Built This (podcast)
Adam: I have been listening to a podcast called Group Chat. It's by young guys in California who run small businesses. They talk about business and the news. Lately, they have been talking about how people are dealing with today's circumstances. They are very transparent and give honest advice about their experiences with entrepreneurship.
What do you do in your free time?
Marissa: We have four kids under four years old and a growing business which makes it really hard to have any free time. We take turns waking up very early so that one of us can go on a run before the kids wake up. We also love to take our kids on small adventures -- whether it's long stroller walks in the woods or camping, we are always on the lookout for fun activities.
Adam: In my free time, I like to be outside. I love to go on walks, run and hike. I also love spending time with my wife and our two sets of twins. It's important to be able to put down your phone for a bit and focus on your family and your hobbies.
What is your favorite alumni event or experience?
Marissa: I love connecting with alumni from Boston when we get together every so often.
Adam: I really enjoy the March Madness get-togethers that the Boston Terps Alumni Network arranges.
As a student, what was one of your favorite memories or spots on campus?
Marissa: I loved tailgates before the football games.
Adam: My favorite spot on campus was Cole Field House, and my favorite memories stem from the Maryland-Duke rivalry.
###
The Alumni Blog connects you with the latest at UMD. Check out articles on advancing your personal and professional goals, elevating your UMD pride, and celebrating Terp traditions, legacies and accomplishments. For even more content, follow the Alumni Association on Facebook, Instagram and Twitter.