Home
About Us
News & Stories
10 for TEN: Michelle Riley '12
10 for TEN: Michelle Riley '12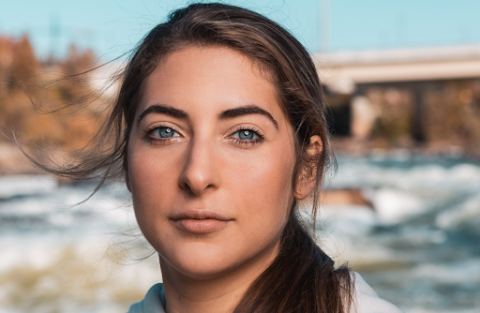 It's time to make yourself a priority. Michelle Riley '12, founder of Fierce and Fit, customizes online training and nutrition plans to empower women at all stages of life to take control of their health and achieve optimal physical and mental well-being. She believes it's crucial that women invest in their health to improve day-to-day performance in all aspects of life. Read on to learn more about Michelle and her mission.
What is your Fearless Idea?
To be able to help modern women from all over the world through my online health and fitness platform.
Describe your venture's mission and why you launched it in 100 words or less.
Fierce and Fit was launched to empower professional women to prioritize their physical and mental health in order to live a high-quality life.
How do you define success or determine the impact of your venture?
I define success by the way my values align with my message and mission in my business. When I can authentically reach and help women feel their best in both their personal and professional lives, it's the most rewarding feeling.
What is the biggest problem or challenge you have had to overcome with your venture?
Being married to a military spouse, I had to continue finding new clients when I did in-person training with each new post we were assigned. It became very frustrating and hard to keep my business stable. That's when I figured out a way to put my fitness business online and help even more people while growing my brand worldwide. It was a hard feat but I did it!
What is the best piece of advice you've received?
To stay consistent, and to always show up each and every day for yourself and your business. Every bit counts.
What is one piece of advice you want to give to fellow Terps about launching a venture?
Don't do it just for the money. The money follows your passion, which sets the fire in your soul. Launch a business that is authentic to you, your goals and your passions. And remember: it's going to get bumpy. Use each failure and setback as a learning curve, because there will be a lot of those that happen. It's the way you learn and grow from these setbacks that sets you apart from those who have a hobby and those who have a successful business.
What is one book you're reading or a podcast you're listening to right now?
I'm actually reading my own book, "The Health and Wealth Sisters' 360 Action Plan: Total Self Care for the Modern Woman's Fiscal, Physical, and Emotional Well-Being."
What do you do in your free time?
I live by the waters in Pensacola, Florida. I love paddleboarding and swimming with my aussies as much as we can. Because I work online, time is on my side under the Florida sun.
What is your favorite alumni event or experience?
I was actually part of the stunt gymnastics team, Gymkana. My favorite experience was hyping the crowd before basketball events.
As a student, what was one of your favorite memories or spots on campus?
I probably shouldn't be saying this, but it was going out with my two roommates either to Bentley's or Cornerstone for a night of dancing and fun.
###
The Alumni Blog connects you with the latest at UMD. Check out articles on advancing your personal and professional goals, elevating your UMD pride, and celebrating Terp traditions, legacies and accomplishments. For even more content, follow the Alumni Association on
Facebook
,
Instagram
,
Twitter
,
LinkedIn
and
YouTube
. Become a
UMD Champion
to receive monthly shareable pride points, news and more straight to your inbox.