Home
About Us
News & Stories
A Celebration to Remember
A Celebration to Remember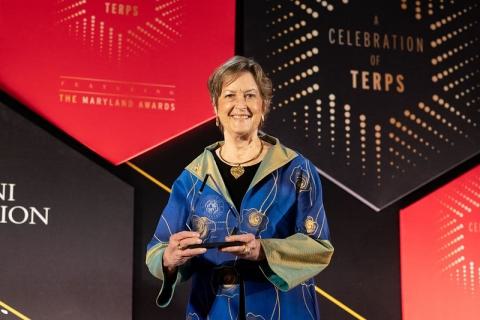 COVID testing and vaccinations allowed for a small, intimate black-tie event in person at the Samuel Riggs IV Alumni Center for university leadership, members of the Alumni Association Board of Governors and awardees. Fellow alumni, friends and fans joined the celebration by viewing the livestreamed awards ceremony at home.
The event opened with a recorded instrumental version of the university's alma mater and was co-hosted by Amy Eichhorst, executive director of the Alumni Association and assistant vice president of alumni relations, and Pines. During opening remarks, he shared his pride for the alumni community and encouraged all Terps to remain Terrapin Strong and to make a lasting and positive impact on society. In-person and virtual guests had the opportunity to hear from each honoree as they shared stories and words of edification. Overall, the program was inspiring and a true demonstration of what amazing alumni and friends we have at Maryland.
Thank you to all who joined us in honoring the achievements of six outstanding Terps:
Learn more about these distinguished Terps and watch a recording of the awards ceremony at
celebrateterps.umd.edu
. Photographs from the event can also be viewed
here
.