Home
About Us
News & Stories
University of Maryland Alumni Association Blood Drive Offers Terps Chance to Do Good
University of Maryland Alumni Association Blood Drive Offers Terps Chance to Do Good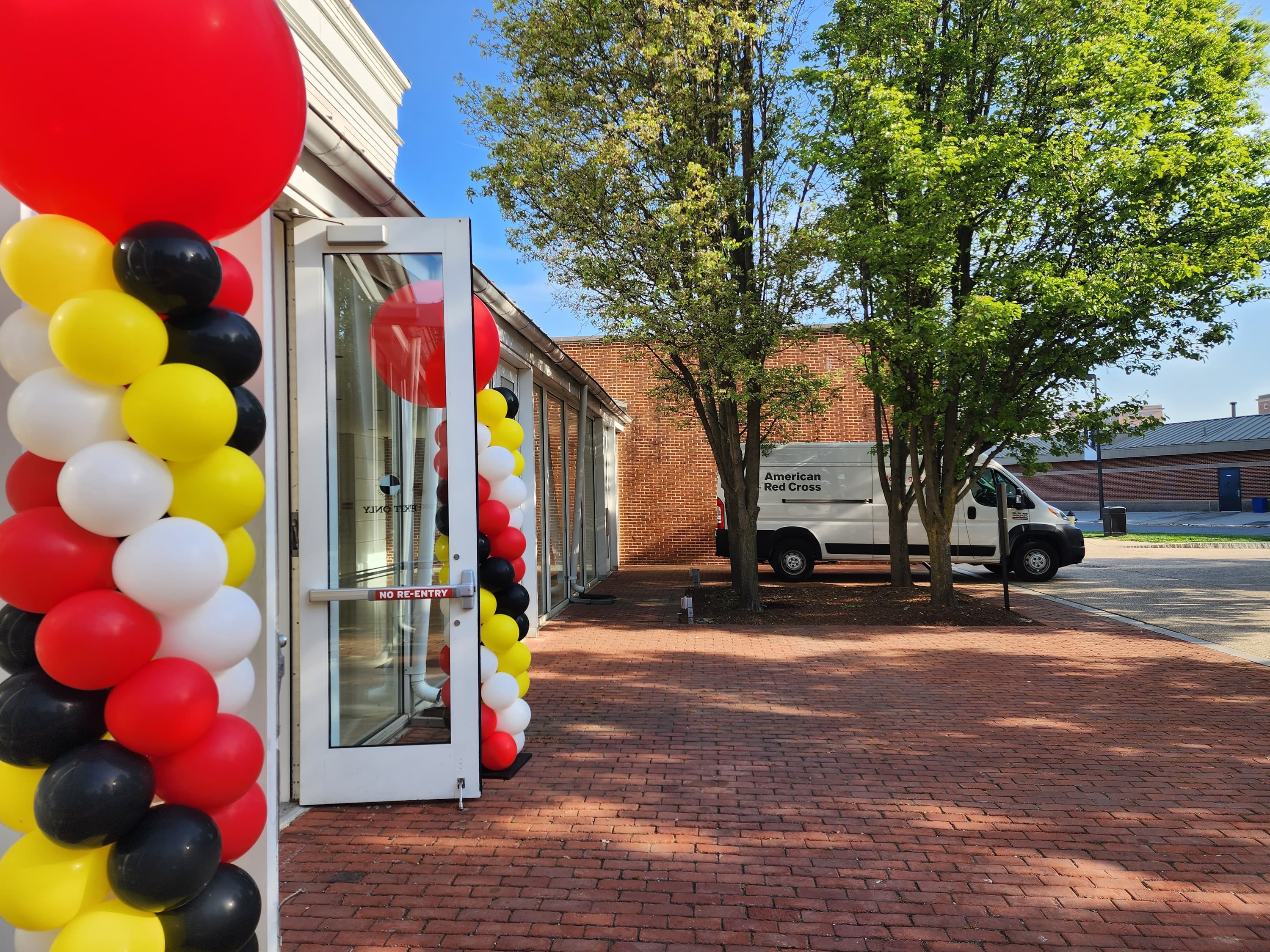 Staff, students, faculty and alums banded together on the week of April 20 to​​ do some good–and together, they provided life-saving blood to as many as 120 people in need.
During the Alumni Association's inaugural blood drive, held in affiliation with the American Red Cross, 59 participants donated 38 units of whole blood and two units of red blood cells, totaling 40 productive units–exceeding the Alumni Association's goal of 36.
Lindsey Wareing, the Alumni Association's director of sales and marketing, organized the event after learning that April is Do Good month at the university, a period when members of the Terp community are encouraged to take action to help others in need.
Wanting to find a way to get the Alumni Association involved, Wareing immediately thought of blood donation. During the COVID-19 vaccination push, the Samuel Riggs IV Alumni Center served as a site for people to get their jabs, so Wareing knew that the building "lends itself well, as a big open space, for these kinds of activities," she said.
There was another reason that blood donation was special to Wareing. As a girl, Wareing's niece was diagnosed with a terminal disease. "She fought really really hard and won a lot of battles because of donations, so it holds a soft place in my heart," she said.
Sara "Mags" Tabaka
Sara "Mags" Tabaka donating blood during the event.
The Riggs Alumni Center got over 59 volunteers to donate, enough to help 100+ people.
Volunteers were also handed free t-shirts as a thank-you for donating.
Riggs will hold two more blood drives this year, which means there's still time to make a difference.
At first, the Red Cross provided enough staff to cover appointments for 48 people. When those time slots filled up almost immediately, Wareing asked if the organization could offer more staffers to accommodate more donors; they did, and the additional slots also filled within 24 hours. More than half of the volunteers were first-time donors, Wareing said.
Sarah "Mags" Tabaka, stewardship coordinator in the Division of University Relations, was among those who donated blood. "You know how in science fiction movies, everyone is always worried about time travel? You travel back in time, change something small, and all of a sudden the present is transformed in unimaginable ways. I see donating blood like that, but for the present," she said. "It's something seemingly small that you can do today, but it could really impact someone's future."
The event was well-organized, she said, noting that "consideration was clearly given to the volume of appointments, as well as the physical setup of the donation area." (Not to mention, donors were seated in the "nicest blood drive chairs I've ever passed out in," she said.)
Though Tabaka had donated blood previously, she understood the nerves that first-time donors might feel. "I'd encourage prospective blood donors to reach out to drive coordinators directly with any questions or concerns," she said. "In my experience, they are kind, patient and knowledgeable."
With such a significant turnout, Wareing said it was clear that there's demand for these kinds of opportunities to give back. In fact, she said, "we had such great success that we've scheduled two more blood drives, one on August 10 and one on December 14."
###
If you'd like to learn how you can get involved with the American Red Cross and help save lives in the future, log on to the Red Cross Website and schedule an appointment.
###
Publication of this article does not imply an endorsement by the Alumni Association. The Alumni Blog connects you with the latest at UMD. Check out articles on advancing your personal and professional goals, elevating your UMD pride, and celebrating Terp traditions, legacies and accomplishments. For even more content, follow the Alumni Association on LinkedIn, Facebook, Instagram and Twitter.