Home
About Us
News & Stories
How to be Fearless: Learning from our Terps Under 30
How to be Fearless: Learning from our Terps Under 30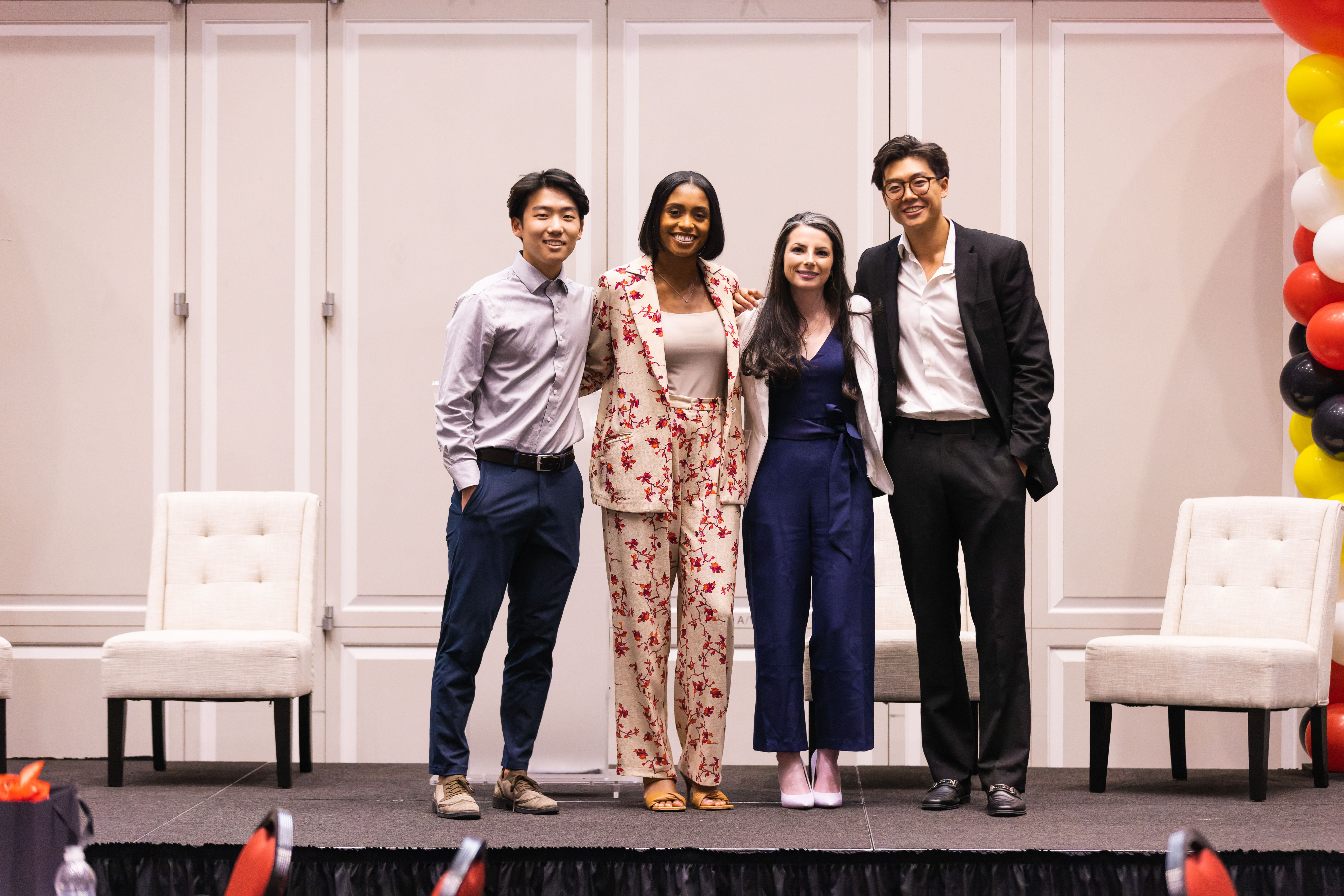 By Isabelle Leo & Meghana Kotraiah
On the evening of April 3, the University of Maryland Alumni Association and Student Alumni Leadership Council hosted their annual 'Terps Under 30' event, featuring four alumni under the age of 30. The event began with a networking hour and reception and then transitioned into a TED talk-style program. Four Terp speakers - Alexandra Givan '16, Thomas Hong '2020, Rachel Lipman '15, and Derek Xiao '19 spoke about their life experiences and how they find themselves moving fearlessly forward.
Givan kicked off the program with a beautiful conversation about community as the core of success. "There is not an idea that [her] mentors, line sisters, leaders, bosses, and friends, have not molded and supported from the ground up." Attendees listened intently as she expanded on the idea of bringing diversity, equity, inclusion and equitable policies into work and how people should show up every day, regardless of what field or career path they take. For her, moving fearlessly forward was filled with "a healthy amount of fear." But it didn't stop her from pursuing her lofty goal expectations.
Hong spoke eloquently about the difficult decision he faced between his academic pursuits and his Olympic dreams. Through speed skating, Hong learned how to balance his life and find trust in the preparation and work he had put in when it came to pivotal moments of pressure. "Sometimes when I don't believe in myself, I believe in my preparation," he noted. "And it carries me through." Attendees asked questions about what it was like to represent the Maryland and USA community, and heard from Hong about what the opportunity to participate in the Olympics in his home country of South Korea meant to him.

Derek Xiao '19 spoke about understanding what it means to be a Fearless Terp, launching him into a new phase of both his life and his career after attending UMD.
Lipman started off her speech by reflecting on her family history, acknowledging her ancestors and how their lives have impacted her from a young age. As she was able to grow from her family's history, her work quickly turned into a passion. And this too, later, became the driving force in her journey at the University of Maryland. Knowing exactly what she wanted to be in life (a winemaker), and knowing exactly how she was going to achieve that through her education at UMD, she said that she was able to use her passion as a "stepping stone, a form of motivation and purpose to strive and move forward." Without ever losing that steam, she transformed that tenacity into her identity, remarking that "even at 30 years, I am at 10 percent of what I can fully achieve." Lipman truly is the epitome of writing her own story.
Ending our speaker-portion of the event, Xiao began with an anecdote of stepping out of his comfort zone during his college years. He described it as a rubber band, where "the more you step outside it, the more elastic it will become." By gradually stretching and testing the waters of life's boundaries, Xiao argued that one should be able to realize and accept the hard decisions ahead. Xiao experienced this dilemma when deciding between a high paying job or taking part on the TV show Big Brother. He described how choosing to appear on Big Brother over a secure job opportunity which he had always dreamed of was a culmination of his experiences at UMD that helped to stretch his idea of what his version of success could look like. "One thing that connects us (the Terps Under 30 speakers) is that we all had something in one hand that was easy, comfortable and safe," he noted. "But on the other hand we had something that was a risk. Something that scared us at so many points. And at the same time, it was a dream, a mission and a passion."

The four Terps Under 30 speakers were awe inspiring examples of what each and every Terp can accomplish. The presentations were followed by the recognition of the Alumni Association's Rising Terp Award winners: Nora Eckert '19, Auto Industry Reporter for The Wall Street Journal; Olivia Owens '14, Creator Relations Manager for Teachable; and Anthony Sartori '18, Co-Founder and Executive Director of Evolving Minds. Each winner was honored as distinguished UMD alumni who excel in their career and inspire the next generation of Terp leaders.
Terps Under 30 reminded us to achieve more and become the best version of ourselves. All speakers were fearless in the face of adversity, ready to move forward in their respective journeys and prepared to impact their communities in a profound way - inspiring all of the attendees.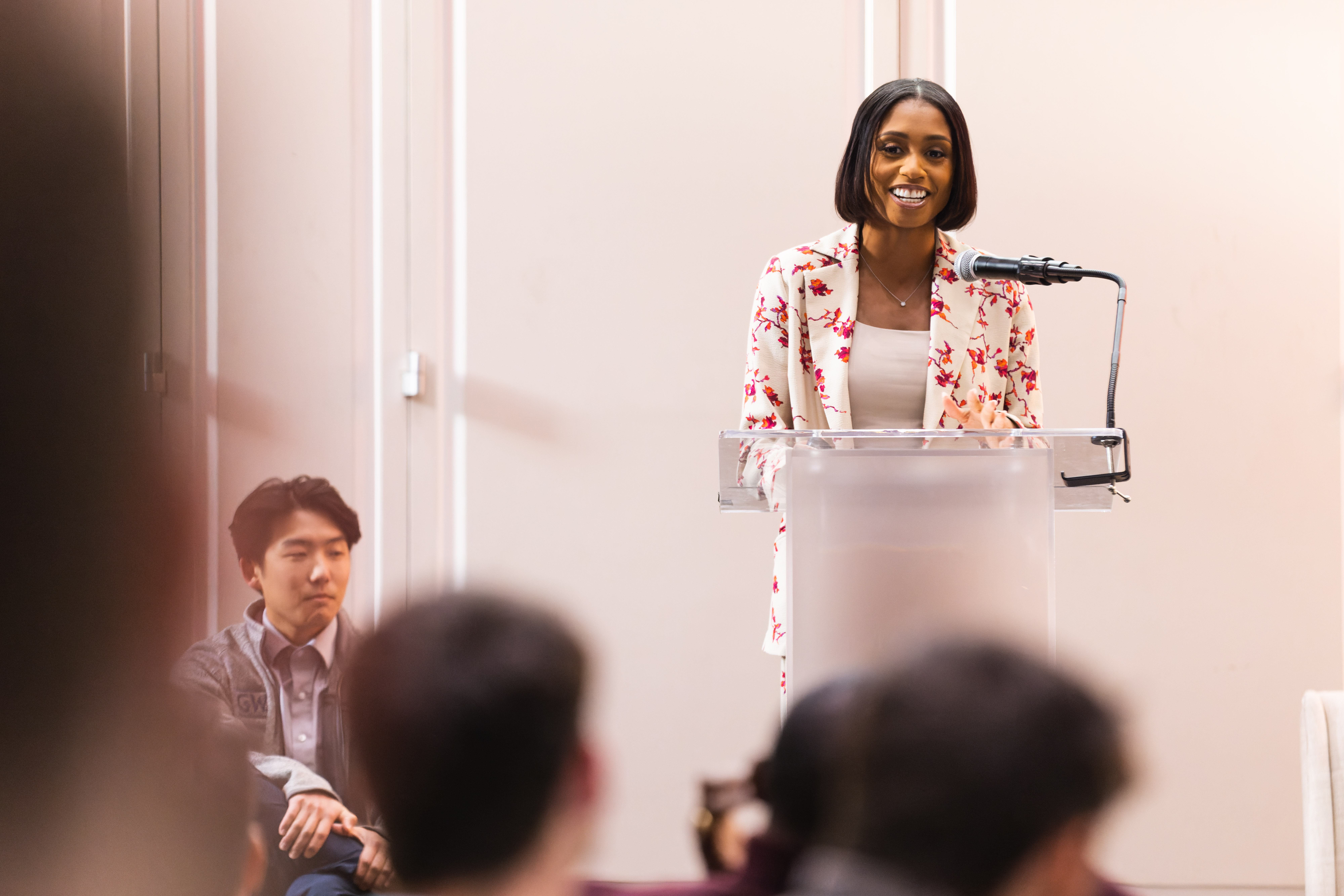 Alexandra Givan '16 - Terps Under 30 Speaker
Alexandra Givan '16 spoke about the importance of community in life, saying fear is something that drove her through her professional pursuit of excellence.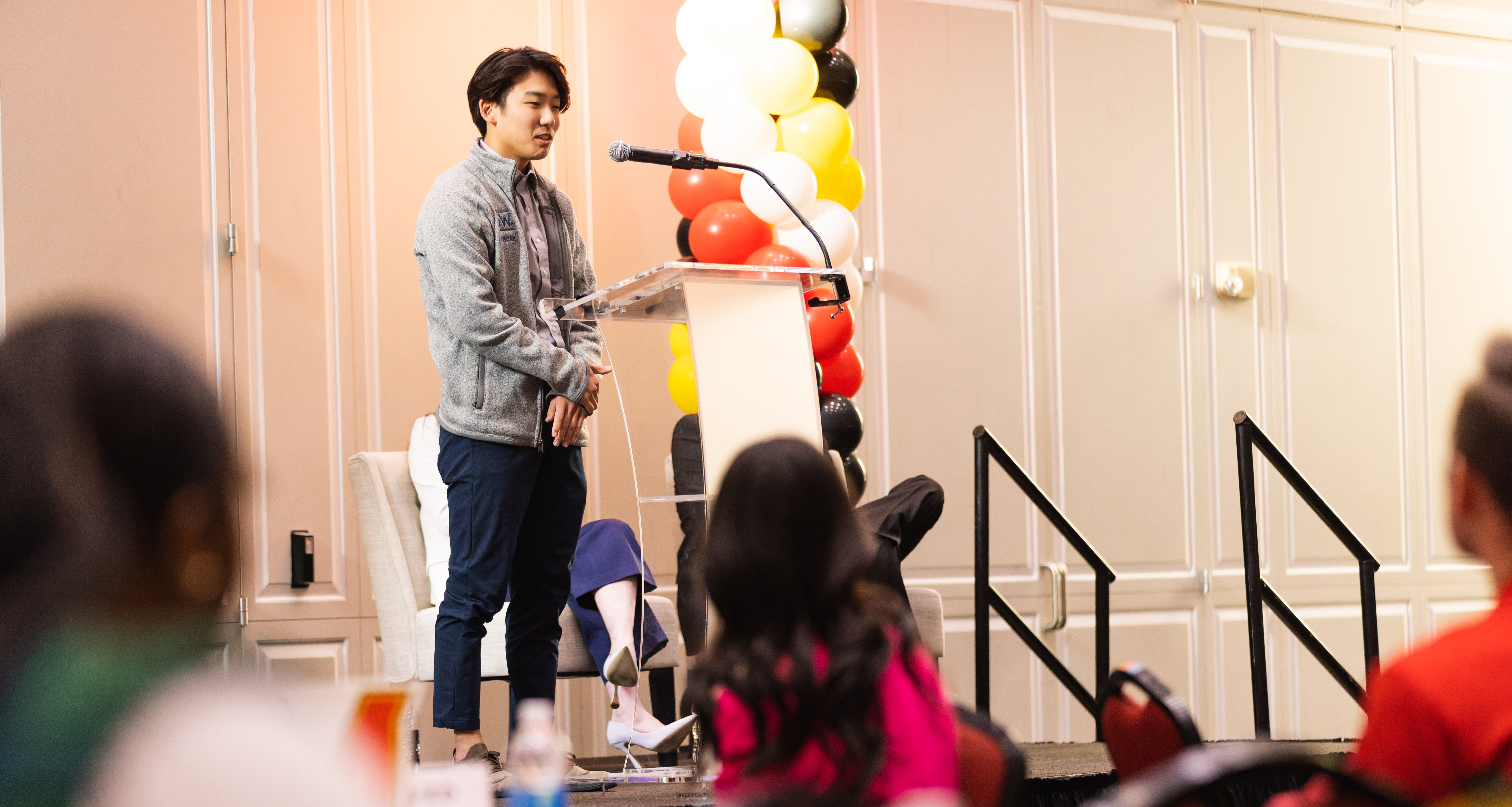 Thomas Hong '20 - Terps Under 30 Speaker
Thomas Hong '20 gave his thoughts on the crucial importance of preparation, something that helped him balance his Olympic dreams and his academic pursuits.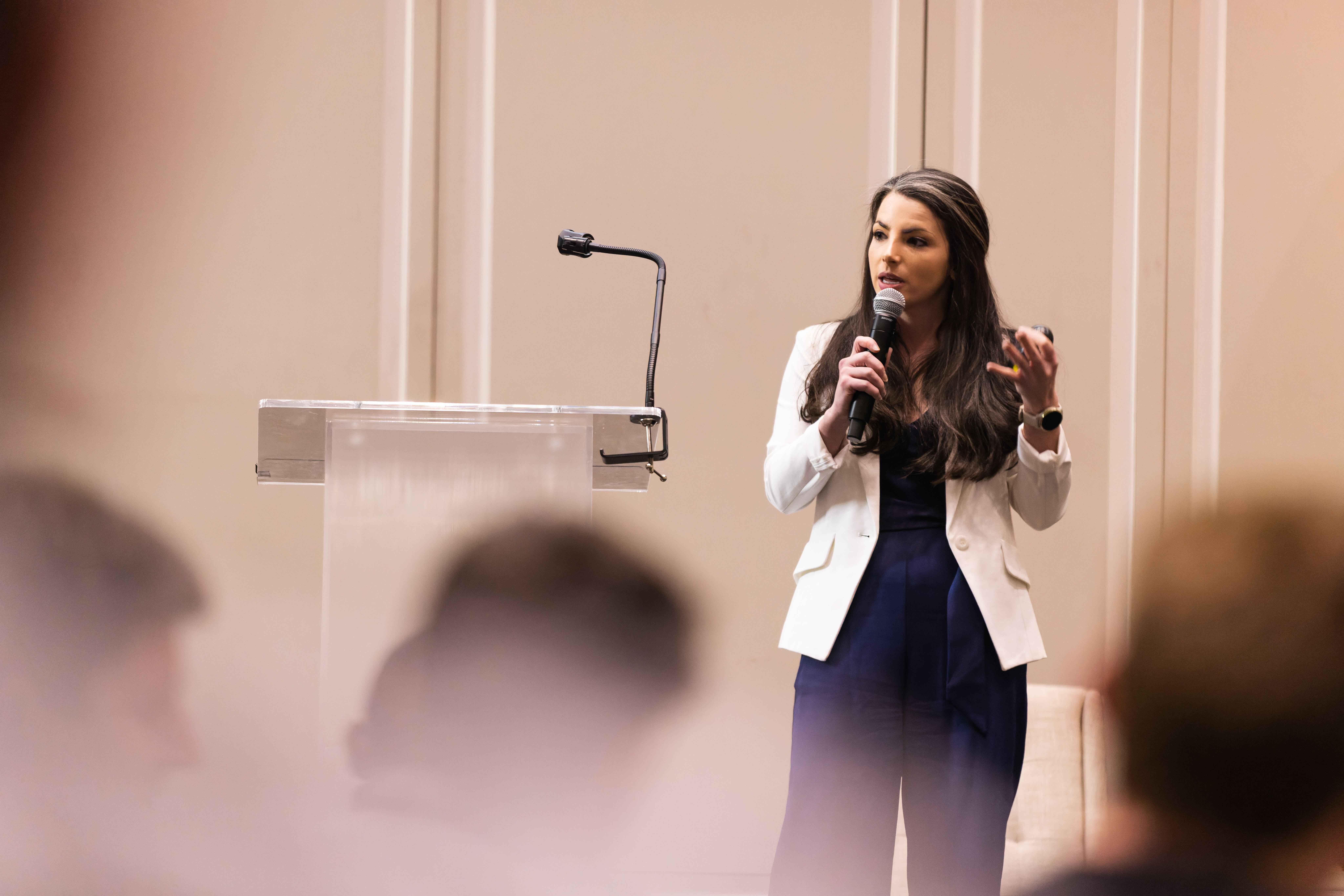 Rachel Lipman '15 - Terps Under 30 Speaker
Rachel Lipman '15 spoke about her experiences in a difficult winery industry and how she found success after graduation.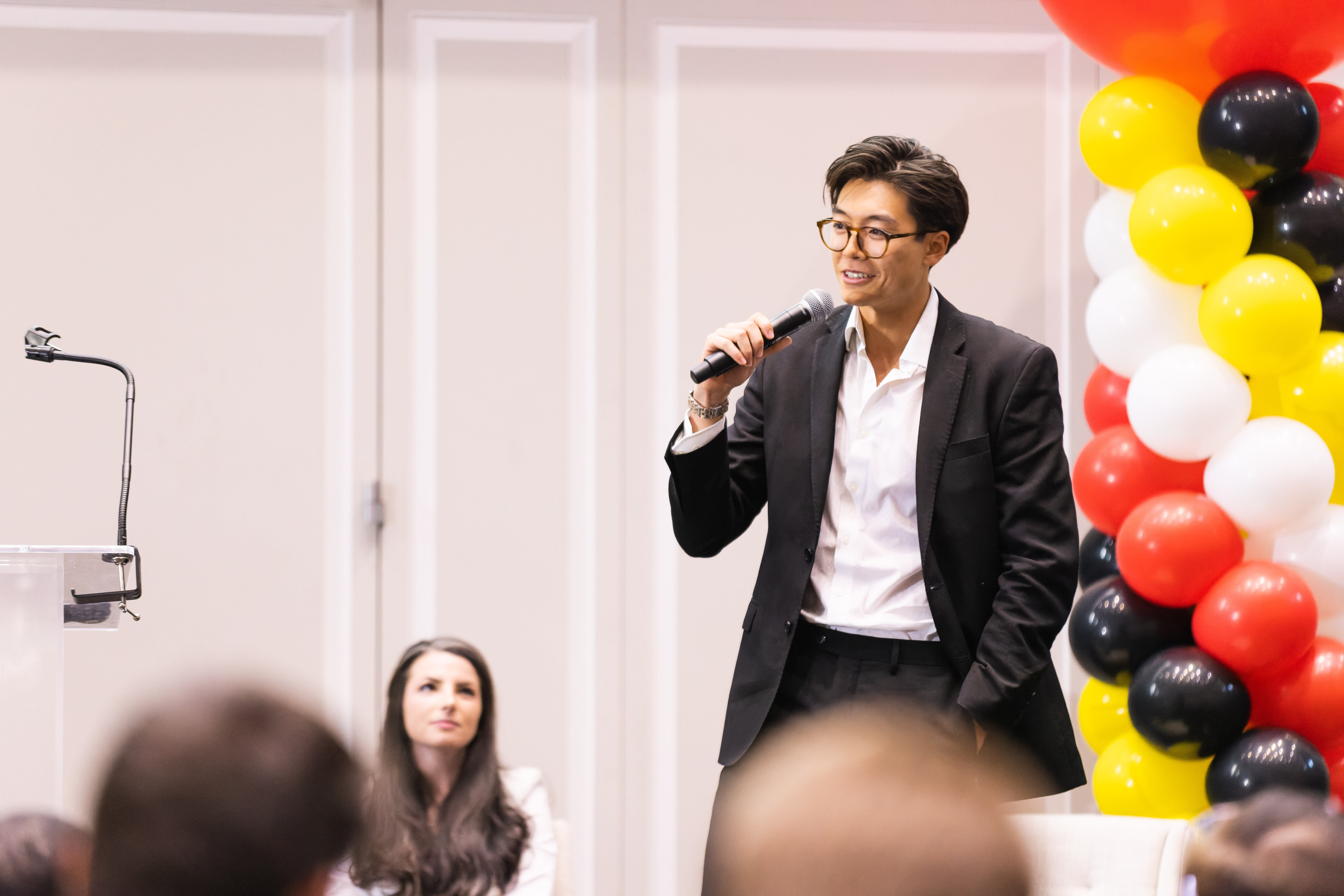 Derek Xiao '19 - Terps Under 30 Speaker
Derek Xiao '19 argued that one must always look to test life's boundaries to find true happiness in both life and your career.
###
Publication of this article does not imply an endorsement by the Alumni Association. The Alumni Blog connects you with the latest at UMD. Check out articles on advancing your personal and professional goals, elevating your UMD pride, and celebrating Terp traditions, legacies and accomplishments. For even more content, follow the Alumni Association on LinkedIn, Facebook, Instagram and Twitter.