Home
About Us
News & Stories
A Gathering of EnTERPreneurs
A Gathering of EnTERPreneurs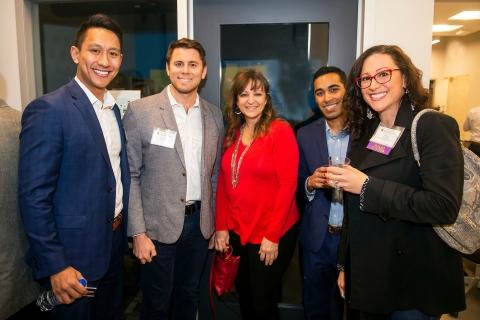 From Zest Tea to Under Armour, Terp entrepreneurs are taking the world by storm. To bring together alumni business owners and aspiring entrepreneurs alike, the Alumni Association launched its first-ever industry network — the Terp Entrepreneur Network (TEN).

On March 27, more than 150 Terps gathered at the new WeWork College Park to celebrate the launch of TEN with networking, an alumni startup zone and more.

"Our launch event showcased how far UMD has come from an innovation perspective, the incredible resources available and how TEN will serve as a platform bring this value to alumni," says Nikhil Balakumar '14, TEN vice president.

For alumni entrepreneurs, the event featured an exclusive look at resources available to Terps, including a look at the new StartUP UMD Suite at the Diamondback Garage. Then, attendees congregated with members of the entrepreneur community at WeWork, a two-story coworking oasis in the heart of the Discovery District, where they heard from Sam Medile '80, founder of Off Campus Parking LLC.

"There was truly a diverse set of attendees from across the entrepreneur ecosystem, whether it be talented individuals looking to join startups, leaders of early and mid-stage companies or advisors and investors," Balakumar says. "Each of these types of entrepreneurs bring value to each other in different ways, which was evident in the various conversations we were a part of."

As the network continues to grow, it will host more events focused on resources for entrepreneurs and highlight Terp businesses. The goal of TEN is to help individuals network with like-minded Terps, grow professionally and personally, and learn from one another while developing business connections. Click here to learn more and subscribe to TEN email updates.
In partnership with:
###
The Alumni Blog connects you with the latest at UMD. Check out articles on advancing your personal and professional goals, elevating your UMD pride, and celebrating Terp traditions, legacies and accomplishments. For even more content, follow the Alumni Association on Facebook, Instagram and Twitter.