Home
About Us
News & Stories
A Recipe for Affection
A Recipe for Affection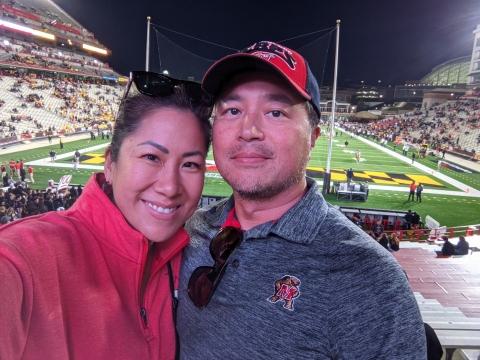 By Andrew Faught
Betty Wang '96 and Hsuan Ou '97 are fond of giving Cupid a taste of the Asian American experience.
"Since Valentine's Day falls close to the Lunar New Year, we can be found in the kitchen making homemade dumplings, scallion pancakes, and other Chinese favorites," Betty says. "We usually celebrate with extended family dressed in red, and we hand out red lucky envelopes with money to the kids."
The couple — Betty is a primary care physician and owner of private practices in Eldersburg, Maryland, and Owings Mills, Maryland, while Hsuan is a cybersecurity expert with the National Institutes of Health — met as seniors at UMD in 1995.
That year was pivotal for politics and social action, as the Asian American Student Union, whose members included Betty and Hsuan, pushed for the adoption of an Asian American studies program on campus. The couple, along with a core group of student activists, planned and attended rallies, made posters and distributed fliers, and marched on then-President William "Brit" Kirwan's office.
"We sought to establish an institutional curriculum to recognize Asian American history, culture and diversity," Hsuan says.
Their efforts paid off: the university created a certificate program in 2000, and then a minor in 2007.
The couple, who live in Howard County, still have a vested interest in UMD. The oldest of their two children, Kayla , is a freshman at the university who is leaning toward majoring in business.
"We're very much plugged in to UMD these days," Betty says. "It's been nostalgic and prideful to be able to explore the campus all over again, 27 years later."
The couple ran in different social circles during their student days, but they shared a passion for social activism in College Park. They also shared a lighter side: Betty, a pre-med-biology major, and Hsuan, an economics major, created and produced the first Asian student fashion show, called "Faces," in 1995. It went on for a decade after they graduated.
The couple will celebrate their 20th anniversary this year, an occasion that allows them to reflect on what's made their relationship work.
"Our best advice is to look past the self-pride and individual need and to work towards core respect and understanding," Hsuan says. "Drop the need to be right all the time, and pay attention to what is unsaid as much as what is said. Making marriage work requires being humble and vulnerable."
###
The Alumni Blog connects you with the latest at UMD. Check out articles on advancing your personal and professional goals, elevating your UMD pride, and celebrating Terp traditions, legacies and accomplishments. For even more content, follow the Alumni Association on Facebook, Instagram, Twitter, LinkedIn and YouTube. Become a UMD Champion to receive monthly shareable pride points, news and more straight to your inbox.