Home
About Us
News & Stories
A Terp Family Affair
A Terp Family Affair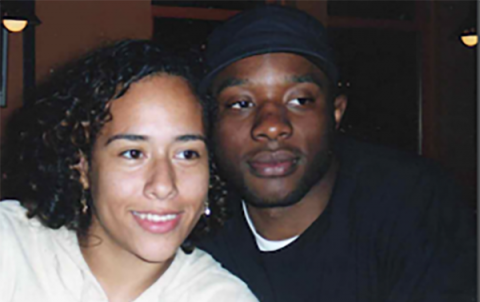 By Sala Levin '10
The first time Wendy Olaitan '07 met her future husband, Bernard Olaitan '11, in September 1998, she wasn't quite ready for a relationship. You might understand why—the high school freshman was more focused on getting her homework done.
Bernard, two years ahead of Wendy at Montgomery Blair High School in Silver Spring, Md., wanted Wendy to know he'd give her some time to figure things out. He walked her home from school and left notes in her locker. "We just kept up a rapport ever since that time," said Bernard, but eventually the two naturally drifted apart.
Waiting at a bus stop in College Park a few years later, Wendy, then working at the Adele H. Stamp Student Union, noticed that Bernard had driven right up next to her. He gave her a ride home, and the two began dating then and there.
"At that point I was slightly older, and I realized, this is a really good guy," said Wendy.
For their first official date, the pair went to Adams Morgan for dinner at The Diner and walked through the streets of D.C. The two connected over the Takoma Park neighborhood they'd both grown up in, a mutual taste for discovering new restaurants in D.C. and a shared love of movies.
The couple says that they balance one another perfectly. Calm, optimistic Wendy helps the sometimes-stressed Bernard "look at things from a brighter point of view," he said. She's also an inspiration to him: seeing her attend college while working motivated him to do the same. Meanwhile, Bernard is "fearless," said Wendy. "In some ways, he's encouraged me to be like that, too."
Since marrying in 2009, Wendy and Bernard have merged their families, his from Nigeria and hers from El Salvador. "It's a diverse, welcoming (area) and (interracial relationships) are accepted here," said Bernard.
The twosome are now parents to 5-year-old twins Catalina and Adelina, and 3-year-old Rafael. The family lives in College Park, and together they explore nearby trails and parks, and take regular strolls to McKeldin Mall. On past Maryland Days, the kids have hopped up on trucks and gotten to know the campus.
"We're starting this (University of Maryland) tradition," said Bernard. Both he and Wendy are first-generation college graduates who were drawn to UMD for its proximity to family, affordability and quality of education. Wendy's stepmother is a longtime employee in Facilities Management, and her father and sister worked on campus for some time, strengthening the university connection. (Another sister is also a UMD graduate.)
"The love of Maryland is clearly there, and it's being translated to our kids," said Bernard.
###
The Alumni Blog connects you with the latest at UMD. Check out articles on advancing your personal and professional goals, elevating your UMD pride, and celebrating Terp traditions, legacies and accomplishments. For even more content, follow the Alumni Association on Facebook, Instagram, Twitter, LinkedIn and YouTube. Become a UMD Champion to receive monthly shareable pride points, news and more straight to your inbox.