Home
About Us
News & Stories
After Retirement, an NFL Player Nurtures Community
After Retirement, an NFL Player Nurtures Community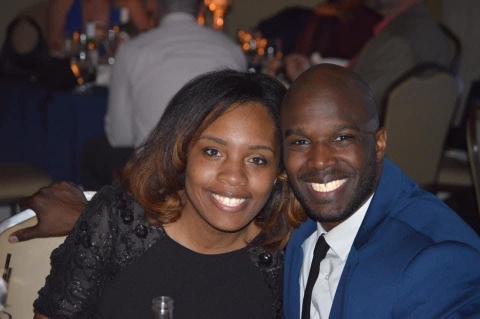 By Sala Levin '10
For years--starting in elementary school and continuing through a career in the NFL--Rich Parson '05 placed football at the center of his identity. After retiring from professional football in 2007, he faced a personal dilemma: what to do now that he had to radically reorient his focus away from the sport and toward something else?
Parson's answer? Invest more deeply in the people and places around him--an instinct he attributes both to his own upbringing and to his time at Maryland, particularly his role as a student-athlete and his work as a family science (then family studies) major in the School of Public Health.
"I'm a community guy," said Parson. "I'm a big family guy. … My parents were always helping to take care of other people's children."
Rich Parson '05 and his family.
Growing up in Wilmington, Del., Parson was always an athlete, excelling in football, basketball, baseball and track. His dad, a college athlete-turned-high school basketball coach, worked with underserved kids, often buying them sneakers or winter coats.
Considering his options for college, Parson was drawn to UMD for its warm community, its diversity and its spirit. (Being the alma mater of Jim Henson impressed Parson, too.) "Mike Locksley (then a recruiting coordinator and now head coach) made me feel like I was his son," Parson said.
During his years as a wide receiver at Maryland, Parson and the Terps went to the Orange Bowl and won the ACC championship. After college, Parson played for the Washington Football Team and the Oakland Raiders before deciding that the uncertainty and instability of NFL life no longer suited him.
"I was like, 'We can't live like this,'" said Parson.
But leaving football meant creating a new vision for his life--something Parson had seen other retired athletes struggle with. "Some guys can't get rid of hearing the crowd screaming your name and stuff like that," Parson said. "You have to really digest who you are."
Remembering his studies at UMD, Parson focused on the goal of helping other people, utilizing both his academic work and his work on the field, acting as a teammate and leader to assess high-risk situations and possible outcomes.
He first became a case manager, coordinating care for mental health clients and keeping them on a treatment plan. Later, he worked as an assistant director of a homeless shelter, a crisis response manager in Anne Arundel County, a Delaware police officer and as a facilitator holding workshops for domestic violence offenders, among other roles.
Always, Parson saw himself as a figure who could go into potentially dangerous situations and act as a calming presence. His status as a former football player and his natural soft-spokenness help defuse tense moments, he said.
Today, in his role as a consultant and brand ambassador for the firm Social Contract, Parson works with partners and companies throughout Delaware to reduce gun violence and develop stronger workforces.
Parson has also put his knack for building relationships to good use in his personal life. When his daughter was first diagnosed with a brain disorder called lissencephaly, Parson and his wife, Patrice Parson '06, didn't know where or to whom to turn for help. Now, after research and connection-making, the Parsons are outspoken advocates for kids with lissencephaly, working with Easter Seals and other organizations.
His community involvement includes the University of Maryland. He continues to work with the School of Public Health and with the Alumni Association, giving back to the institution that he says gave him so much.
"I owe so much to the University of Maryland," said Parson. "They gave me a great opportunity to get an education. … I made the best of it, and it has given back to me tenfold."
###
The Alumni Blog connects you with the latest at UMD. Check out articles on advancing your personal and professional goals, elevating your UMD pride, and celebrating Terp traditions, legacies and accomplishments. For even more content, follow the Alumni Association on Facebook, Instagram, Twitter, LinkedIn and YouTube. Become a UMD Champion to receive monthly shareable pride points, news and more straight to your inbox.