Home
About Us
News & Stories
Alumna Artist Leads Students in Paint Night
Alumna Artist Leads Students in Paint Night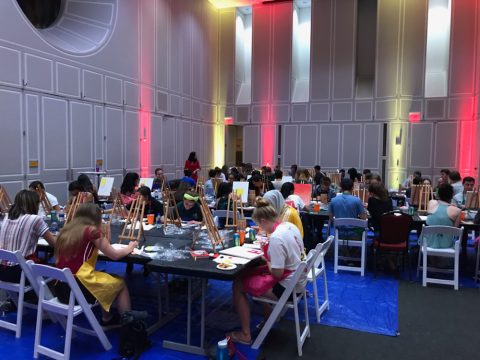 By Lauren Norris '11, '16
Each fall, the University of Maryland Division of Student Affairs hosts Terps After Dark, a series of substance-free late-night programs during the first six weeks of the semester. Terps After Dark aims to provide fun events for students during a time period on college campuses known as the red zone (the first six weeks of fall classes during which the riskiest behavior is experienced and reported).
This year, the University of Maryland Alumni Association hosted its second annual Paint Night event at the Samuel Riggs IV Alumni Center as part of the Terps After Dark program. Alumna artist Ashley Jager '15 led more than 60 students in painting individual Maryland-themed canvases for their dorm rooms. As an undergraduate student Jager worked for Resident Life and was involved in a Greek organization. She currently works as a Brand Designer at Opturo in Washington, D.C.
Student participant Isabella Roccogradi '21 shared, "The Paint Night event in the Alumni Center was one of the most fun Terps After Dark events I've ever attended! My freshman/sophomore year roommate and I are living separately for the first time this year but we were able to reconnect at this event and use it to destress by creating artwork for our apartments. The canvas design was super cute and the alumna artist was great. It even felt like a real Paint Night event with easels and aprons!"
For more information about Terps After Dark programming, visit the website.
The Alumni Blog connects you with the latest at UMD. Check out articles on advancing your personal and professional goals, elevating your UMD pride, and celebrating Terp traditions, legacies and accomplishments. For even more content, follow the Alumni Association on Facebook, Instagram and Twitter.