Home
About Us
News & Stories
Alumni Spotlight: David Diehl '74, Overcoming Adversity
Alumni Spotlight: David Diehl '74, Overcoming Adversity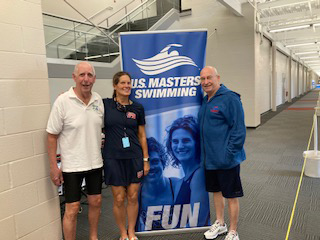 By Allison Eatough '97
At age 80, David Diehl '74 has been a U.S. Masters Swimmer (USMS) for over 45 years. He has served on the USMS Board of Directors for 14 years and previously as a vice president and an at-large director.
During the recent U.S. Masters Swimming Long Course National Championships in Ohio, he beat a number of octogenarians to win silver in the men's 100-meter backstroke and bronze in the men's 50-meter backstroke.
What's even more impressive? He did it with only one functioning lung due to a paralyzed diaphragm, the muscle below your lungs that allows you to breathe.
Diehl also experienced a stroke almost 20 years ago and is blind in one eye due to a detached retina. While he modified some parts of his life, the advocate for healthy living didn't let the stroke and other adversities slow him down.
"What keeps me going all these years is the physical fitness and health that comes with swimming," he said. "It's a lifelong sport."
Diehl, who learned to swim at age 14, swam for University of Maryland from 1960 to 1961 during his freshman and sophomore years. He finished college on a part-time basis so he could work to support his family.
After a 17-year break from competitive swimming he, with the help of former teammates, got into masters swimming and has been swimming competitively ever since.
Over the past four decades, Diehl has won multiple Maryland and Pennsylvania Senior Olympics (now called Senior Games) championships, placed eighth in the 1994 World Masters Championships, won the Senior Games National Championship for 50-meter backstroke and 50-yard backstroke in 1999 and 2007, respectively, and participated in nearly 50 international and U.S. Masters Swimming, National Senior Games and world championship swim meets.
"I've won over a hundred medals over the years but I gave most of them to my four grandkids," Diehl said. "Now that they're older, they said they want to win some of their own."
He's also served as a regional and national leader for masters swimming programs, a past president and the executive director (named emeritus) of the M Club Foundation for 13 years and an inspiration for fellow Terps.
Diehl still keeps in touch with and even competes with and against former University of Maryland swimmers. During the recent long course national championships, Diehl, Ray Ascherfeld '59 (a member of the first UMD swim team in 1955) and Lorie Hug (a member of the first women's UMD swim team), won a total of 15 medals. In the short course nationals in August, five former UMD swimmers competed with Diehl: Ascherfeld, Hug, Charlie Hoffman (former UMD swim coach), Buster Yonych, and Chuck Burke.
In addition to swimming, Diehl said he enjoys coaching and officiating, which he has done for over 25 years. He coaches swimmers of all ages and currently teaches a low-impact dry land and water fitness class for people in their 60s, 70s, 80s and 90s in Gettysburg, Pa.
"My statement to them is, 'I want to give you a better quality of life,'" he said. "That's what swimming and being physically fit does. It gives you a better quality of life."
###
The Alumni Blog connects you with the latest at UMD. Check out articles on advancing your personal and professional goals, elevating your UMD pride, and celebrating Terp traditions, legacies and accomplishments. For even more content, follow the Alumni Association on
Facebook
,
Instagram
,
Twitter
,
LinkedIn
and
YouTube
. Become a
UMD Champion
to receive monthly shareable pride points, news and more straight to your inbox.