Home
About Us
News & Stories
Alumni Spotlight: Lauren Banyar Reich '02
Alumni Spotlight: Lauren Banyar Reich '02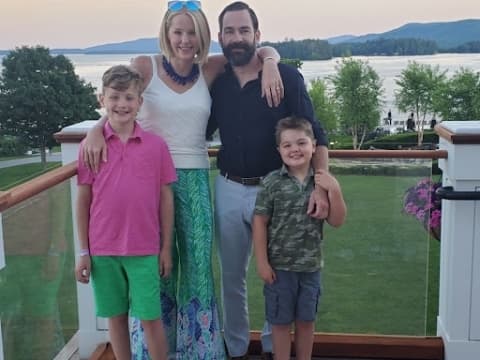 By Allison Eatough '97
For more than a decade, entrepreneur Lauren Banyar Reich '02 worked for public relations agencies in New York City. The mother and former journalism major helped launch products, gain media exposure, plan events and increase sales for health and beauty, travel, art, science, food and non-profit clients nationwide. While the work was rewarding, it was also exhausting and left little time for life outside of the office, said Banyar Reich. So, in late 2014, after parting ways with her employer, she had a decision to make: Find another job or go out on her own. She chose the latter and launched
LBR PR
, a strategic communications agency, with flexibility and fellow women in mind.
"I figured, 'Well, if I'm doing my own thing, then I can make up the rules,'" Banyar Reich said. "I wanted to create an agency where, whether they were freelance, part-time or full-time employees, women could come in and feel valued as a whole person and have a life in addition to doing great work for our clients."
To foster a flexible environment, Banyar Reich said she learns what's important to her team both personally and professionally. Then, she works with them to accommodate their wants and needs.
"For our clients, their wins are our wins," she said. "It's the same for our team. I'm happy when I hear the team had a great weekend and got to travel for a wedding or do something with their children."
Over the past seven years,
LBR PR
has grown to include six female team members and clients ranging from physician practices and law firms to outsource human resources agencies and business associations. "I love working for myself, networking with other entrepreneurs and working with visionary business thought leaders," Banyar Reich said. "Being an entrepreneur and having that hat on allows me to help my clients by adding a different perspective. I understand how to get under the hood of their business in a different way than if I was a cog in a wheel at a larger agency."
Banyar Reich, who has two sons with her husband, Carter Reich '00, has also become an advocate for future female entrepreneurs and business owners. Only 12 percent of female-led businesses in the U.S. bring in more than $100,000 per year – a statistic Banyar Reich said she hopes will change as more women support each other's growth.
"My goal is to put two good men in the world and then help mentor young women who want to be successful," she said. "I will always, always talk to somebody, especially when they're young in their career or trying to make a change into PR. And I am constantly looking for ways to bring women into some of the networks and groups that I've been lucky enough to either stumble upon or be introduced to."
###
The Alumni Blog connects you with the latest at UMD. Check out articles on advancing your personal and professional goals, elevating your UMD pride, and celebrating Terp traditions, legacies and accomplishments. For even more content, follow the Alumni Association on Facebook, Instagram, Twitter, LinkedIn and YouTube. Become a UMD Champion to receive monthly shareable pride points, news and more straight to your inbox.