Home
About Us
News & Stories
Alumni Spotlight: Natalia V. Cuadra-Saez '11
Alumni Spotlight: Natalia V. Cuadra-Saez '11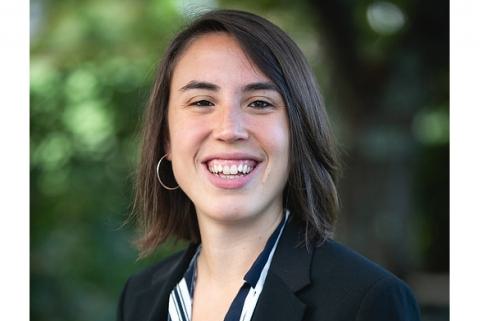 There are many paths to becoming a teacher, but for Natalia V. Cuadra-Saez '11, it started with a passion for advocacy. Cuadra-Saez got involved in advocacy as a student at the University to Maryland and hasn't stopped advocating for teaching and learning conditions since.

"My passion was always about elevating student voice, even as I was a student myself," says Cuadra-Saez.

She participated in the Student Government Association, served as president of both the Cooperative Housing at University of Maryland (CHUM) and Students for Justice in Palestine, and even won a race for SGA legislator as part of the Student Power Party. And though Cuadra-Saez didn't study education at Maryland, she knew she wanted to pursue it as a career.

"I did the America Reads program and a summer with Camp Shule through the Nyumburu Cultural Center," she recalls. "That helped give me the experience working with kids and seeing that I enjoyed it."

After graduating, Cuadra-Saez got her master's in education at Harvard University and started teaching at Boston Public Schools. She taught middle school social studies and, later, high school U.S. history.

"I transitioned to elevating the voices of students by teaching them their history and helping them question everything," Cuadra-Saez says. "I hold a lot of debates in the classroom, take field trips to local historical sites and make it relevant to students so they feel empowered to share their thoughts about the world around them."

She received a 2018 Boston Public Schools Educator of the Year Award for her work inspiring and empowering students. She says she was surprised to win the award after just four years of teaching and wishes "there were more opportunities to recognize all the great work happening in Boston Public Schools" by her colleagues.

Currently, Cuadra-Saez serves as the internal organizer for the Boston Teachers Union. While she says she misses working directly students, she is doing exactly what she hopes to inspire students to do—advocating for what she believes in.

"I tell my students that when they turn 18, if they vote in every election or they get involved in some way, then I will be a proud teacher," Cuadra-Saez says.
###
The Alumni Blog connects you with the latest at UMD. Check out articles on advancing your personal and professional goals, elevating your UMD pride, and celebrating Terp traditions, legacies and accomplishments. For even more content, follow the Alumni Association on Facebook, Instagram and Twitter.