Home
About Us
News & Stories
Alumni Spotlight: Sydney Callahan '15
Alumni Spotlight: Sydney Callahan '15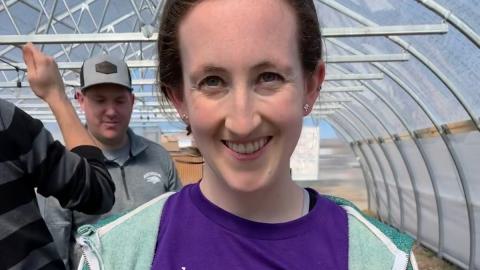 By Kimberly Marselas '00
Sydney Callahan '15 loves the wait that comes with planting garlic, settling a clove into the ground for a long winter's rest and seeing the leaves begin to wilt in Nevada's July heat.
It's a magical process she shares with thousands of students and families each year as education director of Urban Roots, a non-profit that aims to change how kids eat by teaching them how to grow and prepare fresh produce.
Callahan grew up watching her dad garden at their Massachusetts home. She had planned to become a nurse, but after volunteering in an emergency room during college, she decided she'd rather address the root causes of chronic health conditions.
"Instead of giving people a pill for high blood pressure, we could be educating them on how to change it," Callahan said.
She switched her major to community health, then spent the summer after her junior year teaching children in rural Belize how to plant gardens. Resorts had poured jobs and money into local villages, encouraging many families to abandon traditional agriculture and buy more processed foods.
Walking several miles each day and working in the hot sun alongside her charges reinforced her view that healthy food is medicine. It also confirmed her burgeoning desire to teach.
Three days after graduation, she set off for Reno, NV, a city of more than 260,000 people facing some staggering health obstacles. Forty percent of adults in Reno don't eat any fruit on a given day. Forty-six percent of students in the local district's economically disadvantaged schools are overweight or obese, according to a government report.
"We have some food deserts (areas where fresh produce is scarce), but I think there's a lack of education about what to do with the fresh food that is available," Callahan said.
Callahan's "dream" job has her working to change that every day, even during the pandemic.
Urban Roots teaches curriculum for elementary schools in surrounding Washoe County and annually hosts field trips for 1,500 students who would play a role in seasonal planting.
With camp and home school visits cancelled, staff is completing farm labor, selling veggies normally sampled by eager kiddos and creating online content that reinforces the organization's academic, nutritional and sustainability goals in a fun way.
While she misses seeing students nibble on a broccoli flower or a piece of spicy arugula, Callahan takes pride in her Summer Camp in a Box alternative. Each box supplies a would-be camper with science lessons, crafts, a book, a pot and seeds and educational videos.
In her spare time, she relies on a healthy diet to fuel a continuing passion for gymnastics. Once a club gymnast at Maryland, Callahan now competes on an alumni circuit in which she performs on women's and men's apparatus. She is engaged to fellow Terp Arrington Walters '15.
Recently, Callahan supported the annual Urban Roots Festival highlighting local musicians and chefs and homegrown food online.
"We're doing everything we can to ensure that we're still here in 2021, when kids hopefully can come back," she said. "We know if we teach the kids, they're going to teach their parents too."
###
The Alumni Blog connects you with the latest at UMD. Check out articles on advancing your personal and professional goals, elevating your UMD pride, and celebrating Terp traditions, legacies and accomplishments. For even more content, follow the Alumni Association on Facebook, Instagram and Twitter.