Home
About Us
News & Stories
An Alumni Legislator's Prince George's County Roots Began at UMD
An Alumni Legislator's Prince George's County Roots Began at UMD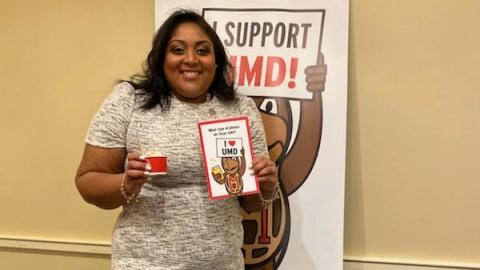 By Sala Levin '10
Wanika Fisher '10 has never hesitated to speak out - whether as an active undergraduate at the University of Maryland, a lawyer defending her clients, a Maryland State Delegate fighting for residents of Prince George's County, or a member of the University of Maryland Alumni Association striving to strengthen the organization.
"I'm just passionate about the university being all it can be," said Fisher.
UMD drew Fisher for its proximity both to a big city and to her home in New York's Westchester County, as well as its diverse student population and cultural offerings. While pursuing two majors in African American studies, and government and politics, Fisher found her activist's path through involvement with the Student Government Association, the campus NAACP chapter, the Latino Student Union and Alpha Kappa Alpha Sorority, Inc.
"I was definitely one of those overachievers," Fisher noted.
The university also gave Fisher the foundation for her future career. "That was kind of how my love affair with Prince George's County started, and I almost never left," Fisher said of her time as an undergraduate. After earning her J.D. at Penn State Law, Fisher moved to New York City but eventually returned to Prince George's County to work for the county council.
Soon, she was running her own race to represent District 47B, encompassing Langley Park, Adelphi, Chillum and Hyattsville, in the Maryland House of Delegates. She won the 2018 election, and urges other young women who are considering running for office to take the leap.
"Don't even negotiate. Don't compromise. Don't think for a minute you're not worthy," Fisher said. "If you have a solid plan to win ... do it."
Fisher, who continues to work as a defense attorney, attributes much of her professional success to the role UMD played in her life. "I get emotional talking about Maryland, because I just don't know where my life would've been if I didn't go to Maryland," Fisher said. Now, she channels her Terrapin love into her work with the Alumni Association, which she pushes to appeal to a broad, diverse audience.
"I want all alumni to feel as strong and intimately proud of Maryland as I do," she said.
The Alumni Blog connects you with the latest at UMD. Check out articles on advancing your personal and professional goals, elevating your UMD pride, and celebrating Terp traditions, legacies and accomplishments. For even more content, follow the Alumni Association on Facebook, Instagram, Twitter, LinkedIn and YouTube. Become a UMD Champion to receive monthly shareable pride points, news and more straight to your inbox.