Home
About Us
News & Stories
Another high point: Brian Ullmann '92 named UMD vice president
Another high point: Brian Ullmann '92 named UMD vice president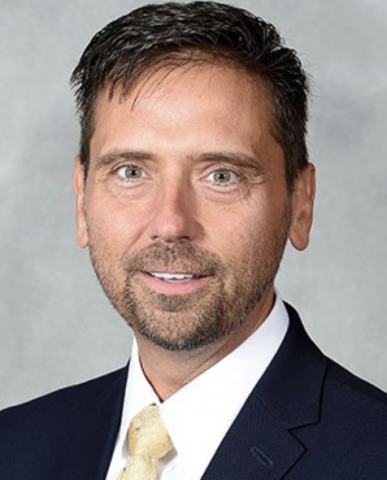 Kimberly Marselas'00
When Brian Ullmann '92 set out to reach the highest point of every state in 2017, he brought along a pocket-sized companion: a stuffed Testudo that clipped conveniently onto his climbing pack. The soft-shelled turtle, a little worse for wear after tumbling off a six-story observation tower in Wisconsin, has now experienced more of the U.S. than most Americans ever will.
That beloved-but-battered Testudo came along as a critical piece of office decor when Ullmann returned to the University of Maryland for his second stint as executive associate athletic director in 2019. Ullmann also brought back to campus a renewed passion for environmental issues.
"I physically feel different if I'm able to be outside more," said Ullmann. "High-pointing and climbing have developed a passion in me to do more to protect that."
Early last year, Ullmann agreed to serve as interim vice president of marketing and communications, in addition to his duties on behalf of Terp athletes.
This March, Ullmann was appointed to both roles permanently. He is grateful that President Darryll J. Pines has championed climate change and sustainability as core components of the university's mission.
"Universities can take on these things, and we may even be uniquely positioned to do so because we have the research expertise here, but we also have thousands of people who care about these issues," Ullmann said.
A journalism graduate, Ullmann turned an internship at the U.S. Air Arena, former home of the Washington Capitals, into his first job. In addition to sports marketing, he also worked in tourism in Washington, D.C. and marketed Special Olympics after becoming involved in the organization as a volunteer basketball coach.
Ullmann's first job at his alma mater was as director of marketing for athletics, followed by senior associate athletic director and then head of the university's marketing department.
When he left several years ago to pursue his dreams of high-pointing, "it wasn't even the first time I'd left a job to go climbing," Ullmann said.
His first climbs were inspired by "Into Thin Air," Jon Krakauer's account of the May 1996 Mt. Everest disaster that killed five.
Drained by the pressure of trying to recruit tourists back to the nation's capital after the 2001 terrorist attacks, Ullmann decided to leave it all for a once-in-a-lifetime trip to Africa. He summited and descended Mt. Kilimanjaro in six days.
Two months later, he set out to conquer the highest point in the Western Hemisphere, Mount Aconcagua in Argentina. Located in the Andes, it rises some 22,831 feet and is known as one of the deadliest mountains on Earth. Poor weather and other challenges forced Ullmann to turn back after two and half weeks and just 2,000 feet from the summit.
Ullmann said he wasn't demoralized by the close call. Instead, the two major climbing adventures inspired him to write his first book, "Darwin's Race", about a climbing competition on a fictitious Tibetan mountain. He has since published five more, several featuring high-stakes adventure.
Ullmann put climbing aside when he went back to the marketing world and started a family. Still, the passion for the outdoors lingered as he rose through the ranks to become senior associate athletic director for external operations for Maryland Athletics from 2004-10, then associate vice president of marketing and communications for the university from 2010-17.
Finally, he decided to pack it all up for a new adventure, albeit one with less significant elevations. The high-pointing quest that followed took him to 49 states over 100 days. But in some states, like Delaware, the "high" point is barely above sea level, and they are often reachable by a trail with a nearby parking lot.
"I wanted to see as much of the country as I could, to live out my truck," Ullmann recalls.
At each landmark, he snapped photos of Testudo for Instagram, the perfect place to showcase snow-capped mountains, waves of grain and alumni pride.
His children, Lily, now 17, and Jacob, now 14, joined him at the top of five states. Nevermind that it was supposed to be six. In New Mexico, the family trekked up the wrong mountain.
Reinvigorated after the climbs and a stint at a global conservation organization, Ullmann is ready to mount an ambitious new era of Maryland's Fearless Ideas campaign.
"For a person who is curious about the world, what better place is there to work than a university?" he asks. "The best thing about being at Maryland is that I don't have to sell anything subpar here. All we need to drive our brand is to harness the power of our people."
###
The Alumni Blog connects you with the latest at UMD. Check out articles on advancing your personal and professional goals, elevating your UMD pride, and celebrating Terp traditions, legacies and accomplishments. For even more content, follow the Alumni Association on Facebook, Instagram, Twitter, LinkedIn and YouTube. Become a UMD Champion to receive monthly shareable pride points, news and more straight to your inbox.S
Spotlights connect you with your Maryland community and campus, celebrating achievements from alumni, students, faculty and staff.