Home
About Us
News & Stories
Board President Reflects on Difficult But Transformational Year
Board President Reflects on Difficult But Transformational Year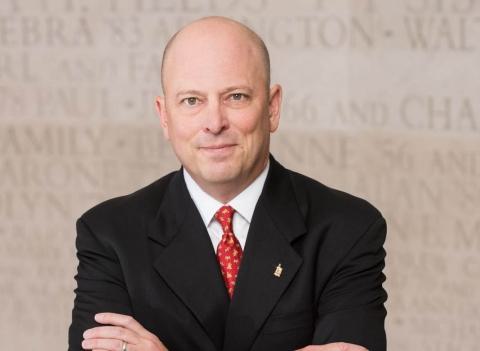 By Sala Levin '10
For some, assuming a leadership position just before the COVID-19 pandemic erupted globally might have been an insurmountable obstacle. For outgoing president Jim Spencer '90 and the rest of the University of Maryland Alumni Association's Board of Governors, it was an opportunity to showcase the organization's flexibility and innovativeness.
"COVID was a situation where people were at home and they didn't know what to do," said Spencer. "And here's the Alumni Association right there in front of them, and without leaving their house, they could participate."
Spencer's involvement with the Alumni Association began about eight years ago, when a former colleague suggested that he join the Board of Governors. "That really gave me a chance to give back to the university," Spencer said.
UMD had always played a significant role in Spencer's life; growing up in Olney, Md., the son of two Maryland grads, he long knew he was destined for Terp-hood. "They were both very spirited alumni," Spencer said of his parents, who took the family to basketball, football and lacrosse games. "I grew up in a house that was very focused on being a Terp."
Sigma Chi fraternity brothers: Jay McDonald (left), Mike Fuster (center) and Jim Spencer (right) .
Once on campus, Spencer majored in business and economics, envisioning himself attending business school in the future. As an undergraduate, he and some fellow students started the lacrosse club; Spencer also worked in the School of Public Policy lab and was a brother in Sigma Chi.
After graduating from UMD, Spencer worked for Mobil Oil for a number of years before attending the University of Pennsylvania's Wharton School. After earning his MBA, he worked in investment banking, focusing on health care companies. Now, he's CFO of HealthPRO Heritage, a contract therapy firm focused on physical, occupational and speech therapy in senior health care settings.
Through his work, he saw firsthand the tremendous impact of COVID-19. "Our therapists never worked from home, and never took a day off," Spencer said. "I'm really proud of what they've done."
The Alumni Association also had to navigate the unexpected parameters of pandemic life. The organization "worked hard to create virtual events, and ramped up remote events," Spencer said. "Alumni have responded. Membership has increased. We have seen many past members come back in, and brand new members join. It has been really rewarding."
Spencer speaking at the Alumni Association's A Celebration of Terps: Featuring the Maryland Awards event in 2021.
Virtual events have been a crucial tool to help people stay connected with one another, Spencer said, making it easy for folks to participate without leaving home. Book clubs, cooking classes, home design tips, gardening lessons and more have all been part of the mix over the last year. Spencer predicts that future events will continue to have a virtual component, utilizing "a new tool to keep people engaged."
For Spencer, one of the benefits of his involvement with the Alumni Association has been learning intimately how a public university functions. "It has been interesting to see the interaction between the university, the system, the foundation and the Alumni Association," he said. "I've seen all of those organizations really work together in a very collaborative way over the last eight years."
Spencer (third from the left) with members of the Alumni Association Board of Governors while advocating for the university's priorities in Annapolis, MD.
He encourages all alumni to give back regularly to express gratitude for the "great education" and experience UMD provided, he said. The practice takes on new meaning for Spencer and his wife now, as their daughter, Lauren, begins at UMD in the fall. (Lauren's twin sister will be going to the Fashion Institute of Technology in New York City, and their son attends Colorado College.)
"I enjoyed giving back and meeting so many dedicated Terps selflessly giving their time, giving of their resources and trying to make the university better," said Spencer.
###
The Alumni Blog connects you with the latest at UMD. Check out articles on advancing your personal and professional goals, elevating your UMD pride, and celebrating Terp traditions, legacies and accomplishments. For even more content, follow the Alumni Association on Facebook, Instagram, Twitter, LinkedIn and YouTube. Become a UMD Champion to receive monthly shareable pride points, news and more straight to your inbox.